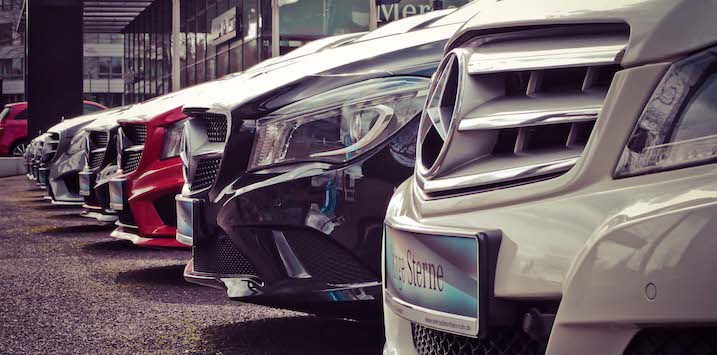 Worrying Signs in the U.S. Auto Market
Auto loan terms have been increasing in the U.S. – in other words, auto loans are being stretched over longer periods – which improves affordability. This is just one sign that many Americans are entering into auto loan contracts for vehicles they otherwise wouldn't be able to afford. Given this, what does it mean for the health of the U.S. auto market?
We've seen the average price of cars in the U.S. increase substantially (part of this is driven by a mix shift to SUVs and crossover vehicles which are more expensive on average), and this has been a driver of consumers taking out larger auto loans in order to purchase a vehicle.
N.b.: Through August 2019
Source: Edmunds; via WSJ
Under a loan that might have had a three, or five-year term, these vehicles might have been unaffordable for these borrowers, as the monthly payments would have simply been too great for these borrowers to service. Increasing the loan term to in some cases more than seven years spreads these loan payments over a longer time period, thus reducing the monthly payment the borrower is required to make on their loan.
This might sound great, and like a win-win for both lenders and borrowers. After all, lenders can improve their loan growth by providing loans to borrowers that otherwise wouldn't have been able to make that purchase, and borrowers are able to buy cars that under a shorter loan structure would have been unaffordable. Unfortunately it's not this simple, and this dynamic that we're seeing play out is likely to have wide-reaching implications for the lenders that have provided the capital for these long loans (particularly to those borrowers that are classified as subprime), the borrowers who have entered into these contracts, as well as the other players in the U.S. auto value chain (OEMs, suppliers, dealers etc.)
As can be seen below, the proportion of longer-term auto loans (i.e., > 5 years) has increased since the Great Recession.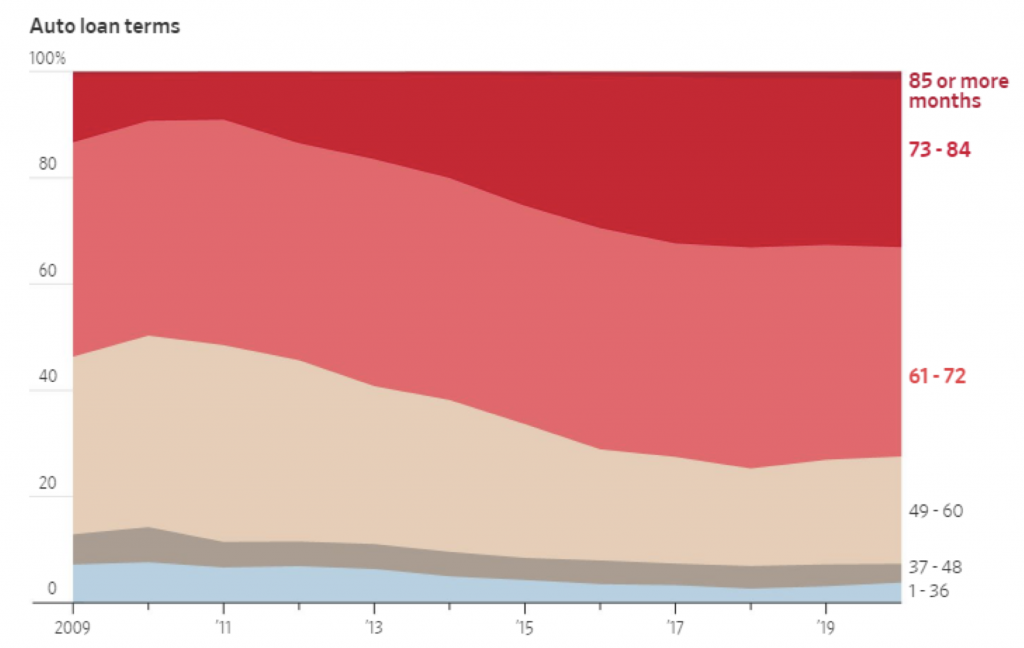 N.b.: Data is for new cars only, as of the end of June 2019
Source: Experian; via WSJ
The problem at its core is one of affordability. In the Fed's triennial Survey of Consumer Finances in 2016, it was revealed that just 18 per cent of U.S. households have enough liquid assets to buy a new car outright. As the average prices of new vehicles have risen since when the survey was conducted in 2016, this metric is unlikely to have improved.
We know that the average price of a new car is almost $40,000, but according to an analysis by Bankrate.com cited by the Wall Street Journal, a median-income U.S. household that takes out a four year loan, forks out a 20 per cent down-payment, and keeps monthly payments at under 10 per cent of gross income is able to afford a car worth just $18,390. So what allows consumers to bridge this gap? The simple answer is more debt.
Over the past decade the size of an average auto loan has grown by around one-third to approximately $32,000 for a new car, according to data from Experian. With auto debt already having expanded, it's likely that the elongation of loan terms is a late-cycle phenomenon to support (or these days to reduce any declines in) auto SAARs, which refers to the run-rate of auto production.
We are seeing increasing instances of vehicles being traded-in with negative equity. Said another way, a growing number of Americans are trading in vehicles where they owe more in debt than that vehicle is worth. This is troubling when thinking about the health of the U.S. auto market, as the vehicle demand we're seeing is being driven to some extent by borrowers who are overextending themselves.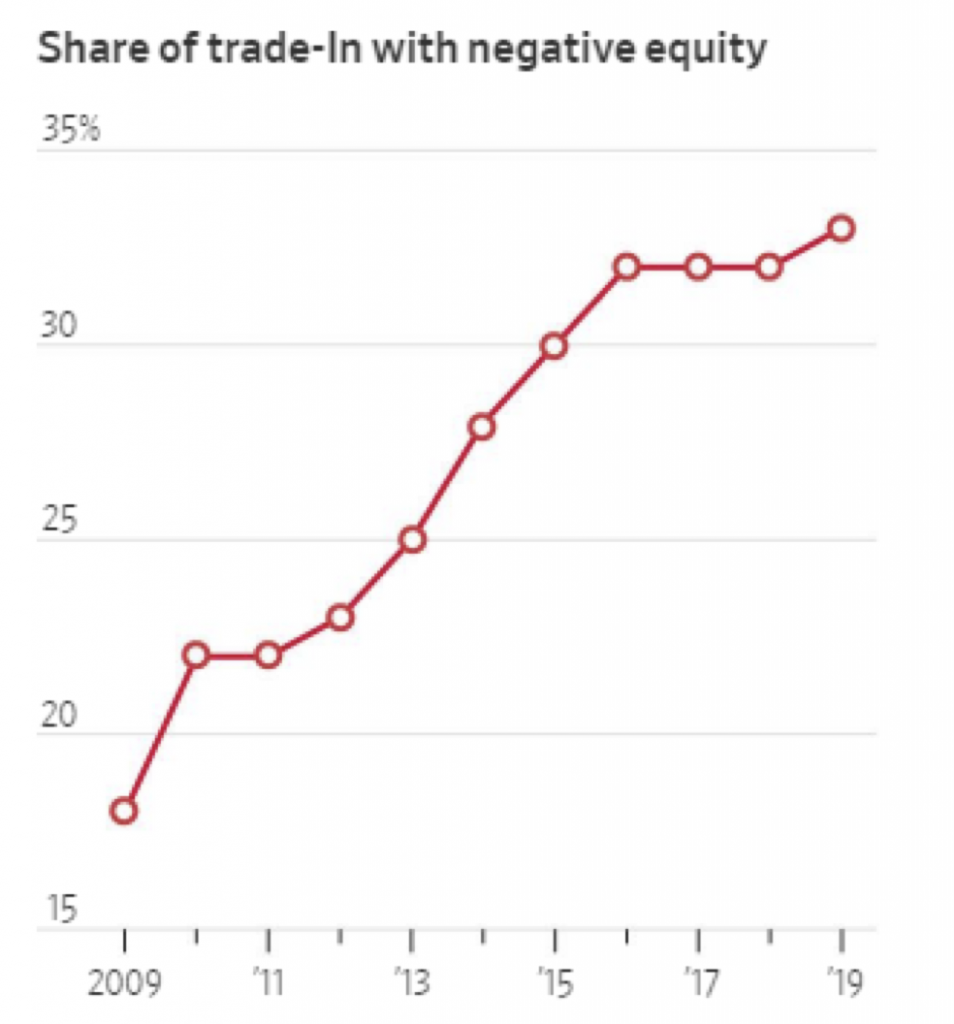 N.b.: 2019 figure as of end of June
Source: Edmunds; via WSJ
The incentives of dealers are likely also partly to blame for the increasing auto loan sizes and longer loan terms. As we can see in the chart below, dealers make more profit from financing and insurance than they do on the actual car sale, and this dynamic was the opposite a decade ago.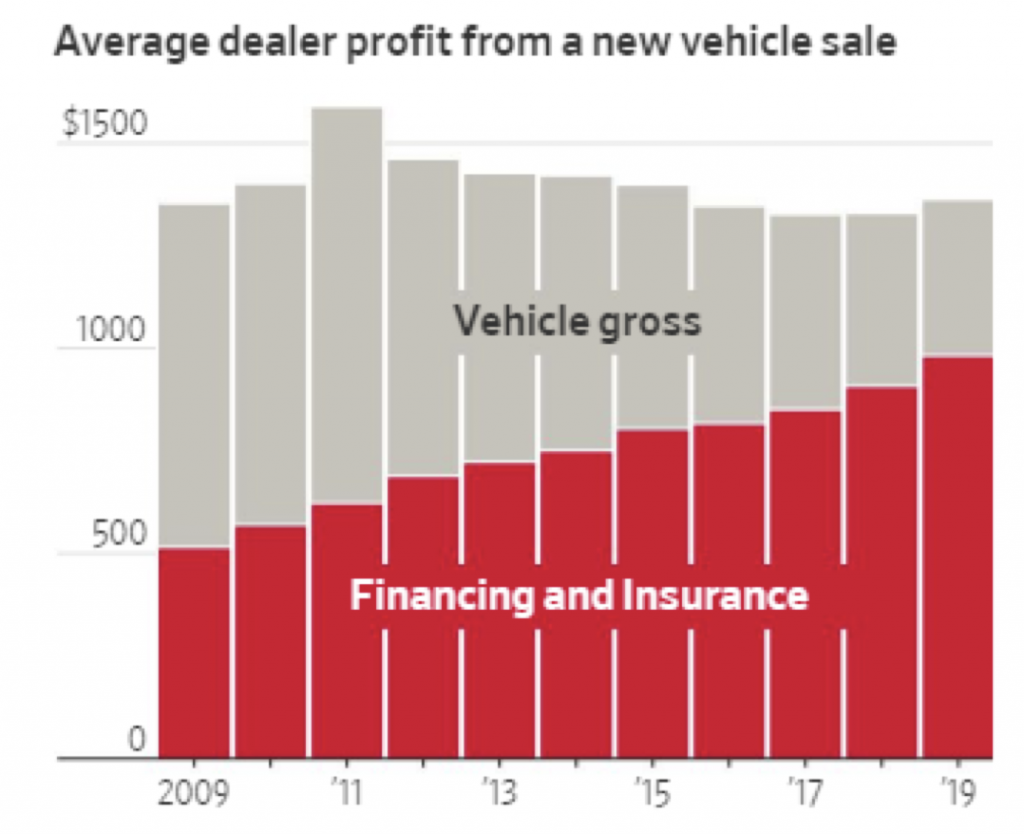 N.b.: Through August 2019
Source: J.D. Power; via WSJ
The Montaka team believes that there are some compelling short opportunities in the U.S. auto space, and a fund such as Montaka is able to short names that are likely to suffer from any fallout from a deterioration of the U.S. auto sector.