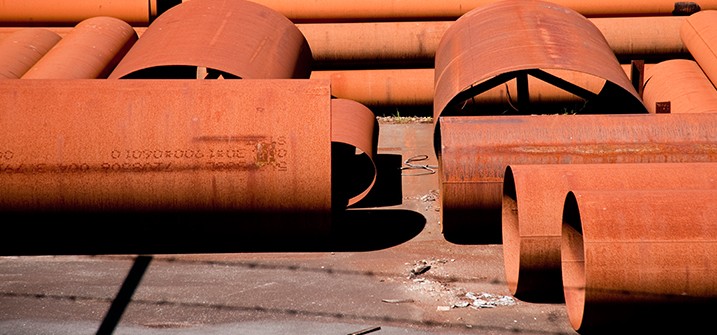 Worrying signs in China's steel overcapacity
It looks like our big miners could be facing more bad news in the near term. China's growth has created major overcapacity in a number of industries, including steel. China now makes about half the world's steel. The trouble is, global supply far exceeds demand. Which means China is dumping its excess steel into the global market at low prices, sometimes below the cost of production. This does not augur well for businesses providing steel or its raw materials.
The recent G-20 Summit in Hangzhou, China, was an opportunity to make inroads in key global policy areas. However, outside of the pomp of the Summit, it appears as though little was achieved in addressing the problem of Chinese production overcapacity in key industries.
Chinese overcapacity looms in industries such as steel, cement, aluminium, solar panels, and a number of other areas. Much of this overcapacity has resulted from China's debt-fuelled, infrastructure-led growth. Local governments did all they could to attract manufacturing facilities by offering tax breaks as well as providing government land on a rent-free basis. Local governments also helped companies get loans from state-owned banks. This subsidisation of production favours Chinese producers and has afforded them an artificially low cost of production. Steel is a topical example of this overcapacity problem.
Over the last 15 years, China's crude steel production has increased significantly.
Source: Quartz and World Steel Association
And China has now reached approximately 50% of global steel production.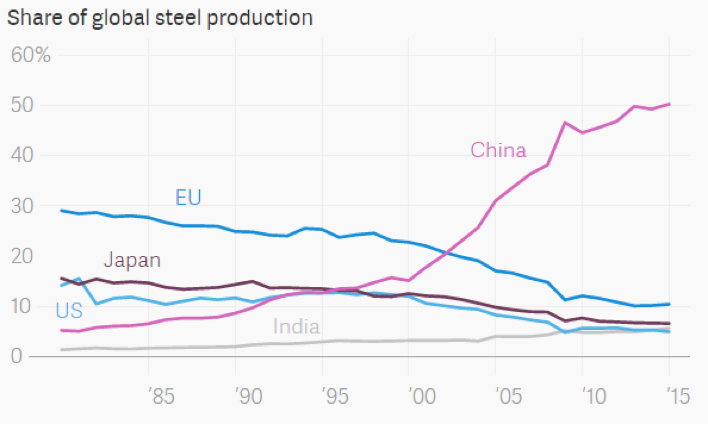 Source: Quartz and World Steel Association
However, global steel capacity far exceeds the level of global steel consumption…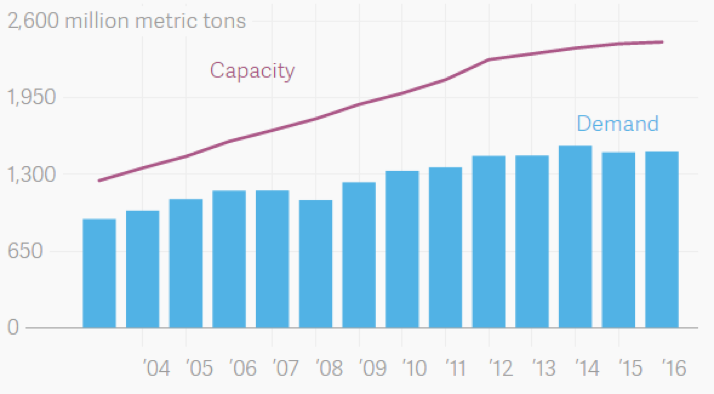 Source: Quartz, OECD, and World Steel Association
Furthermore, China's steel production exceeds their consumption, which has caused net exports of steel to increase.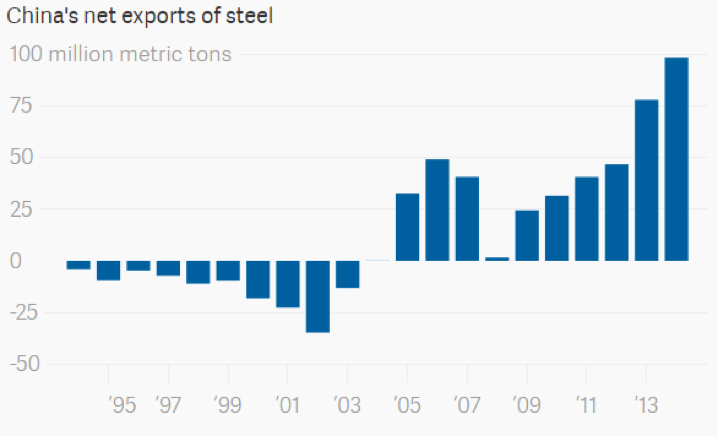 This is problematic for economies outside of China. In effect, China is exporting deflation by selling its excess steel into the global market at low prices, sometimes below its cost of production. This has infuriated countries such as the U.S., which have imposed anti-dumping duties on China. However, this is unlikely to solve the root cause of the overcapacity issue.
A U.S.-imposed duty can discourage imports from China, but the excess Chinese steel production will simply go elsewhere (and possibly price the U.S. out of those other markets), or be stockpiled (and thus reduce future steel prices). Resolution of overcapacity issues will come from China closing steel mills and removing the excess capacity.
Chinese President Xi Jinping said that "China will use the utmost effort and most concrete measures regarding production overcapacity; it walks the walk". China reiterated its previous promise to cut 100m to 150m tons of steel production capacity by 2020. However, this is only roughly a third of China's steel production overcapacity. At this stage it is unclear whether China will in the future step up its commitment to shuttering plants in industries plagued by excess production.