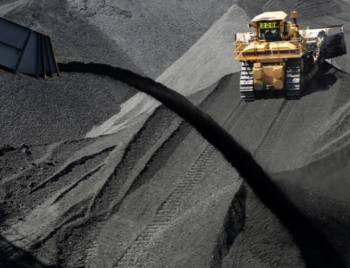 World's biggest goes bankrupt
The world's biggest privately owned coal producer officially went bankrupt on Wednesday morning in the US. The announcement that Peabody Energy had filed for Chapter 11 bankruptcy protection may represent the end of an era for a miner founded in 1883 with just $100, a wagon and two mules, but the fundamental pain in the coal industry will continue.
Peabody is the most recent of several US large coal producers to seek bankruptcy protection. Arch Coal, Alpha Natural Resources, Patriot Coal and Walter Energy have all experienced a similar fate as the industry suffers from a deep and sustained drop in coal prices. Broadly coal has suffered from weak demand driven by a decline in steel production and lower demand for coal as fuel for power plants. This in turn has been due to a slowdown in China and other emerging countries, the relative attractiveness of cheaper gas, and tougher environmental regulations. But that's only half the story.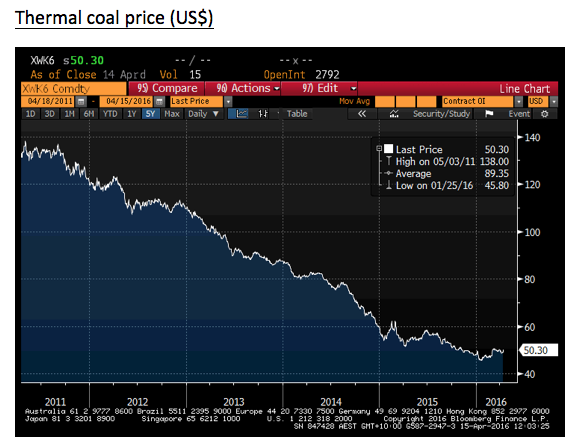 At the same time as demand for coal turned down, production of coal was ramping. Encouraged by a high coal price (it seems like a lifetime ago) and cheap debt, coal companies invested in new mines around the world, the supply from which all started to come on line at around the same time, flooding the market. Moreover, with high fixed costs, as the price of coal started to tumble these same producers increased their output rates further in order to drive down per unit costs and remain profitable. The price fell further.
While many industry participants and commentators, including Whitehaven Coal Managing director Paul Flynn, believe that the bankruptcy of Peabody and friends will take supply out of the market, this is not a foregone conclusion. Many of the miners continue to operate throughout their bankruptcy proceedings. In fact, Peabody itself obtained US$800 million in emergency financing from Citigroup and has enough cash to keep up with customer orders as it maintains production at all of its mines – including the Australian mines it acquired in an ill-timed A$4.8 billion acquisition of Macarthur Coal in 2011. This debt-financed purchase contributed significantly to Peabody's crippling level of borrowings which exceeded US$6 billion in its latest financial report.
Many headlines and news articles have focussed on the lack of demand for coal. But Peabody's misfortunes and missteps have come just as much (if not more) from the supply side of the equation. The coal market remains oversupplied still. And the inevitable result will be that Peabody could well be the largest, but not the last, coal miner to fail. The Montaka Global Fund is able to benefit from being short the stock of companies which have deteriorating prospects with high levels of debt. We remain on the lookout and at the ready for our clients.
Christopher Demasi is a Portfolio Manager with Montgomery Global Investment Management. To invest with Montgomery domestically and globally, find out more.