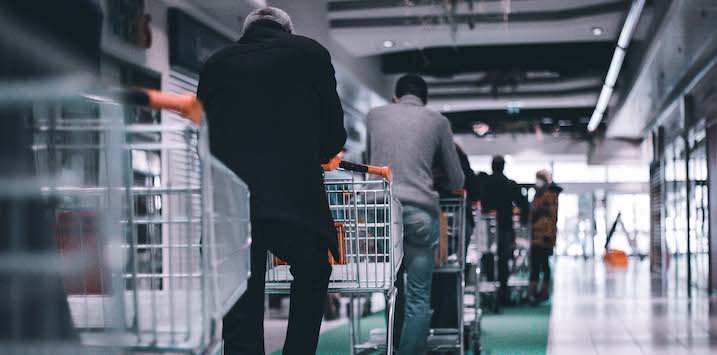 Will consumer trends change forever post COVID-19 experience?
Living in a world with COVID-19 certainly has changed the habits of many of us, particularly when it comes to our consumer behaviour. We have seen business models and sectors bought to their knees (Virgin, Flight Centre, Myer, Unibail Rodamco Westfield) while others have found themselves suddenly with an online business in hot demand (Kogan, Adairs, Marley Spoon, Temple and Webster). So, will consumers continue to support their new online practices and which areas have been the real beneficiaries.
A recent study undertaken by McKinsey & Co looked at the how US shopping behaviour is changing, and I highlight a few of the key findings here.
Consumer intent to shop online continues to increase, especially in essentials and home-entertainment categories. More interestingly, these habits seem like they're going to stick as US consumers report an intent to shop online even after the COVID-19 crisis. Categories where expected growth in online shoppers exceeds 35 per cent include essentials such as over-the-counter (OTC) medicine, groceries, household supplies, and personal-care products. Even discretionary categories such as skin care and makeup, apparel, and jewellery and accessories show expected customer growth of more than 15 per cent. Results shown below.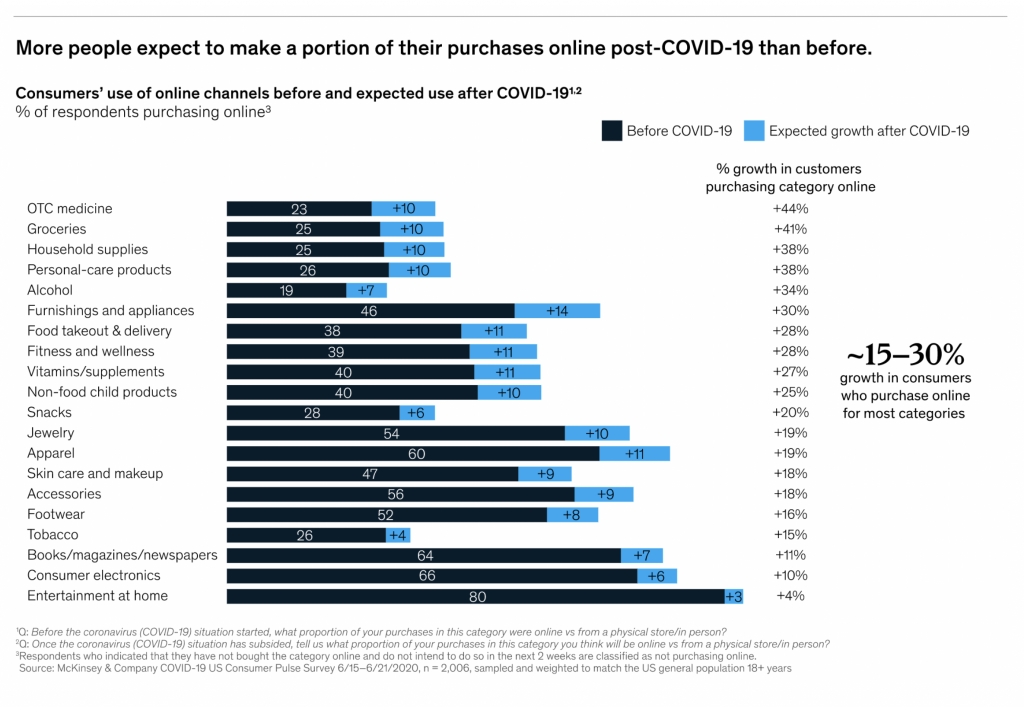 With changing patterns of purchase and activities, many consumers have changed their general pattern of consumption, with 75 per cent of consumers trying a new shopping behaviour. This doesn't seem to be a one-off change either with a high percentage indicating that they intend on continuing this behaviour. This general change in behaviour has also been reflected in a shattering of brand loyalties, with 36 per cent of consumers trying a new product brand and 25 per cent incorporating a new private-label brand. Of consumers who have tried different brands, 73 per cent intend to continue to incorporate the new brands into their routine.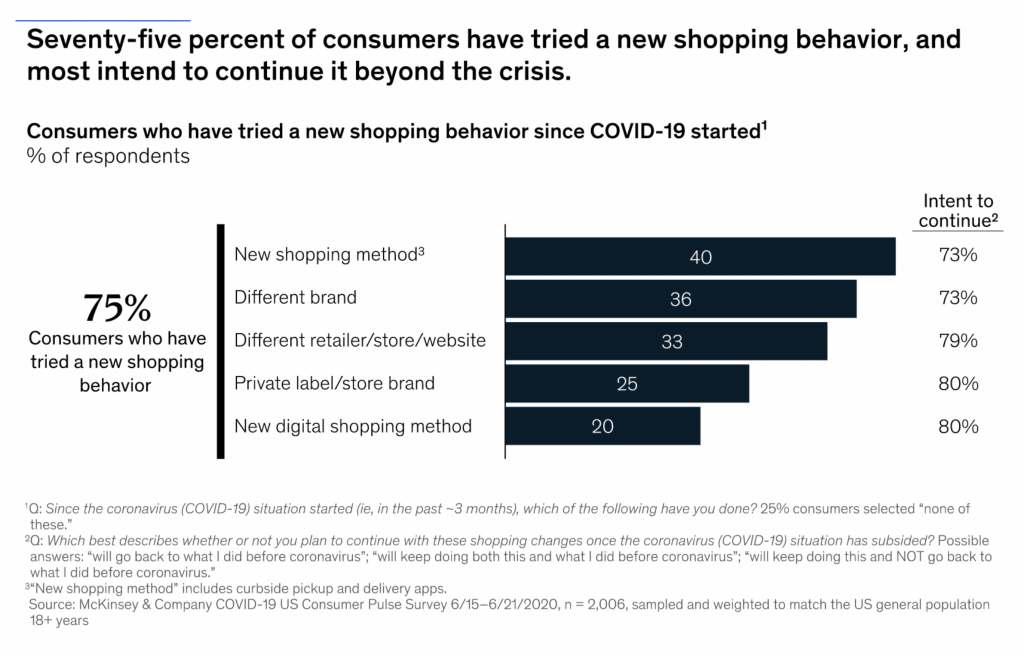 Spending more time at home
While this survey was done in the first weeks of June 2020 and asks about Americans expected change to time allocation over the next two weeks, I think it still holds some insights into the trend of spending more time on at home activities. Usage of popular online entertainment platforms has skyrocketed. (The popular video game Fortnite recently hosted a concert that was "attended" by 12.3 million users.1 ) Investment in at-home fitness through equipment purchases and online activity is growing. Results shown below.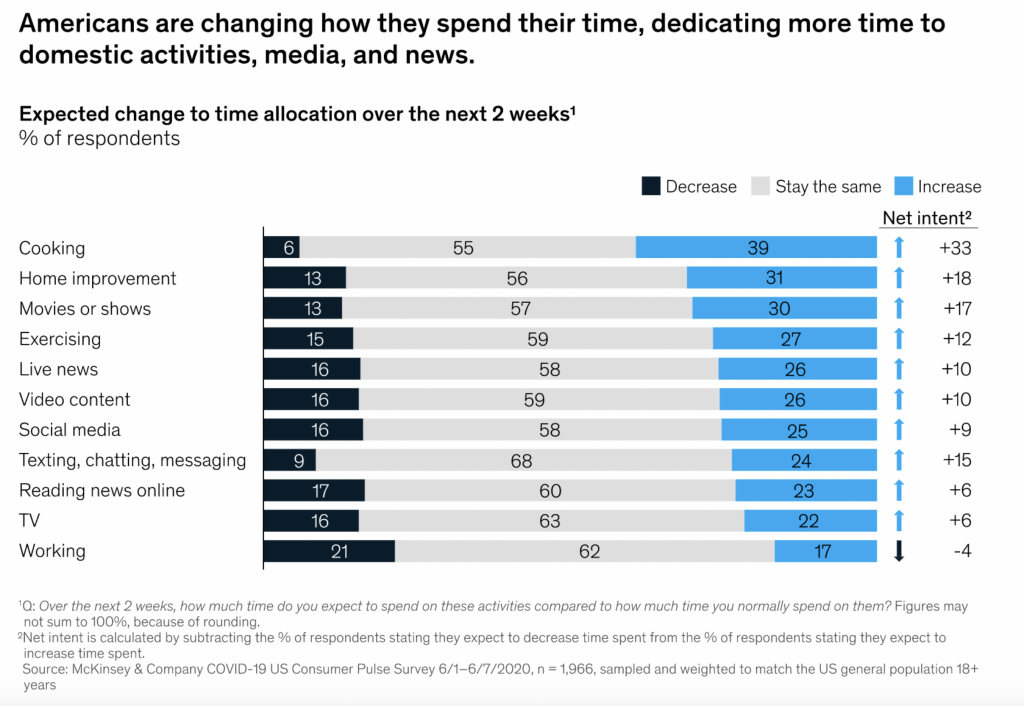 So, as the world learns to deal with COVID-19, we know from our own experiences and those represented in the survey results that consumer behaviours have changed and the feedback from US respondents seems to point to a longer-term shift. The move to digital was already powerful but now a must have for most sectors in retail. Those businesses which were already well set up in this area have generally prospered, for some it has led to boom times and has cemented their business, but in many ways the trends were always there and this pandemic has just bought forward the trends by 5 – 10 years.