Why the Polen Capital Global Growth Fund portfolio is going to help investors win in the long run
In this video Polen Capital's Damon Ficklin joins Roger to discuss the portfolio characteristics of the businesses owned in the Polen Capital Global Growth Fund. The businesses Polen Capital invest in are truly advantaged and have the ability to weather the business cycle and continue to perform well in the current environment. Two examples of businesses delivering double-digit revenue growth include Align Technology and Visa.
Transcript:
Roger Montgomery: Up on screen is the current Polen Capital Global Growth Fund portfolio as at the end of December 2022. Obviously there's a spectrum in terms of growth. There's the faster growth growing companies over on the right-hand side and they're balanced with some slower but steadier growth, think of it as the ballast in a ship. Why is this portfolio going to help investors win in the long run?
Damon can you talk a little bit about the portfolio characteristics, the growth of these companies and we can pull out some individual companies also.
Damon Ficklin:  At a high level, what are we looking for are truly advantaged businesses. So great economics, high returns on underlying capital, better than average growth. Ultimately we think the growth in earnings from the companies in the aggregate portfolio is what is driving the outcome. These are all above average growers, some slightly above, some well above average. But in the aggregate EPS growth estimates growing in the mid-teens. 
Roger Montgomery:
You can see that on this slide here.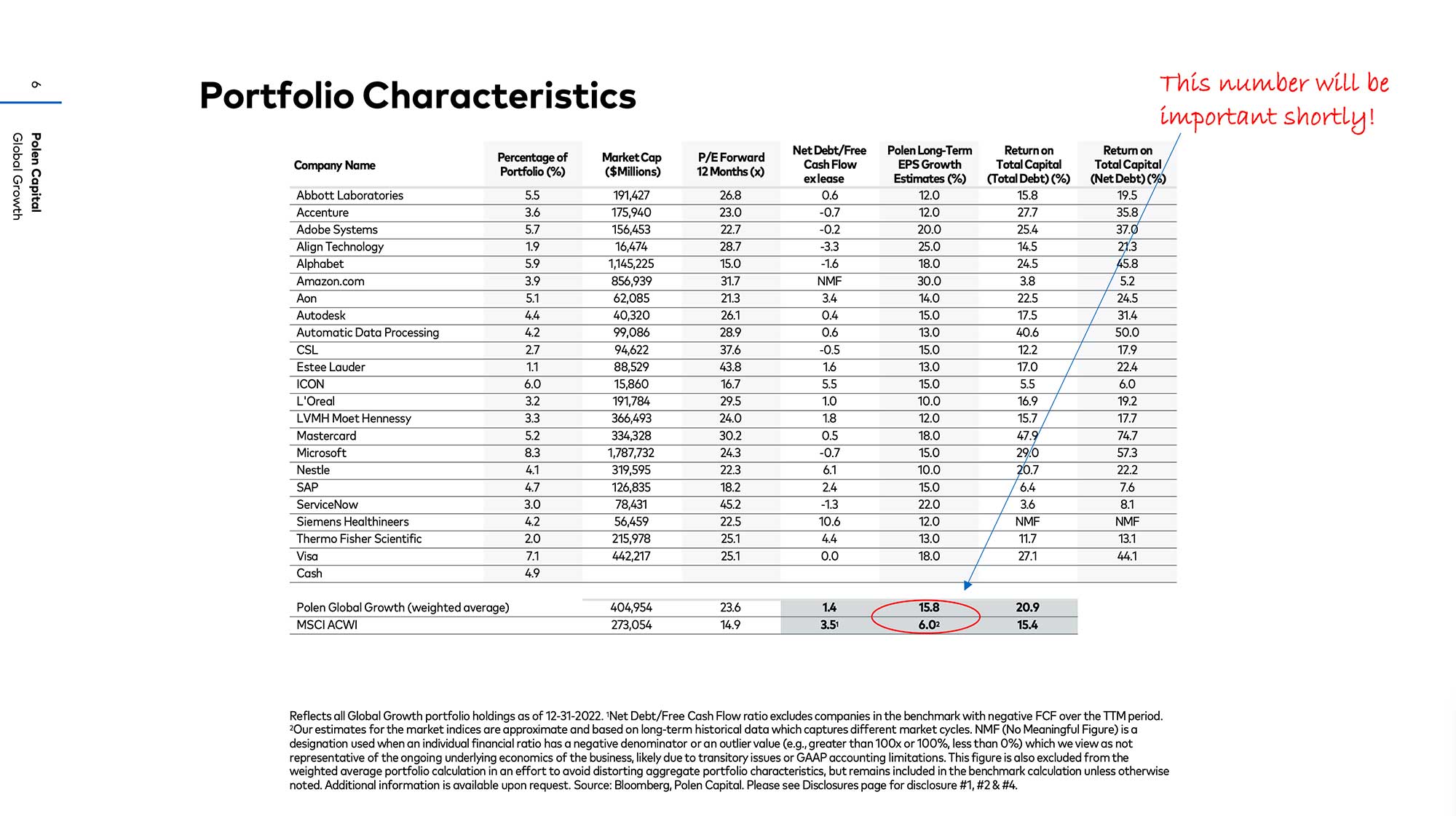 Damon Ficklin:
Typically these companies have improving margins. This is very important in today's environment. These companies have pricing power, they have differentiated products and value added services. So if you experience a little bit of inflation, they can actually pass that through. So strong profitability and we think even despite the environment, we'll see continued improvements in profitability over time. They all have organic growth engines from our point of view. So this isn't acquisition driven growth, but organic. And then finally these businesses are not leveraged. In the aggregate though they have a little bit of leverage on the balance sheet, but very, very strong balance sheets compared to the broader market. So outstanding economic characteristics. These companies will drive growth through environments, through cycles and truly exceptional businesses. We can highlight a couple of examples.
Roger Montgomery: Here's Align Technology.
Damon Ficklin:
Align Technology is a bit more dynamic than some of the companies. It's one of our smaller weightings because we recognise the dynamism in the market. This company invented invisible orthodontics,  Invisalign is the brand if you're not already familiar with Align Technology. And despite having 900 plus patents and a decade head start against any competitors and being very, very dominant in the marketplace, they still serve roughly 10 per cent of the addressable market. So during the pandemic we saw a boom and growth, and then last year we were digesting that boom and growth. So from a hundred percent plus growth and not much growth. The stock underperformed understandably during that period of time.
Year to date, it's risen north of 50 per cent again, as we're now starting to get to the other side of those easier compares. A more dynamic situation, but truly advantaged. We don't want to an outsized weight in a business that's just dynamic. But I just wanted to give you one example that shows we're going to own great companies through cycles. They're going to go up and down as the market sentiment changes. But ultimately there's a tremendous opportunity here and we think this company can drive 20 per cent plus earnings per share growth for many years to come. 
Roger Montgomery: And that's an important thing to remember, 20 plus per cent earnings per share growth will come back to earnings per share growth several times today. There's another one here Damon, Visa. Perhaps have chat to us about that company.
Damon Ficklin:
Absolutely, and this is a great example. Visa is a large position in the portfolio. We actually own Visa and Mastercard. So on a combined basis they're among our largest weights and this is a very steady as she goes business. They've been compounding earnings in the high teens for a long time and we think that's still in the cards for many years to come. This is essentially a toll booth type business. You can see a little bit of slowing growth in a softer environment, but we still believe very strong growth across the board. And in fact, up to this moment in time, Visa and Mastercard are reporting very strong numbers. 
While everyone is a little bit concerned around the economic environment that's evolving, the realtime signal that we're getting from these companies is that the consumer is still pretty healthy. They might be shifting what they're spending on, but they're still spending in the same way. And that's with their credit and debit cards and other digital forms of payment. So these businesses are essentially a global duopoly outside of China. Incredibly difficult to compete with. Platform businesses that are going to drive that strong steady growth for a very long time.
Damon Ficklin:
Over the next three to five years, we expect the global growth portfolio to grow earnings in the mid-teens. But to kind of zoom in and just answer the question of what does it look like today.
What does the rest of the world think is going to come out of the companies we own, despite the fact that the rest of the world thinks we're going into a recession. And this is the result.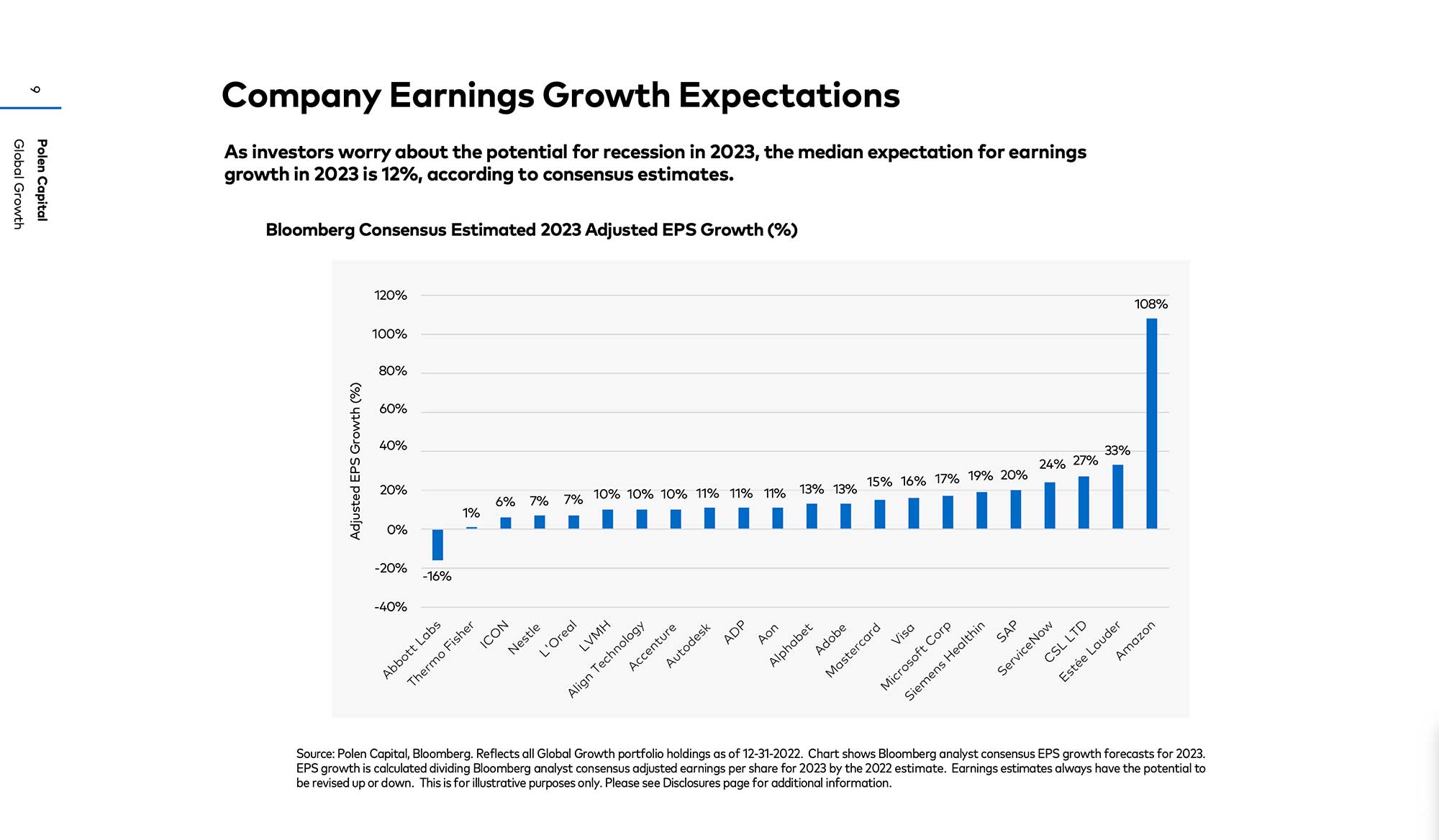 I would knock both of the tails off, Amazon are expected to see explosive growth in earnings. That's a result of a lot of pressure on their earnings over the past 12 months, which I'm happy to talk about. But let's just kind of put that aside for a minute. We expect really good growth from Amazon, but take that outlier off.
On the other side, Abbott and Thermo Fisher, the earnings growth are under pressure because both of these companies had significant Covid revenues, Covid testing, so some of that sun is now setting. Thankfully we're getting back to a world where everyone doesn't have to test every week. But if you look through those kinds of short term shifts, on an underlying organic basis, these companies are growing at the low double digitsand low teens rate. And then look at the middle of the curve. It just tells you the picture of stability. This is what we expect. Earnings drives the outcome over time and we expect that we'll see strong growth despite potentially challenging environment in the near term.
Roger Montgomery: And Damon, the valuations for these companies aren't demanding at the moment?
Damon Ficklin:
Not at all.  The silver lining from a tough 2022 is when companies are actually delivering good fundamentals is that valuations went from at the high end to very reasonable very quickly.
So as you look at it today, this chart is just showing the current one-year forward P/E ratio of each of our companies; relative to their past 10-year history.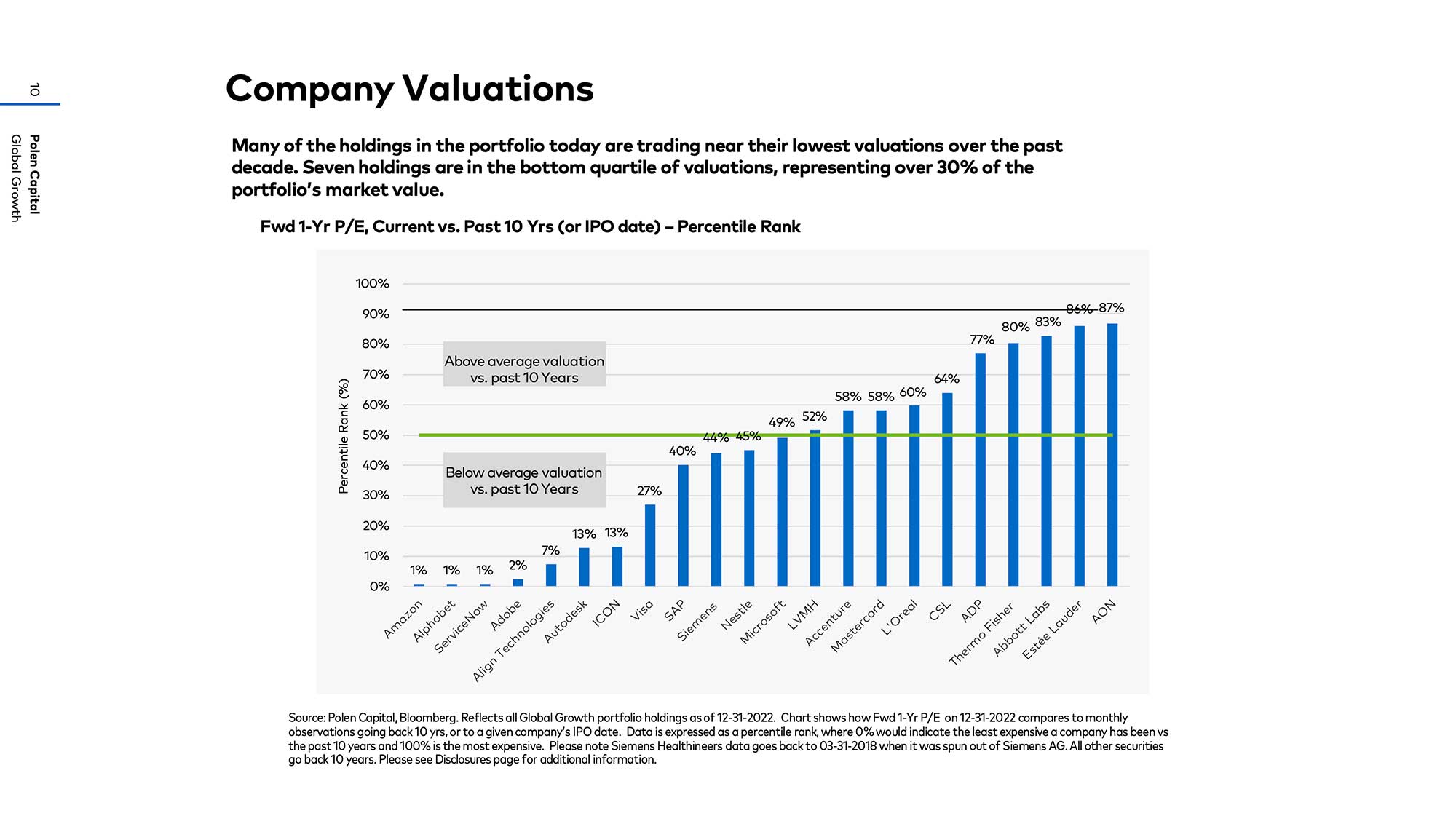 And what you can see on the left-hand side of the chart we have Amazon, Alphabet, ServiceNow, Adobe, Align. These are in the bottom decile in terms of valuation versus history. In other words, very attractively valued. Not surprisingly, these are amongst some of our larger positions or new positions. ServiceNow is new. The other three of the four I mentioned there at the tail are large weights within our portfolio. So taking advantage of that very attractive valuation and at the aggregate level portfolios are about average. If you just look straight across the board versus our history, we think the valuations are compelling and we think the companies are going to drive the outcome over time.
Roger Montgomery: So in summary, last year, a tough year, no doubt about that particularly for quality and growth. But that's delivered attractive valuations and you're still focused on a portfolio of businesses that are growing in the mid-teens in terms of earnings per share growth.
Damon Ficklin:
The quality and the growth of this portfolio is intact. Those factors were not working in the market in the past probably 15 and 24 months. But we do know that it will be realised over time.
Roger Montgomery: I am conscious of a quote from Warren Buffett. And I've used it many times so people will be tired of hearing it. But he once famously said, "Your job as an investor is to put together a portfolio of businesses whose earnings march upward over the years." And he went on to say, "Put together a portfolio of businesses whose earnings march upward over the years. Buy them at a rational price and the wealth will come. The portfolio will look after itself." And that's exactly what you guys are doing.
Damon Ficklin:
Absolutely. You have to have the temperament to deal with the market not agreeing with what you own for short periods of time. But we think if you want to produce significant outperformance over time, you can't look like the index and you can't be swayed by what the market is voting in short periods of time.
The Polen Capital Global Growth Fund owns shares in Align Technology and Visa. This video was prepared 28 March 2023 with the information we have today, and our view may change. It does not constitute formal advice or professional investment advice. If you wish to trade these companies you should seek financial advice.