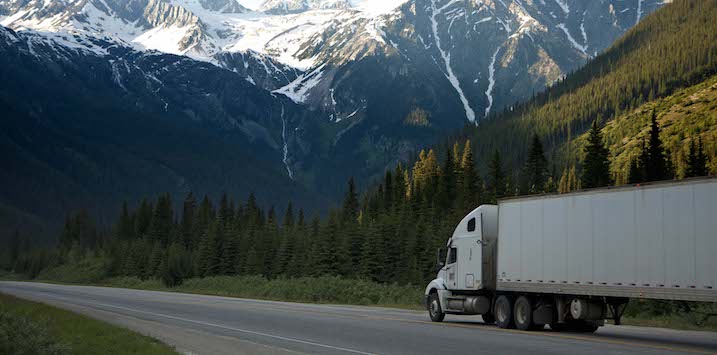 Where are all the truck drivers?
"Truck drivers: the unsung heroes on the road" read the title of an article discussing the key role served by U.S. truck drivers. Despite the accolades, one thing remains for certain: driving trucks in the U.S. is a demanding job, with fewer and fewer people opting for this career. The resulting truck driver shortage in the U.S. has contributed to a sharp increase in freight rates, and has far reaching consequences across the U.S. economy.
I recently heard from a number of trucking companies during a visit to California. One point was made by every single management team in the trucking space: there is a significant truck driver shortage in the U.S. At its core, the trucker shortage is about supply and demand.
Consider that the average age of a commercial truck driver in the U.S. is 55 years old, according to the Bureau of Labor Statistics. A large number of these drivers will choose to retire over the next decade or so, with many already starting to exit the workforce. However, at the same time, there is insufficient new supply of truck drivers, particularly as many younger drivers shy away from entering the profession.
Only 20 per cent of truckers fall into the 20-34 age bracket. This is partly driven by the fact that drivers must be over 21 years of age to cross state lines according to federal rules, creating a three-year gap between high-school graduates leaving school and when they can enter long-haul trucking as a vocation.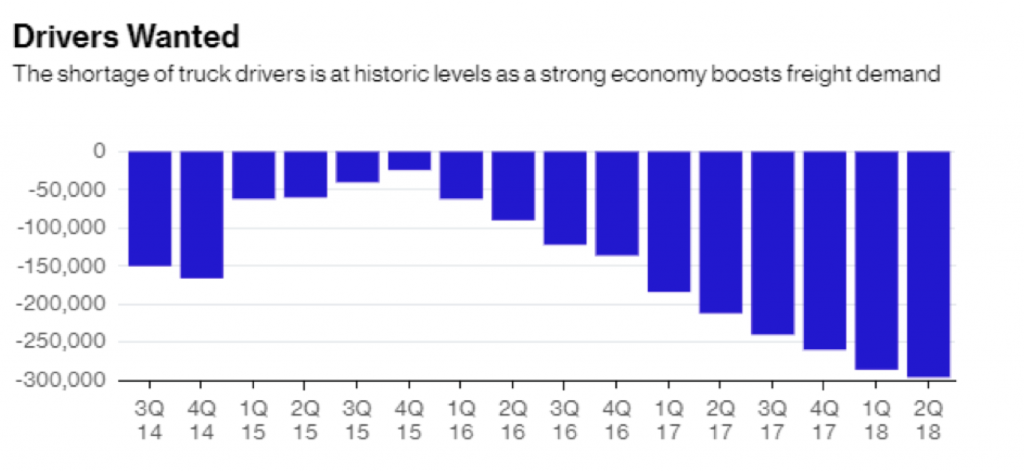 Source: FTR Transportation; via Bloomberg
With the U.S. economy operating at full employment, the tight U.S. labor market has seen construction and manufacturing jobs draw in would-be truckers. In the twelve months to June 2018, payrolls for construction jobs increased 4.1 per cent, and rose 2.3 per cent for manufacturing jobs. Truck wages over the same period rose just 1.7 per cent. Construction and manufacturing industries also have an easier task of attracting workers compared to getting someone behind the wheel of a big rig, given the arduous nature of truck driving work.
U.S. truck drivers endure tough conditions – they are often on the road for many days, and might only return home a few times a month. Sleep deprivation, poor access to healthy food, and showering at truck stops, makes for a challenging lifestyle. Despite truck driver wages increases in the U.S., trucking companies are still struggling to fill vacancies.
The following comment on the trucker shortage made by a company I heard from was illuminating:
"We've put through numerous driver initiatives to create competitive advantages for drivers to select and stay at Werner in a very tight labor market for drivers…So there are a lot of big issues that make competing for the driver and retaining best drivers very difficult. Aging driver demographics are working against us. There are more drivers retiring in our industry than there are new entrants coming in. The unemployment rate is low at nearly 4 per cent. The time away from home is a big challenge in recruiting people to this industry" – John J. Steele, CFO of Werner Enterprises.
Trucking rates are going through the roof as a result of the tight trucking capacity.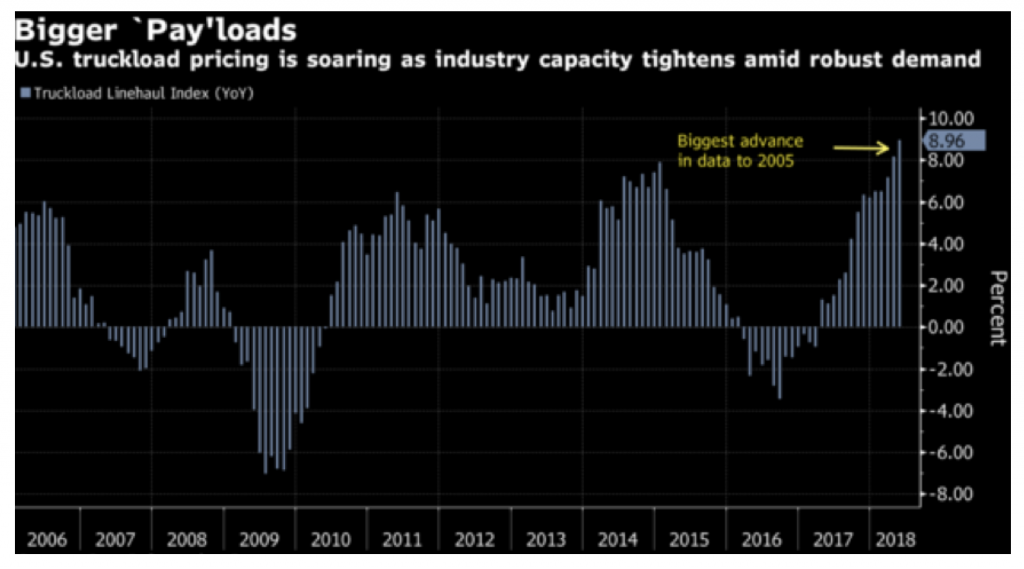 Source: Cass Information Systems, via Bloomberg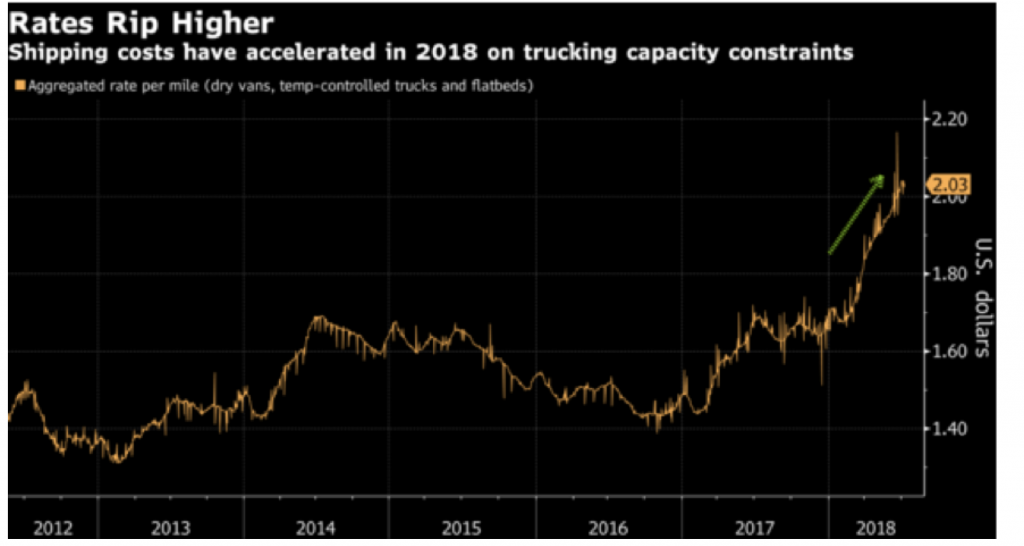 Source: Truckstop.com, via Bloomberg
It's worth noting that transportation costs comprise some portion of the cost base of virtually every firm in the U.S. that produces or sells physical goods; increasing transportation costs negatively impacts the margins of these firms, and can create inflationary pressures throughout the economy. It is crucial to observe these industry trends to understand how they may affect an investment, whether positively or negatively. With that said, the structural element to the driver shortage may mean that freight rates remain elevated for companies for some while yet.
This post was contributed by a representative of Montgomery Investment Management Pty Limited (AFSL No. 354564). The principal purpose of this post is to provide factual information and not provide financial product advice. Additionally, the information provided is not intended to provide any recommendation or opinion about any financial product. Any commentary and statements of opinion however may contain general advice only that is prepared without taking into account your personal objectives, financial circumstances or needs. Because of this, before acting on any of the information provided, you should always consider its appropriateness in light of your personal objectives, financial circumstances and needs and should consider seeking independent advice from a financial advisor if necessary before making any decisions. This post specifically excludes personal advice.
INVEST WITH MONTGOMERY