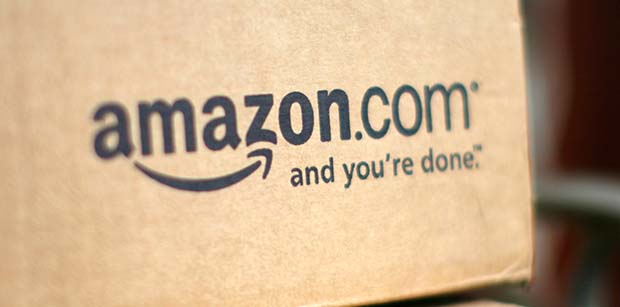 Where Amazon will hurt electronic retailers the most
We've been cautious on the retail space for some time – particularly retailers at risk of being hurt by Amazon's entry into Australia. Two of the companies we believe will be most affected are the electronic retailers, JB Hi-Fi and Harvey Norman.
In light of Amazon's impending arrival, and also in light of my personal experience (I recently moved house and needed to buy a longer HDMI cable for the TV), I thought it would be interesting to have a look at which JB Hi-Fi products would potentially be impacted.
I therefore went online and did a comparison of a number of different products on www.jbhifi.com.au and www.amazon.com. The table below shows the Amazon prices converted to Australian dollars and also added 10% to account for Australia's 10% GST.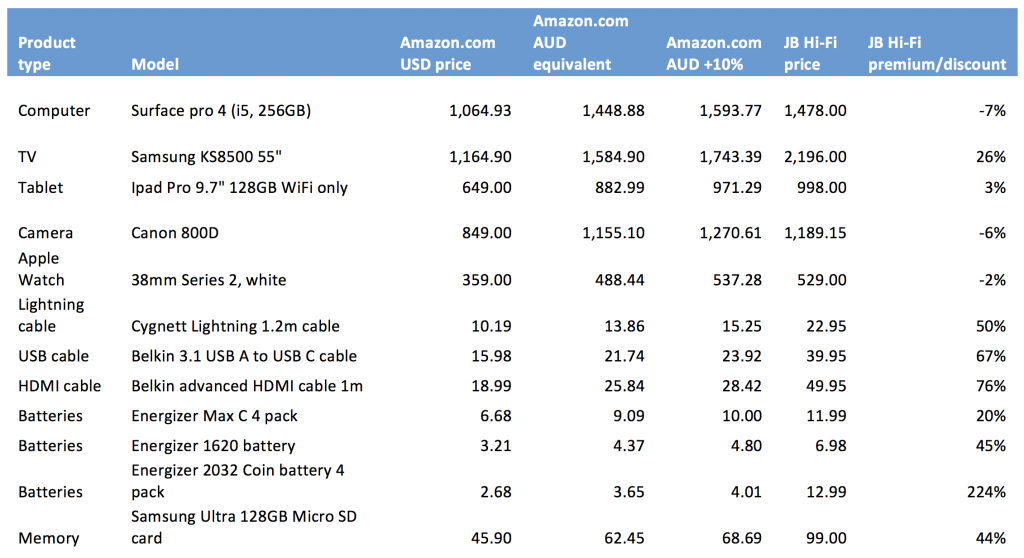 As you can see, the big brand names like Apple, Microsoft and Canon control their prices and there is basically no difference at all between the US and the Australian prices – Australian prices can even be lower than the US price. There is some difference in TV prices but it is hard to tell as it is hard to find the exact same model marketed in both the US and Australia (this is to some extent true for computers as well).
Where there are big differences is in the side products like cables, connectors, batteries and memory cards, etc, that you probably need or the electronic retailers will try to upsell to you when you buy a computer or a TV or a camera. As the table shows, there can easily be a 50% difference in JB Hi-Fi's price and Amazon's price.
Granted, Australian consumers are already able to buy these kind of products cheaper on-line through eBay or other sites (I bought my HDMI cable through www.shoppingsquare.com.au for a price even cheaper than Amazon), but Amazon will change the landscape for 3 reasons:
Amazon is a much more reputable vendor than the existing websites and we believe that Australian consumers will be more comfortable shopping there.
The consumer will be able to buy both their camera and the memory card or the TV and the necessary cables, etc, from the same vendor in the same transaction and not be overcharged for the accessories, and only have to pay one shipping charge (or potentially no shipping charge if you are an Amazon Prime member).
Having Amazon in the market will likely enable consumers to have a legitimate source to convince the existing retailers to price match accessories as well as the big ticket items (retailers generally only price match other big retailers and not smaller websites).
Our prediction is therefore that JB Hi-Fi and the other existing electronic retailers will see the most impact on margins from price pressure on high priced accessories, which is where they are making a lot of their profits today. There will of course be impact from lost volume on the big ticket items like TVs and computers but these have much lower margins already so this will be more of a sales loss and not as margin dilutive.
You can read previous posts here:
Watch out retailers, here comes Amazon
Perfect storm brewing for local retailers
This post was contributed by a representative of Montgomery Investment Management Pty Limited (AFSL No. 354564). The principal purpose of this post is to provide factual information and not provide financial product advice. Additionally, the information provided is not intended to provide any recommendation or opinion about any financial product. Any commentary and statements of opinion however may contain general advice only that is prepared without taking into account your personal objectives, financial circumstances or needs. Because of this, before acting on any of the information provided, you should always consider its appropriateness in light of your personal objectives, financial circumstances and needs and should consider seeking independent advice from a financial advisor if necessary before making any decisions. This post specifically excludes personal advice.
INVEST WITH MONTGOMERY