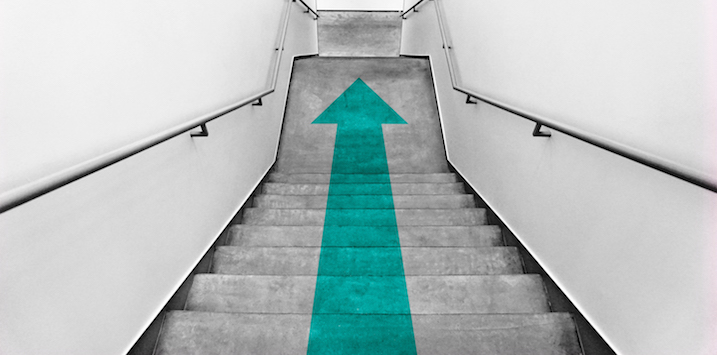 What goes down, may just stay down
For over a decade the debate around US interest rates has been around when they would finally rise again, rather than if. Now that sense of inevitability is being shaken hard, or at least pushed out indefinitely once more.
After peaking in the mid-teens back in the early 1980s, interest rates on US 10-year government bonds had been on a long-term downward trend for decades leading into the financial crisis of 2008 and 2009.
US 10-Year Treasury bond yield over the past 50 years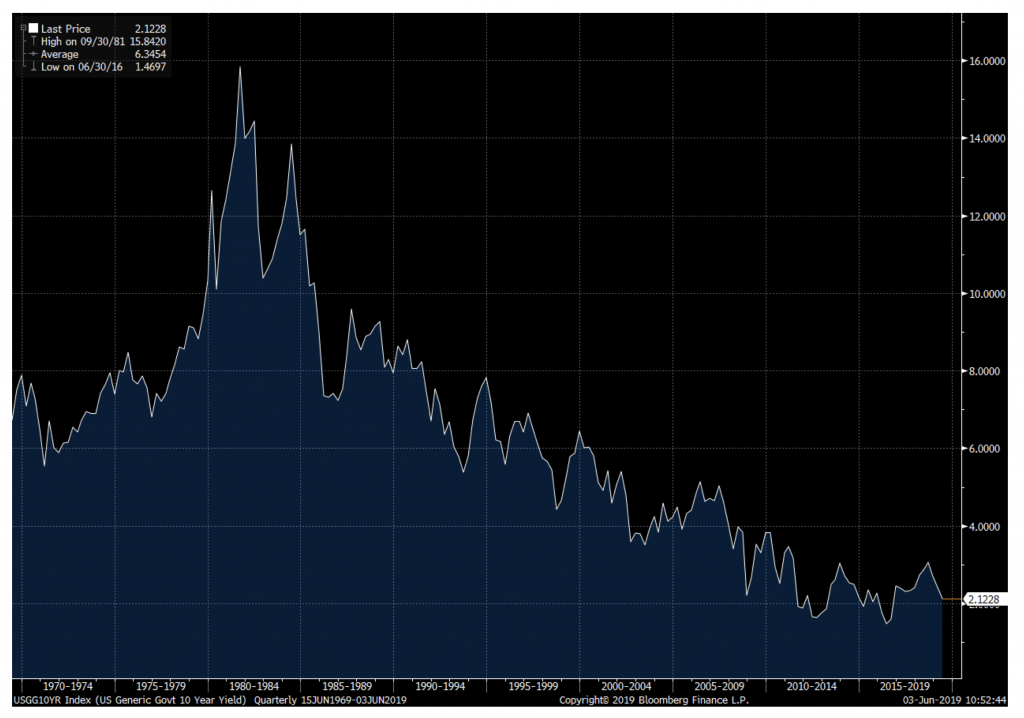 Source: Bloomberg
At around this time the US Federal Reserve threw all its might at loosening monetary conditions to support the US economy by dropping policy rates and buying bonds. Interest rates fell further and at the end of 2008 the 10-year government bond rate hovered near 2 per cent. As the Fed's balance sheet ballooned the 2 per cent level had become the "new normal" just a few years later.
US 10-Year Treasury bond yield since 2007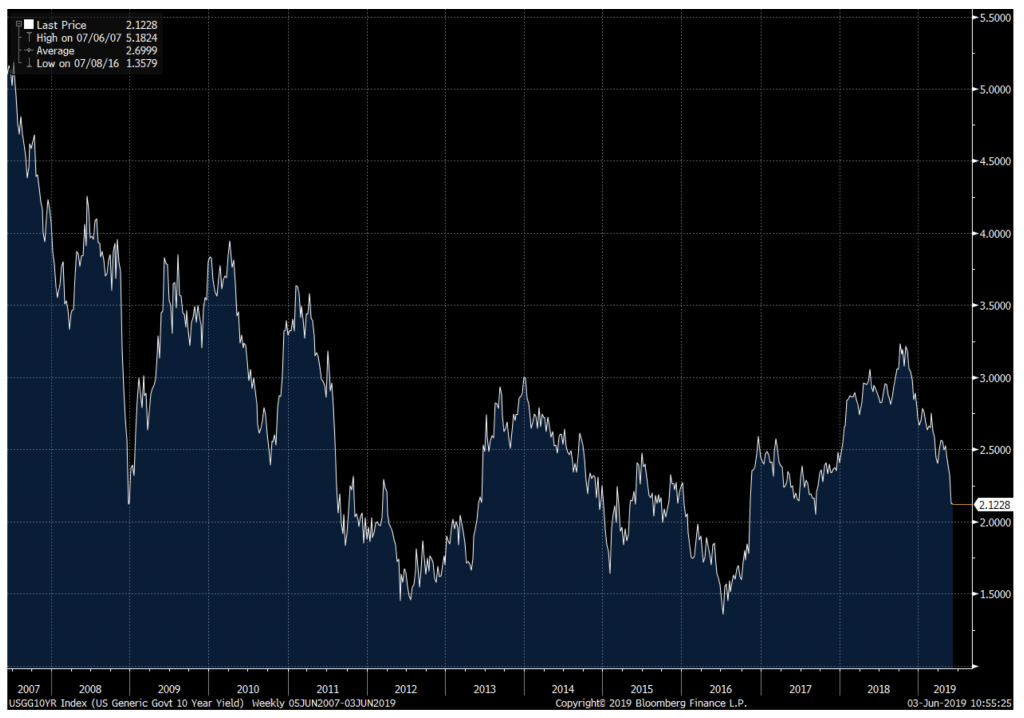 Source: Bloomberg
Ever since, as US financial conditions and economic output have recovered, albeit tepidly, many commentators and analysts have been calling for a rebound in long-term interest rates. After all they can't stay low forever. There have been some false starts.
In 2013, long bond rates rose from around 1.5 per cent up to 3 per cent, only to slide back down to that starting point in a 3-year round-trip. Then in mid-2016 interest rates bounced again. As the Fed picked up the Fed Funds policy rate from virtually zero up to 2.25-2.5 per cent and allowed its stock of bonds to roll off, the 10-year yield rose too, and breached 3 per cent last year. That's all changed now.
The Fed has reversed its previous strict course on raising rates and allowing its balance sheet to shrink. At the same time inflation has weakened over the last year. Moreover, there are now clear and present dangers to the US economy considering President Trump's hard-line stance on trade.
Year-over-year change in US CPI for the last 12 months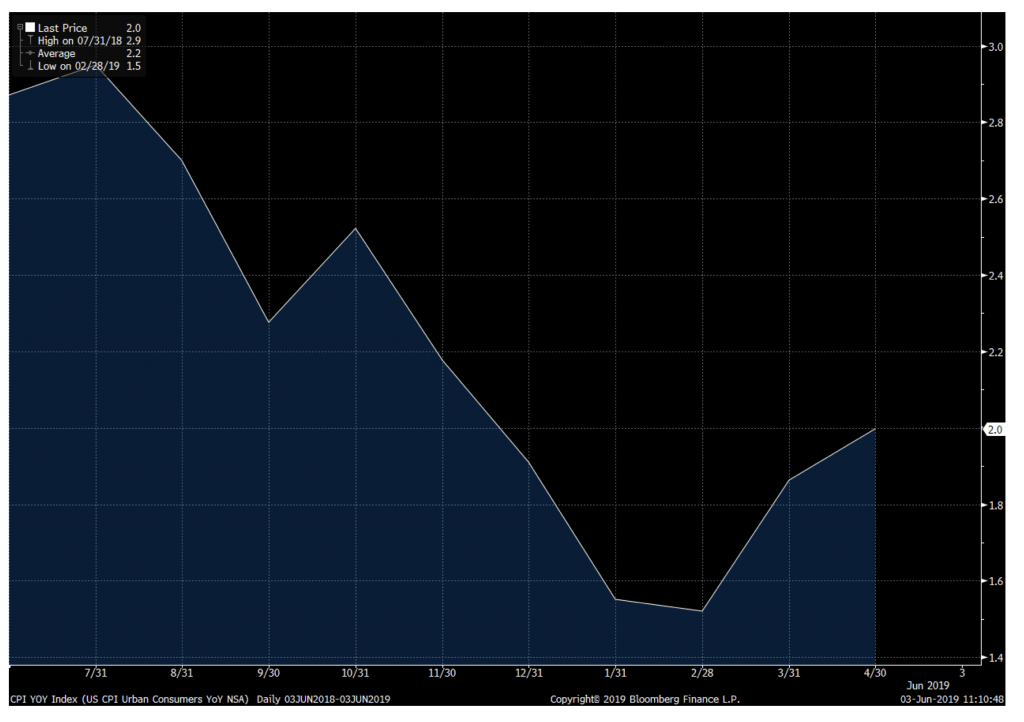 Source: Bloomberg
Recent months have seen Trump shut the door on a trade deal with China, increase tariffs on their exports to the US, and impose punitive measures to restrict the progress of a Chinese national corporate and technology champion in Huawei. It doesn't end with China. In an effort to stop mass immigration from Mexico to the US Trump has decided to levy tariffs on its southern trading partner. And just days ago Trump decided to remove India's special trade status that exempted the country from US tariffs on billions of dollars of products.
Markets have started to question the potential fallout for the US economy. These developments have sent investors back into the relative safety of US long-term bonds. And the yield on these securities has accelerated downwards. After peaking its head above 3.2 per cent late last year, the 10-year interest rate is only just above 2 per cent today. In March around 40 basis points (a basis point is 1/100thof a percentage point) was erased, and last month the yield recorded a similar step down.
US 10-Year Treasury bond yield over the last year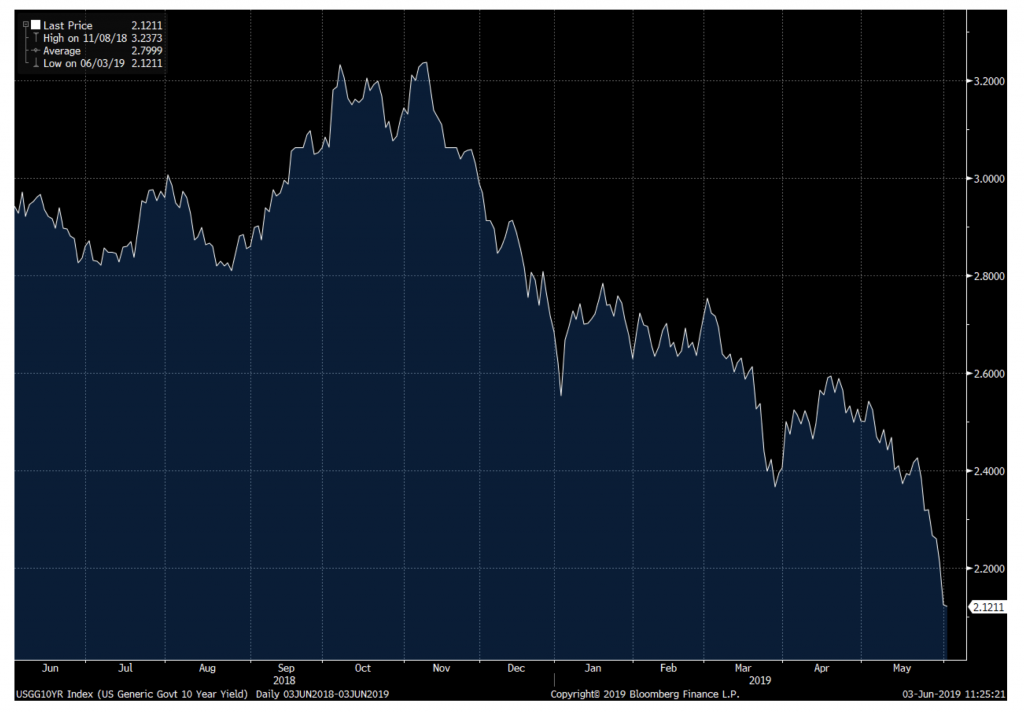 Source: Bloomberg
It wouldn't be surprising if lower rates are here to stay, for even longer than anyone would have thought over a decade ago.