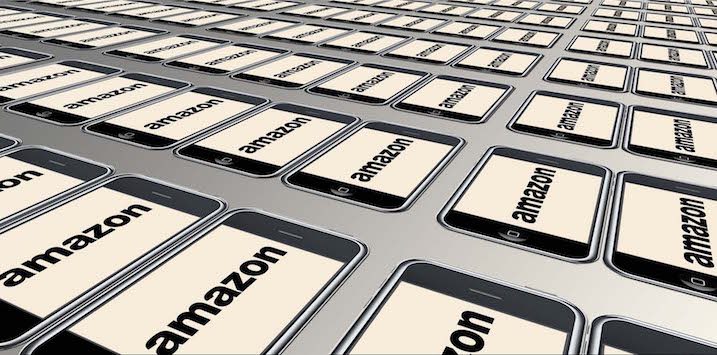 Watch out, advertisers – here comes Amazon
Amazon is the second largest commerce platform in the world – the gold medal goes to Alibaba – but until recently very little has been made of its advertising business. This could all be about to change as it sets out to capture a greater share of the global advertising dollar.
It should come as no surprise to readers to learn that Google and Facebook together control over two-thirds of US digital ad spend and half of global digital advertising.
Against these two giants, Amazon's advertising business looks like a minnow. The company first started breaking out its "Other" revenue item, which includes advertising revenue and other items such as co-branded credit cards, in 2016. "Other" revenue grew by 73% in 2016 and 53% in the first half of 2017, and is now Amazon's fastest growing business with $3.6 billion revenue in the trailing twelve months. Although we don't know exactly how much of that relates to Amazon's advertising business, the entire sum represents less than 2% of global digital ad spend. That is a miniscule share of global advertising for the dominant commerce platform outside of China.
Now, the accelerating displacement of traditional retail channels by Amazon has brands scrambling to rethink not only their relationship with the e-commerce juggernaut, but also the allocation of their advertising budget dollars.
Consider that Alibaba, which is the largest commerce platform in China (and the world), controls nearly one-third of China's digital ad spend. Setting aside the different business models – Alibaba is an advertising business with a social commerce platform while Amazon is a commerce platform with an advertising business – the platforms that capture the greatest consumer wallet share should over time capture a greater share of advertising budgets.
Ad giant WPP recently said that more than half of US consumers now began their product searches on Amazon, compared with 28% on search engines and 16% on retailer websites. Amazon has the best data on consumer purchasing habits available anywhere (ex-China) which, coupled with the high purchase intent of customers performing Amazon searches, should provide brands with the best targeting and highest ROI on their ad dollars.
If we think about the economics of the advertising business, its hidden value to Amazon becomes even more compelling. Consider that Facebook generates gross margins in the high 80% range. If Amazon's advertising gross margin is similar, it would be multiples higher than the gross margin of its retailing business.
The contrast is even greater at the operating margin level. Amazon already incurs operating costs associated with running its e-commerce websites. The incremental cost of placing more ads on said websites should be much lower, and we would expect the operating margin of the advertising business to be an order of magnitude higher than Amazon's low-single-digit consolidated margins.
Sir Martin Sorrell, the CEO of WPP and arguably the most important advertising executive in the world, has stated on record that Amazon is the thing that keeps him awake at night. Amazon's advertising business may seem insignificant today, but if it can eventually capture more than a fraction of global advertising spend, it could add tens of billions to the company's value.
The Montgomery Global Fund and Montaka own shares in Amazon (NASDAQ: AMZN).