The race for TV content
Have you noticed how the quality of TV content has changed over the last decade? Game of Thrones, Homeland, Ozark, Breaking Bad, House of Cards. These shows are recent examples of high-value writing, casting and production which have sparked the age of "binge-watching". Others are calling it "peak TV".

And now the race is on.  Consumers will always flock to the next big hit – so media companies need to keep producing to drive viewing membership. And big dollars are being thrown at producers to deliver high-quality content.
As shown below in a helpful chart compiled by The Information, Disney and NBC Universal are spending around US$12 billion annually on TV programming. Meanwhile, Netflix, Time Warner (which owns HBO) and CBS (which owns Showtime) are spending around half this amount.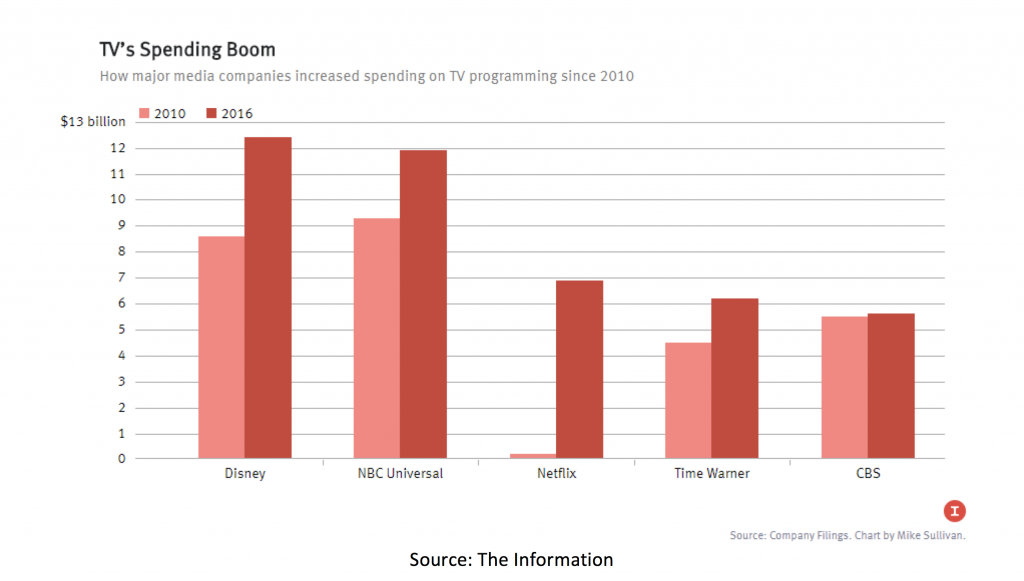 And established media companies are not the only players vying for content ownership. Amazon is believed to be spending around US$5 billion annually on TV content creation which it will make free for Amazon Prime subscribers. Meanwhile, Apple and Facebook are both planning on dipping their toe in the content-creating water.
This is all great news for TV-loving consumers. But this is really bad news for traditional free-to-air television networks that have historically acquired third-party content to distribute. At a time when content costs are rapidly inflating, the advertising dollars associated with traditional TV are waning. And without access to the high-quality content, viewership will decline more rapidly, which will only exacerbate the decline in advertising spend on this platform.