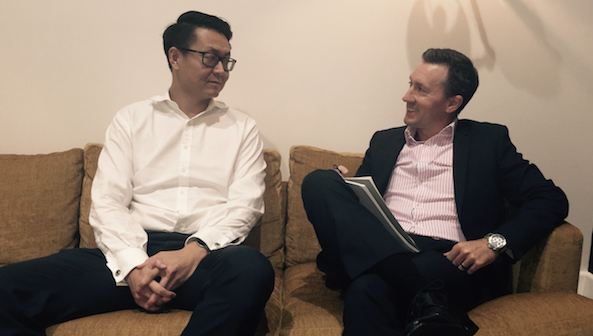 The people behind the process
Continuing my ongoing series of interviews with Montgomery investment staff, where I lift the lid and see what makes the people behind the process, the blog posts and the impressive numbers tick. I catch up with our newest analyst Daniel Wu who joined the global team last month.
Profile: Daniel Wu
What initially drew you into funds management?
Coming from an investment banking background, I think that funds management is the antithesis of sell side advisory. I not only enjoy learning about a wide range of businesses and sectors (without fee-driven biases), but also the intellectual challenge of extracting variant perceptions into a thesis, and testing that thesis against the market. I also prefer a meritocratic environment that rewards hard work and good ideas over a strict hierarchy. Finally, managing other peoples' money and being judged on a track record enforces a high level of rigor and sense of accountability.
What makes a successful investor?
Second level thinking is one of the most important things for successful investing. By definition, a successful investor must earn an above-average return. However, an investor possessed of only first level thinking (e.g. Company A is a great business therefore we should buy the stock) will have difficulty drawing any variant perceptions or insights from information readily available to everyone that would allow them to outperform the average investor (i.e. the market). The second level thinker thinks, "Company A is a good business but everyone thinks it's a great business – could the stock be overpriced as a result?" Fortunately, investors can learn second level thinking by being intellectually curious and open to considering all possible outcomes.
What is the best piece of advice you have been given?
To be intellectually honest with yourself. This was a particularly important piece of advice to follow during my time in investment banking, where the pressure to win a mandate or close a deal can often lead to stretching the limits of intellectual integrity. The human mind is capable of convincing itself of anything, but deluding yourself is not going to change the reality of the world around you.
What is the biggest mistake that most investors make?
Many investors fail to truly appreciate that at its very basic level, investing is simply about being compensated to take risk. This leads to investors viewing the world deterministically – that is, if A happens, then B will happen; if X doesn't happen, Y won't happen. But risk by its very nature is uncertain – more things can happen than will happen, and just because one thing happened in the past doesn't mean other things couldn't have happened. By viewing the world deterministically, the investor may contemplate a limited range of knowable and quantifiable risks, but not the existence of unknowable or unquantifiable risks. As a result, the investor has not sought appropriate compensation (a.k.a. margin of safety) for the full gamut of known and unknown risks faced. A better framework would be to view the world probabilistically, and acknowledge that instead of discrete outcomes to which discrete values can be assigned, there exists a (fat-tailed) distribution of possible outcomes with a range of possible values.
If you weren't an Analyst at a boutique funds management firm, what would you most likely be doing?
I have been interested in finance and learning about businesses since a young age, so I imagine I would still be doing something similar. The idea of being the operator instead of the investor has intrigued me in the past, so I could see myself in a corporate operational role. Or perhaps I would be treading down the dark path of private equity…(but more things can happen than will happen!)
So Daniel, can you please share with our readers what you are working on at this minute and why?
Given the vast investment universe available to Montaka, I could be looking at a broad range of long and short ideas across different geographies at any given time. I am currently doing a deep dive on some global retailers and cosmetics companies, and monitoring developments in some technology companies for attractive entry points.
What do you do in your spare time?
I try to read as much as I can in my spare time on topics such as science, history, technology, management, etc. as I feel that reading widely is important for personal development. I am inexplicably intrigued by American sports (particularly the "set-piece" codes) and will watch them, along with Formula 1, if I come across them on a TV. I also started skiing recently and am trying to make up for lost time by spending a few weeks on the slopes every winter if I can.