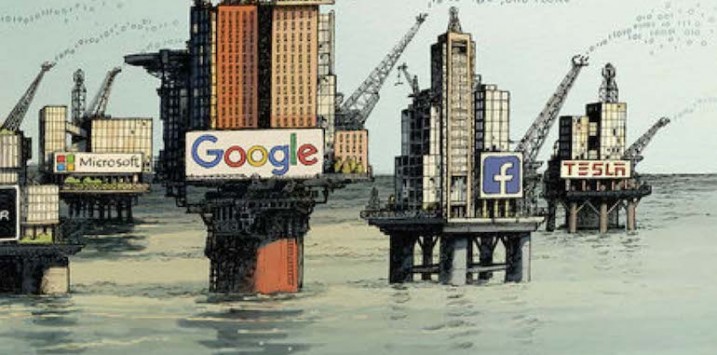 The new phase of big data
"The world's most valuable resource is no longer oil, but data", read the cover story of the Economist earlier this year. After recently hearing from a number of companies at a technology conference in New York, there was a strong recurring theme that seemed to fit that sentiment: data is becoming increasingly important and firms are rushing to find ways to best utilise this data.
In a constantly connected world, data volumes are exploding, and there are genuine benefits to companies that are able to be capitalise on the data they capture from customers.
In recent times, the growing number of transactions completed online, particularly via mobile, have given companies more data about their customers than ever before. These transactions could be as simple as buying a shirt from ASOS, ordering from your favourite local restaurant, or purchasing a cinema ticket. What's important is that virtually every transaction we make nowadays leaves a digital trace. Consequently, we have seen the emergence of "big data", whereby statisticians are no longer confined to samples of data as was historically the case, but now have at their disposal masses of first hand, relevant data.
This proliferation of data, combined with machine learning and artificial intelligence (AI) capabilities, is moving big data into a new phase – one where enormous volumes of data can be mined autonomously to extract insights for companies. Machine learning refers to the process of using large data sets to create, test and train the AI; and companies are increasingly leaning on AI algorithms to glean insights from their data sets. AI is being used as a way to scale and accelerate the process of extracting insights from collected data, and it is becoming a disruptive force that will bifurcate the fortunes of companies between those with strong AI capabilities for data, and those without.
A NewVantage Partners survey showed that 88.5 per cent of the executives surveyed rated AI and machine learning as the number one disruptive impact for their companies over the next decade.

Source: NewVantage Partners Big Data Executive Survey; MIT Sloan Management Review
Firms are moving from what has traditionally been hypothesis-led decision making to a "data-first" approach, and it is worth understanding the implications of good data sets. This data is important for a number of reasons: (i) monetisation; (ii) providing for a better customer experience; and (iii) the consolidating effect it has.
Monetisation
Firms that accumulate data have the ability to monetise this data, with a number of options at their disposal. One option is to sell the data to other firms, which then monetise that data. Companies are also able to package data and monetise it themselves. Take 51job (Nasdaq: JOBS) for example – a China-based online recruitment portal that helps job seekers find employment opportunities. JOBS has over 90 million resumes in its database, which it packages into bundled offerings that employers pay for to get access to job seekers. Lastly, it is possible to monetise the data indirectly: namely using data to improve the firm's own internal processes, in a bid to increase productivity.
Better customer experience
Data, through the deeper insights it provides around a firm's customers, offers an opportunity for businesses to sharpen the customer experience and escape commoditisation. Take GrubHub (NYSE: GRUB) for example – a firm that matches diners ordering takeout with restaurants. GrubHub knows the periods when a diner is most likely to order food, which restaurants they are ordering from, what dishes they prefer, etcetera. GrubHub is able to take this data and give diners more relevant recommendations around restaurants and dishes. This creates a more seamless user experience which maximises the chances of repeat traffic and transactions.
Consolidating effect
Those with the best data, and the best tools and capabilities to use that data, are able to widen their lead over competitors. Take self-driving cars, for example. Firms that make breakthroughs around self-driving cars early on will be able to leap ahead of competitors. As such, more people are likely to be inclined to buy self-driving cars from that company, which leads to the creation of even more data. This has the effect of making it increasingly difficult for new entrants to scale the learning curve, as they are unlikely to be able to secure the data necessary to achieve as good a product and customer experience as the incumbent firm.
When investing in companies, it is crucial to understand the importance of data and how this might serve to create a competitive advantage, or disadvantage, for that company.
The Montgomery Global Funds own shares in 51job (Nasdaq: JOBS)
Are you looking for a simple way to invest in high quality global businesses? Applications to the new Montgomery Global Equities Fund are now open. To access the PDS and find out more, please visit the MOGL website.