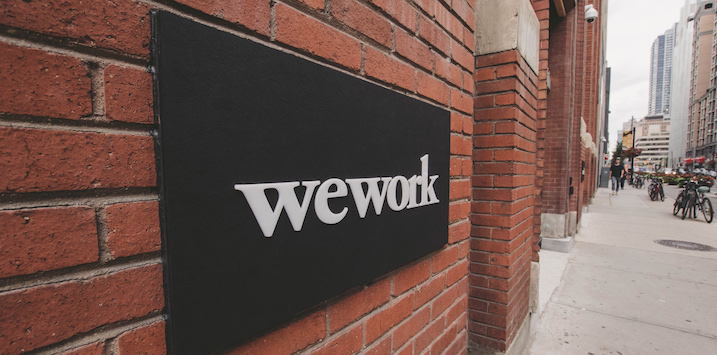 Is this a $47 billion company?
As we round the corner on the half way point of 2019, it is shaping up to be a banner year for multi-billion dollar technology IPO's. The number of U.S. "unicorns" (i.e. tech startups worth more than $1 billion) has swollen to nearly 180, some 20 times more than the number a decade ago. Perhaps inevitably, we are now seeing several make their way into the public market with mixed results.
While it is unsurprising that startups generally do not make money initially, hence are often born in the private market, it is somewhat surprising that over 80 per cent of U.S. tech companies going public over the last year remain unprofitable. The last time the proportion of unprofitable businesses going public was this high, occurred back in 2000, the same year the dot-com bubble burst.
The marquee unicorns that have listed this year include Lyft, Pinterest, Zoom, Uber, Fiverr, and Slack (in order of listing), which when taken in aggregate have produced broadly flat performance over that time.
Marquee Tech Unicorn Performance Since IPO (2019)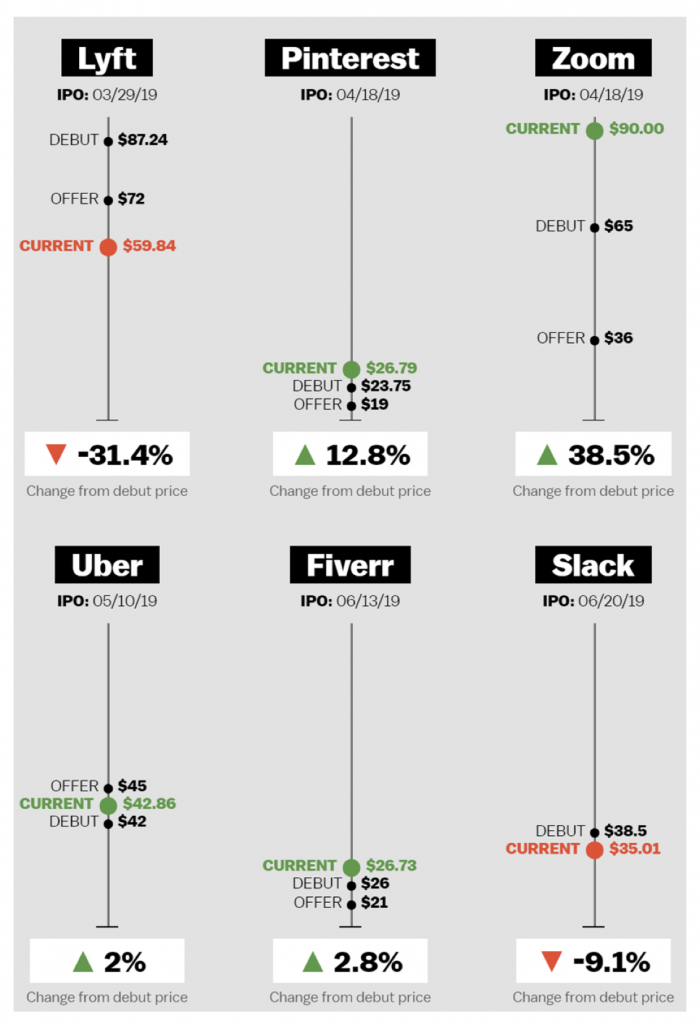 Source: Recode (data through July 8, 2019)
Of the major tech unicorns awaiting IPO, perhaps none has divided investors like WeWork, perhaps because its business model looks more like a regular brick-and-mortar operation than a genuine technology play. Basically, what WeWork does is enter into long-term leases for buildings/commercial spaces which it divides and renovates into trendy offices, before subleasing them on a short-term basis to other firms (generally start-ups).
While there are claims of network effects and pricing power for WeWork in time, the business remains heavily loss making. In fact, according to reports the nine-year-old company lost $1.9 billion in 2018 on revenue of $1.8 billion (WeWork's financials are private), indicating that the competitive advantage bullish investors see is certainly taking its time to show up.
Adding to the palace intrigue is WeWork's most recent private funding round. While it was given an official valuation of $47 billion and raised $1 billion of fresh capital from its major investor SoftBank in early 2019, insiders sold at an approximate 50 per cent discount at the same time. Somewhat confusingly Softbank was also able to buy another $1 billion worth of shares from WeWork employees and investors at a valuation of around $23 billion (about half the headline number), which implied a blended valuation of approximately $36 billion. Clearly such a large disconnect/mismatch between the price a company will issue new capital at, versus what insiders are willing to sell for is very unusual.
In fact, Softbank had initially been ready to invest $10 billion buying out early WeWork investors in addition to injecting another $6 billion into the company, however aborted those plans at the last minute and allocated only $2 billion for its WeWork investment. Perhaps the large number of motivated, insider sellers willing to accept a valuation half that of what Softbank was willing to pay had something to do with it.
As the IPO approaches reports that the cash thirsty company is now looking to borrow $3-4 billion ahead of the listing are emerging, with the potential for the borrowings to expand to as much as $10 billion over the next few years (following the IPO). Given WeWork currently losses around $220,000 every hour of every day it operates (LTM Q1 2019), it will be interesting to see how the public market digests all of these moving pieces and arrives at a fresh valuation for the business (assuming it ultimately lists!)