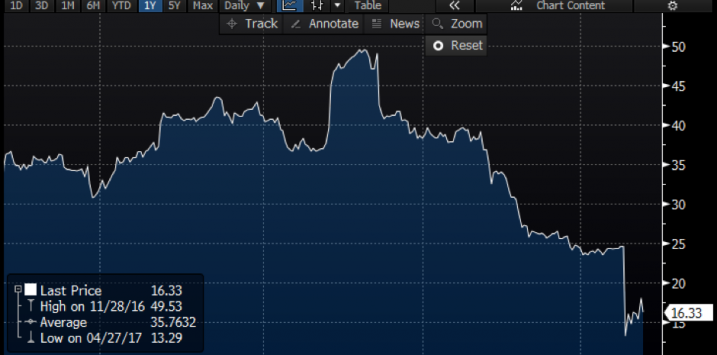 Synchronoss Technologies: A case study on destroying shareholder value
Synchronoss Technologies (Nasdaq: SNCR) was a short position in our Montaka strategy that generated our investors a 70 percent return on investment in four months. It is also a prime example of why shareholders and investors must conduct their affairs with a healthy dose of scepticism.
SNCR provides cloud storage services mainly to Verizon's wireless customers, and a secure mobility platform to enterprise customers. The company also owned a mature but cash-generative mobile phone activation business, which, through several baffling transactions, it exchanged for a money-losing (slow) growth business. It was these transactions that first caught our attention.
In December 2016, SNCR announced that it was acquiring Intralinks, a virtual data room and enterprise collaboration solutions provider that had not turned a profit since at least 2007, and was drawing on over $1 billion of debt to do so. Concurrently, the company announced that it was divesting its activation business into a company called Sequential Technology (STI), for an unusually low price – we estimate less than 3x LTM EBITDA. Management painted these transactions as getting rid of a low growth, low margin legacy business and transforming the company into a high growth cloud business.
When we tried to find out more about STI, we discovered that it was a shell company that may have had links with SNCR management, raising the prospect of a related party transaction that could explain such a favourable price for the buyer. We also had suspicions about the characterisation of the divested activation business as low margin. Our suspicions were reinforced when the 2016 10-K filing revealed that STI's holding company was previously named Omniglobe International, a company that certain SNCR management once had an interest in. The 10-K also revealed that contrary to management representations, the activation business had much higher segment margins than SNCR's consolidated margin.
We were further concerned about the 2017 guidance that was given on the Q4 2016 earnings call. Revenue guidance implied significant growth of the cloud business in 2017, whereas organic cloud revenue actually shrank in 2016 once acquired revenue and reclassifications were removed. The margin guidance implied cost-outs equal to 20 percent of the combined company's 2016 cost base – a stretch even if all expected synergies are realised. After giving the above guidance, the CFO then announced her resignation.
Then, on April 27, everything started to fall apart for SNCR. The company announced that its new CEO Ron Hovsepian, who had come across from Intralinks, was resigning effective immediately after three months on the job. The new CFO also resigned effective immediately, less than eight weeks after he was hired to replace the former CFO! The company also announced preliminary Q1 results, and now expect revenue to be $13 million to $14 million less than the guidance of $173 million to $178 million, and operating margin to be 8 percent to 10 percent compared to guidance of 18 percent to 20 percent. It should not come as a surprise to the reader that the stock tanked over 50 percent on the news.
Finally, SNCR was scheduled to release its Q1 results today (May 9), but had to reschedule to May 15 because it was not ready to file its 10-Q with the SEC.
The moral of this series of unfortunate events is that investors must treat all company disclosures, particularly non-legal disclosures (SEC filings are legal documents) with a degree of scepticism, and not simply accept what management says at face value. We at Montaka like these types of shorts because they satisfy all the criteria of our short framework. Had SNCR's shareholders relied on due diligence instead of blind faith, they too may have been able to protect (and even grow) their capital.
If you are interested in finding out more about the Montaka strategy, please click here.
Montaka is no longer short the shares of Synchronoss Technologies (Nasdaq: SNCR)