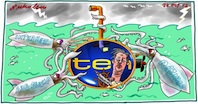 Swapping leaders 101, part 2
Free-to-air-TV is doing it tough.
Two of Australia's highly respected and sought-after media executives, James Warburton from Ten Network and APN's Brett Chenoweth, have lost their jobs in as many weeks.
Network Ten's (ASX:TEN) strategic position appears confused and it is stuck between a rock and a hard place.
Is it trying now to appeal to a broader demographic, where it is a clear number three; or will it return to the youth audience, where their move away from linear television is gaining traction?
We have been told the latter is no longer viable so that leaves a return to a strategy that has been tried before.
Ten has 2,587m shares on issue, and at $0.32 it has a market capitalisation of $815m.
Net debt, inclusive of derivative financing instruments, stood at $277m at 31 August 2012. However, the sale of the Eye Corp outdoor advertising business for $90m and the recent $230m capital raising could in fact see Ten with net cash of $40m at the 28 February 2013 half-year balance date.
Back in July 2011, we wrote of Network Ten;
"Warren Buffett observed that we are all "accidents of the womb". If you will allow me to extend this train of thought to "accidents of business" there must be many successful entrepreneurs in Australia who might wonder how much bigger their empires could have been if they had perhaps been born or established their business in LA, New York or London.
And I suspect this is a question – give or take a few expletives – that must surely vex Lachlan Murdoch in the context of his latest management decisions at Ten Network where he has a maximum audience of just 22,638,747.
The way to think about the market economics of TV is like a giant card game. There are three high roller teams at the table: Lachlan, Gina Rinehart and James Packer at Ten; the private equity outfit CVC at Nine; and Kerry Stokes at Seven.
Each ratings season represents a hand that is dealt and must be played. Sometimes Seven gets a good hand, but next time it will be Ten and then after that it will be Nine. The order doesn't matter much and the stakes don't get any bigger (literally!).
The point is that the three teams are sitting in a room with the doors and windows closed, there's a fixed amount of money in the pot and who wins will simply depend on the strength of their current hand.
It's a card game without an end. New hands are being dealt constantly. Occasionally one of the players will have a good run, get cocky and overplay his hand by spending too much on programs that flop. Someone else takes up the mantle and round and round we go.
That anyone thinks this is going to dramatically and permanently improve is perhaps the only surprising thing about the television game.
Actually, on second thoughts, I may have been a little optimistic. I did say the amount of money in the pot stays the same. After we take inflation into consideration it definitely is smaller! Then there are the forces of fragmentation at work.
The upshot of all of this is that the share prices of these companies go through periods of favour – almost always at the expense of another – and then periods of rejection. In the long run, the aggregate performance is unlikely to be impressive, nor any improvement be permanent."
You can read the full column here.
And that was when the share price was more than $1.05. It now stands at just 32 cents and despite an 80% share price decline in the past three years, Montgomery continues to avoid Ten Network.
We will be interested to see if Chairman Lachlan Murdoch and new CEO Hamish McLennan can articulate a winning strategy.