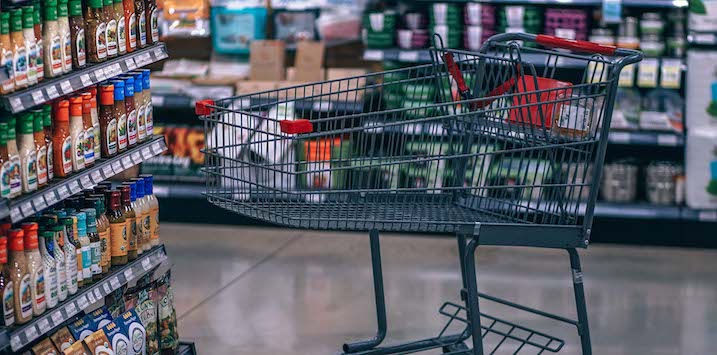 Storm Clouds for Branded Food
The landscape for packaged food companies has markedly shifted in recent years, with a growing number of challenges for branded food manufacturers. There are presently a set of conditions that could potentially amplify the risk of private label products taking greater share from branded players. Below are some observations that should give pause to investors who hold a sanguine view on branded food companies.
1) Increasing retailer consolidation
In the U.S., the top five largest grocers have increased their market share from 38 per cent in 2012, to 46 per cent in 2017, according to Euromonitor data. It is possible that we see a continuation of this trend of retailer consolidation in the U.S, as large grocers try to defend share against smaller retailers as well as e-commerce grocery disrupters such as Amazon.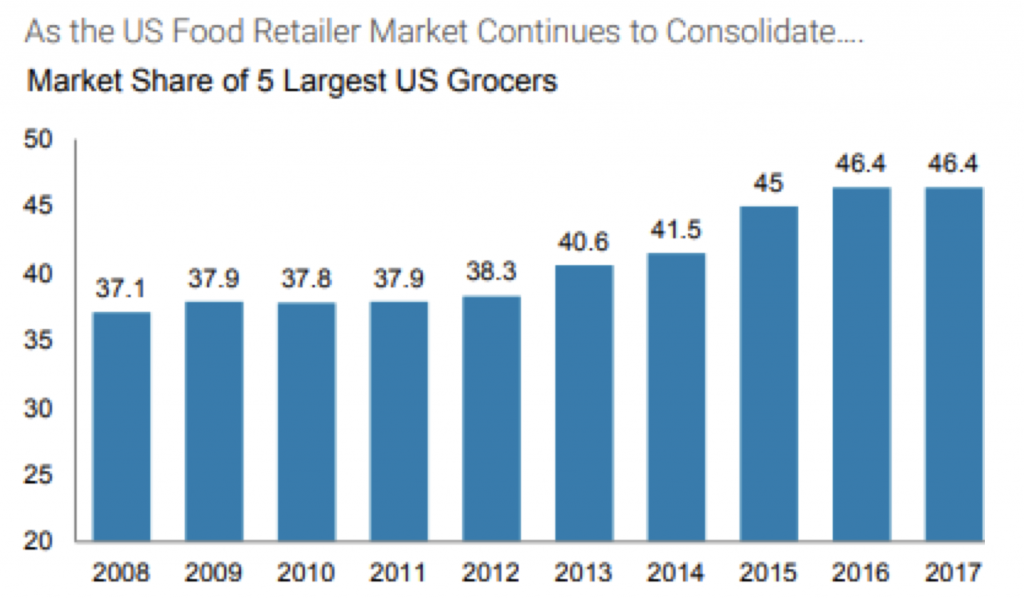 Source: Euromonitor; via Morgan Stanley Research
If U.S. grocer consolidation were to continue, it could support the current trend of increasing private label penetration in packaged food. If we observe the private label penetration of packaged food by geography, it is clear that more consolidated grocery markets such as the UK show trends of higher private label penetration of the packaged food category. In the UK (where food retailers are more consolidated), the penetration of private label products is around 2,000 basis points higher than in the U.S.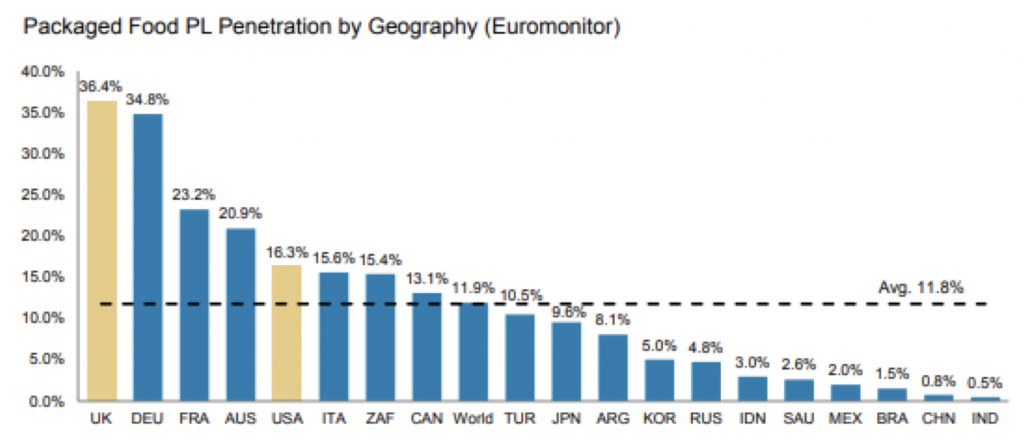 Source: Euromonitor; via Morgan Stanley Research
Some retailers have publicly stated their desire to pivot their SKUs more substantially to private label products. Kroger, the number two grocery store in the U.S., launched its "Restock Kroger"programme in late 2017, aiming to reconfigure 20-30 per cent of its space allocation with a desire to increase the presence of its private label products.
2) Branded to private label price gaps have increased
The price gap between branded food products and private label has increased materially in recent years. As an offset to declining volumes, branded food companies have been increasing pricing on their products, or employing other subtler means to boost unit prices such as using smaller packet sizes. Similar to boiling a frog, the competitive impacts from the price increases might not be dramatic in the short term, but the price premium of branded food products over private label products has increased to a point where consumers might be incentivised to make the switch from branded to private label.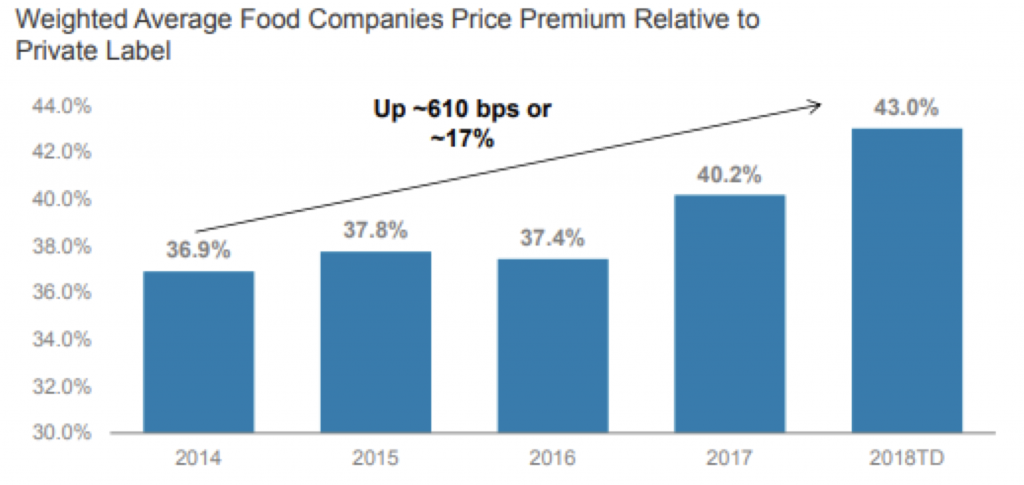 Source: Nielsen xAOC + C; via Morgan Stanley Research
3) Branded food players have slashed advertising
Interestingly, at a time when many food manufacturers cite their long-term growth algorithms, which involve driving revenue growth, many of these same companies have slashed their advertising expenditure. The problem here is that in the short term, a company can reduce advertising expenditure to support their profit margins, with potentially limited consequences. The difficulty is maintaining sales momentum if brand support is pulled via reduced advertising expenditure.
The average food company in the U.S. has seen its advertising expense fall from 6 per cent of sales in 2012 to less than 5 per cent in 2017.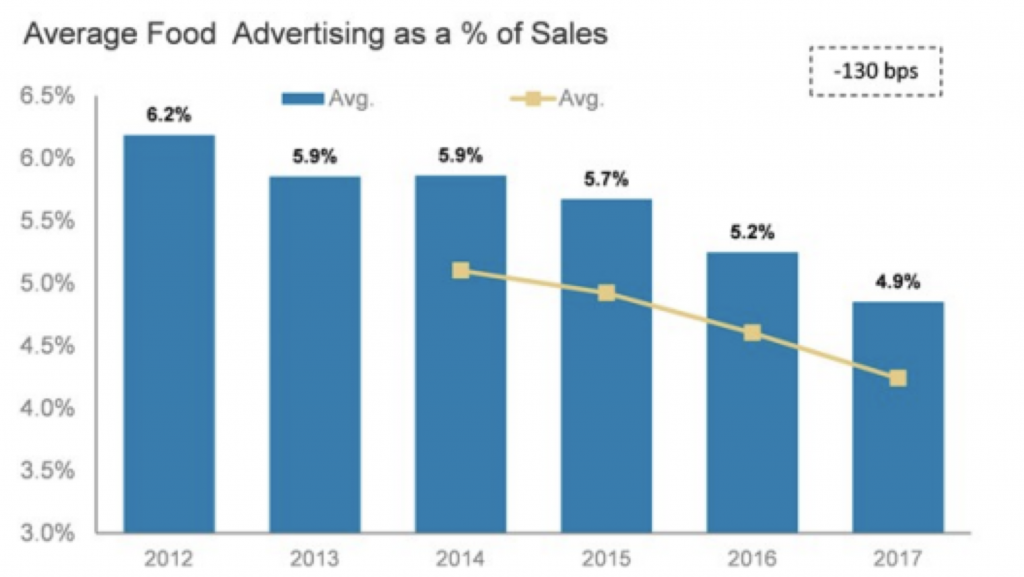 Source: Company date; Morgan Stanley Research
While some might argue that the reduction in advertising expenditure seen by food companies is due to lower costs associated with the shift to digital advertising mediums, this does not tell the full story. In the home and personal care (HPC) and beverage sectors we have seen precisely the opposite trend, with advertising and promotion expense increasing over the same period, despite these sectors also presumably benefiting from the lower costs associated with digital advertising.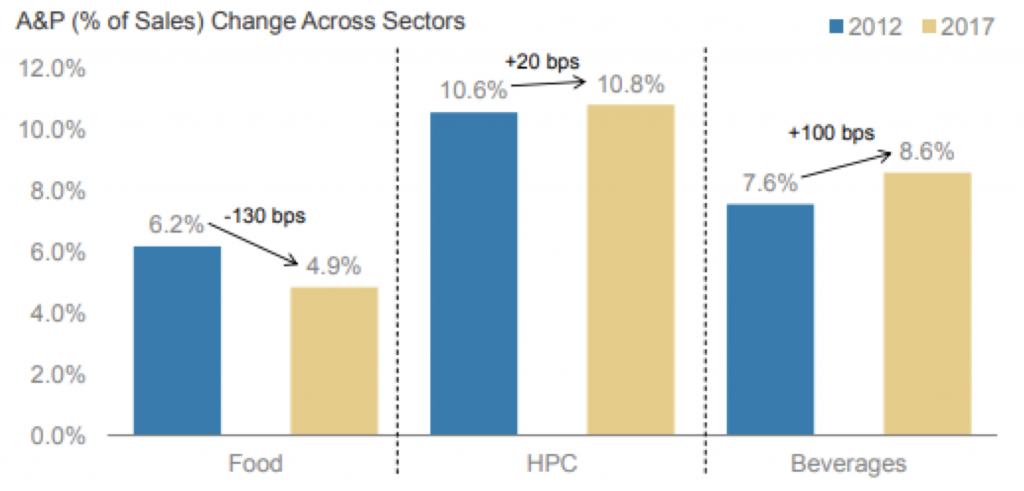 Source: Company date; Morgan Stanley Research
The above factors are likely to combine to create headwinds for branded food manufacturers. Storm clouds continue to brew over the packaged food sector, and we believe that some of these challenges will continue for branded food companies over at least the next few years.
For further information, see the whitepaper that the Montgomery Global team wrote on this space.