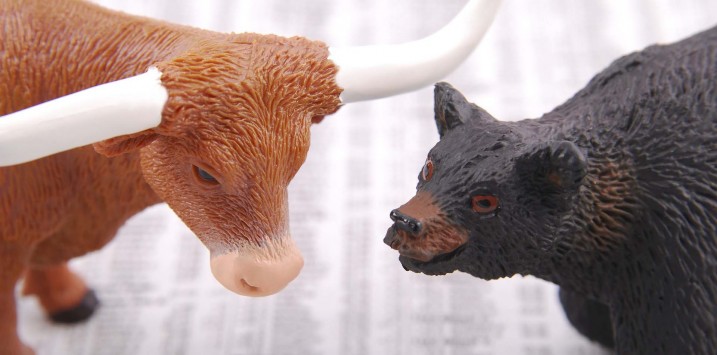 Stocks just entered a bear market. Now what?
A day after the ASX 200 entered bear market territory, the longest-ever bull run in U.S. stocks also came to an end. The Dow Jones Industrial Average took just 19 trading sessions to fall 20 per cent from its most recent record high – the fastest bull-to-bear market transition in history. U.S. stock indices are now firmly in bear territory, with the Dow and S&P 500 falling a further 10 per cent on Thursday. But setting aside the headlines and the gut-churning ride so far, what should investors do now?
Over the last 11 years since the GFC, stocks have had several close encounters with the Ursidae kind when financial markets lost their nerve but each time a solid economy (driven by a robust consumer) and/or Fed intervention pulled through. This time feels different, not least because of the emotional worry and panic caused by the coronavirus across the general population both in the U.S. and globally. With towns, cities and entire countries being placed under quarantine or lockdown, the hit to the consumer growth engine, particularly in the U.S., may be the most pressing catalyst to trigger a recession since the GFC. A quick V-shaped recovery may also not be guaranteed if the collective response to the coronavirus results in significant disruptions to productivity, long stretches of unpaid leave and a rise in job losses.
The unfortunate reality is that there is so much uncertainty associated with the coronavirus from a scientific and medical standpoint that trying to second-guess the duration and magnitude of its impact on something as emotionally charged as the financial markets is futile. We do not know the actual number of infections (and thus transmission speed), what the true mortality rate is, what percentage of the population will eventually contract it, and whether it will recede during the hot summer months as other coronaviruses do. To predict (and act) with high conviction that either the market has bottomed or will fall another X per cent is foolish as these things are simply unknowable. Calling the right outcome without calling the right cause doesn't make an investor good, it simply makes them lucky.
This does not mean that investors should just give up altogether and remain on the sidelines during this pandemic and market rout. Investors would do well to always remember that investing is an exercise of comparing price to fundamental value. It is true that the fundamental values of businesses will be affected by the coronavirus, but the question for investors is whether moves in stock prices appropriately reflect moves in fundamental value. Unless an investor believes that stocks were drastically overvalued several weeks ago, a market decline of this magnitude likely throws up some opportunities. As for how much to buy, Howard Marks has some sound advice for the intelligent investor in his latest memo – figure out how much you want to invest at the bottom and start spending some of it today. In an uncertain world, the bottom could be today, or it could be 20 per cent lower.