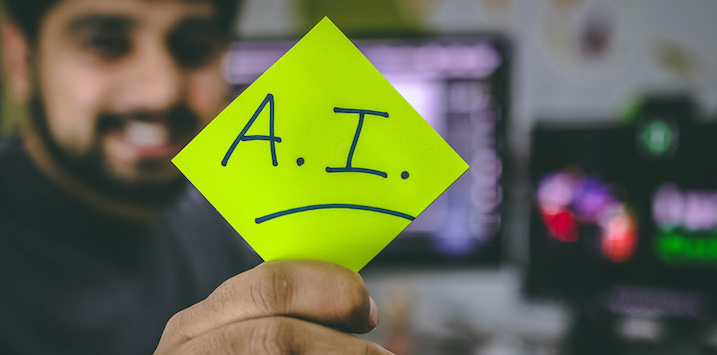 Staying a Step Ahead of Artificial Intelligence
By now we have all heard the term "Artificial Intelligence" (AI) which can be thought of as the simulation of human intelligence by computer systems. To get a sense for this let's consider "natural intelligence" or the way people learn.
This involves the collection of data from our surroundings over many years, using our senses namely eyes, ears, touch, feedback with trial and error, etc. A result of these efforts results in our ability to walk, talk, read, write and interact with our environment and other people.
Artificial Intelligence on the other hand involves feeding a computer systems massive quantities of information (big data), like medical records, credit card transactions, social media (tweets, posts, likes), etc. from which the system "learns". The learning is either "supervised" whereby a human provides data where known correct input-and-output pairs exist (e.g. what a tumor looks like in a MRI). The other form of machine learning (far more powerful) takes an "unsupervised" form, where the computer is trained on a set of data where there is no set of right answers. Instead, using the data the system establishes a probability weighted logic structure for what the output might be, and takes its best guess with the information it has.
Some examples of Artificial Intelligence in our everyday lives include:
Recommendation Engines: Netflix and Spotify use an artificial intelligence engine when suggesting what show, movie or music you may like to watch or listen to based on your most recent history. Another example is shopping recommendations based on previously observed patterns on Amazon.
Search and Ad Placement: Google uses AI capabilities in its search algorithm to improve results and targeted advertising. So when we are searching for a new pair of jeans through Google, we might get a display ad that promotes Levi's in the frame beside the search results.
Fraud Detection: AI is used to identify insurance claims that appear abnormal and also perform credit checks significantly increasing efficiently. Fintech start-up, ACORN OakNorth uses artificial intelligence to assist loan arrangers in assessing credit risk and managing its loan book. In fact, the company recently said competitors without AI typically employ ten times as many staff in credit assessments compared to ACORN OakNorth for a similar volume of loans and credit checks.
While the impact of AI is still being understood, it is expected to significantly impact almost every sector on earth and as with the creation of any disruptive technology, first movers will generally reap disproportionate returns. As such "data owners" (social networks, insurance companies, etc.) and artificial intelligence leaders (search, hyperscale cloud, etc.) are likely to see this first mover advantage become increasingly reinforced over time (network effects).
Alphabet (Google) and Microsoft are global leaders in Artificial Intelligence, while Facebook, Ping An and Prudential hold privileged positions in social media and insurance. In addition to being among the highest quality businesses in the world, all four are held in the Montgomery Global portfolio as sources of long-term value for our investors.
Artificial Intelligence is expected to significantly impact almost every sector on earth and when it does, staying ahead may be beneficial. Amit identifies four companies which are likely to see first mover advantage.
Click To Tweet
The Montgomery Global Fund and Montaka own shares in Alphabet, Microsoft, Facebook and Ping An. This article was prepared 13 June with the information we have today, and our view may change. It does not constitute formal advice or professional investment advice. If you wish to trade any of these stocks you should seek financial advice.