St James's Place is the wealth(y) platform you never noticed
We view the platform business model as one of the greatest business models for investors to own. Platform businesses provide the necessary common infrastructure upon which an ecosystem of businesses, products and services can be accessed by users, customers, vendors and partners. They benefit from advantages related to scale, access to data, network effects and M&A value extraction. And in doing so platforms share in the value they create for each of the members of their ecosystem.
Most people are familiar with online technology platforms (OTPs). Apple, Amazon, Facebook, Alibaba and Tencent1 are all wonderful OTPs which the Montgomery Global Fund (MGF) has owned. They are large, growing rapidly, iconic, cutting-edge and ubiquitous in our daily lives. Yet there are other businesses that also benefit from platform economics, even if they are less prominent and not natively digital. St James's Place is one such example – and an important holding for MGF.
An unlikely platform hero
Established in 1991 by Lord Rothschild, St James's Place (SJP) has become the leading UK wealth management business with £86 billion of client funds under management and a market capitalization of £6.1 billion on the London Stock Exchange. Through its network of 3,500 advisers and relationships with 36 fund managers worldwide, SJP uniquely provides complete wealth management solutions to almost 600,000 mass-affluent clients across the UK. And beneath this expansive ecosystem sits SJP's robust platform – the foundation of SJP's astounding success.
The heart of SJP's business is the St James's Place Partnership of aligned advisers, or "Partners". Partners provide bespoke advice to clients (for which they charge clients half of 1 per cent of their assets per annum) and exclusively offer SJP's pension, savings and investment products (for which SJP receives 1 per cent of client assets per annum). In return SJP offers Partners an appealing remuneration structure, the opportunity to build equity in their own businesses, and access to the SJP platform.
Partners use SJP's trusted brand, product design, access to fund managers, 1,300-member support network, and back-end systems to better attract, serve and retain clients. And how! The average Partner's client inflows have ballooned from £3 million in 2010 to £4.7 million in 2016. A recent survey of clients showed a 94 per cent satisfaction rate with their SJP relationship and that 97 per cent would recommend SJP. Client attrition has remained just 5 per cent for at least a decade.
Happy (and growing) clients make happy (and wealthy) advisers. So it is easy to see why the ranks of the SJP Partnership have swelled from below 1,900 in 2010, and is approaching 3,500 today – representing 10 per cent of all UK financial advisers. As the Partnership grows SJP leverages its scale by reinvesting back into the platform infrastructure, which improves the experience and encourages more Partners to join and more clients to invest. These positive network effects accrue to Partners and their clients, but the benefits of the SJP platform extend further still.
SJP takes a novel approach to investment management. Rather than manage client money in-house, SJP's Investment Committee selects a range of external fund managers to do the job.  With its £86 billion pool of "sticky" and growing assets, SJP is an attractive customer for fund managers and can extract heavily discounted pricing arrangements on behalf of its clients. David Bellamy, SJP's CEO, has said as much:
"For our range of managers and funds, the equivalent average cost paid by our clients is 43 basis points per annum, considerably less than the average in the market [90 basis points]. That's because we use the scale and consistency of our flows to obtain more competitive rates and pass the benefits of these rates entirely through to our clients…our scale enables us to deliver institutional scale funds to our fund managers, but with all the characteristics of retail funds. This benefits our clients directly as they effectively get wholesale rates in the retail market"
SJP can thus keep total charges at the low end of market. Lower fees incentivize clients to invest with a SJP Partner. Advisers are incentivized to join and stay in the Partnership. Client assets grow strongly and fund managers are prepared to accept greater discounts for even larger mandates. These network effects keep the SJP "flywheel" turning and increase the value of the platform. From 2010 to 2016, SJP's client assets under management and revenues almost tripled, driven almost entirely by annual aggregate client inflows which surged by 140 per cent to £11.4 billion.
A larger slice of a bigger pie
The UK wealth management market is large and growing. The amount of investable wealth held by the 10 million UK individuals with more than £50,000 exceeded £2 trillion for the first time in 2016. Driven by demographic change the overall wealth market is forecast to grow by almost 5 per cent annually into the next decade2, and the advised wealth market that SJP participates in should grow quicker again as legislative and structural changes take hold.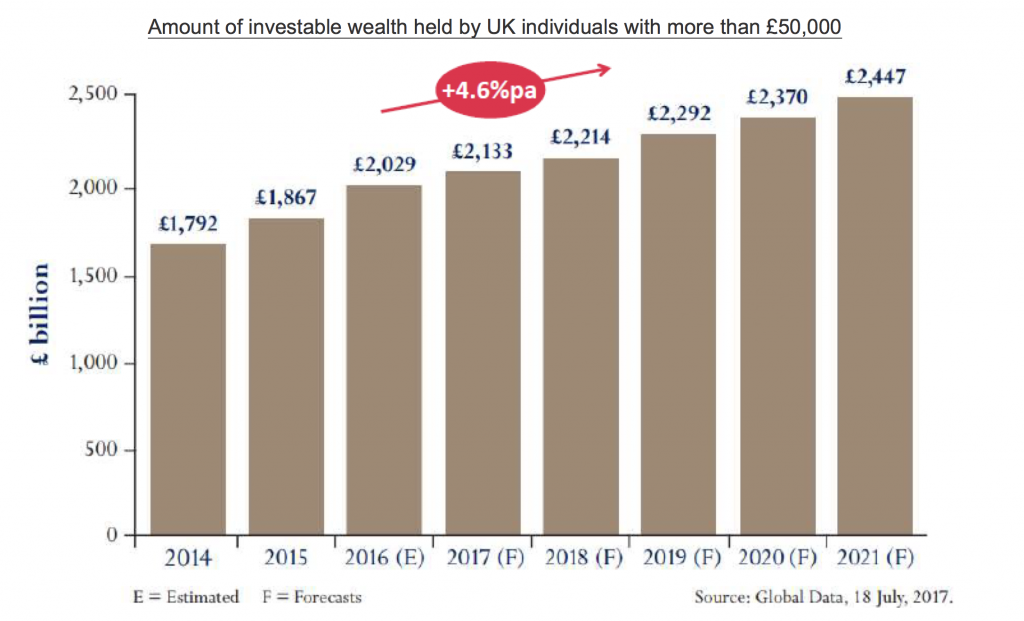 As the UK population ages, becomes wealthier and lives longer than at any time in history the propensity and necessity to save in anticipation of retirement is increasing. Yet this comes at a time when the UK is considerably underprepared for the financial needs of the future. Only around one third of the population today has a pension account and the average pension "pot" is less than £30,000.
At the same time corporations and the government are increasingly shifting responsibility for saving to the individual. Corporate defined benefit pension plans are being phased out as businesses look to reduce their long term obligations. The government is encouraging individuals to provide for their own retirement by expanding tax incentives and increasing flexibility for individual retirement savings accounts on the one hand, as well as looking to push back the state pension age on the other. In doing so, the tax arrangements that drive the UK pension and savings system are becoming more complex. With greater complexity comes a greater need for financial advice.
This all augurs well for long run growth of the advised wealth management market and for SJP. Today, SJP is the largest wealth manager in the UK by number of advisers and by assets, accounting for around 10 per cent of each. Driven by a unique platform model, SJP should continue to extend its leadership of the market. Partner numbers have grown at 7 per cent per annum on average for a decade as SJP has taken advisers away from its competitors, and management has guided to more of the same.
Growth is a given
Irrespective of long run industry tailwinds, or a platform which commands an increasing share of the UK's wealth, SJP has guaranteed its growth in the coming years by virtue of its past success.
Firstly, as advisers join the Partnership their clients begin by allocating only new funds to SJP's products. They then shift their legacy portfolios into SJP products over a period of five or more years. SJP management has described its share of existing client portfolios at just 40 per cent – implying another 1.5x the current client asset base, or £130 billion, will almost certainly flow to SJP in time.
Secondly, due to design quirks, SJP does not collect fees on its pension products in their first six years. This means SJP is currently earning nothing on one third of client assets. So SJP will see revenues rise 50 per cent once these "dormant" assets pass their 6-year anniversaries and begin to pay the 1 per cent annual charge.
Not expecting much
At SJP's current share price around £12 our analysis suggests that the market is expecting both adviser numbers and client flows per adviser to grow just 2 per cent per annum. These market-implied expectations represent a very low hurdle for an investment in SJP to be successful. Consider that the Partnership and client flows have both been growing mid- to high-single-digit percentages per annum and the future growth runway extends beyond the next decade.
Applying our conservative base case expectations of say 8 per cent growth in advisers alone, we think the stock is worth £18. In a more bullish scenario, where high single digit growth rates are sustained by both adviser numbers and adviser productivity, the stock is worth well above £20. Said another way, we expect SJP's fantastic platform to deliver much more for shareholders.
The Montgomery Global Funds own shares in St James's Place
MGF previously held Tencent directly. Currently MGF's exposure to Tencent is held through a position in Naspers.
Source: Verdict Financial, St James's Place
Are you looking for a simple way to invest in high quality global businesses? Applications to the new Montgomery Global Equities Fund are now open. To access the PDS and find out more, please visit the MOGL website.