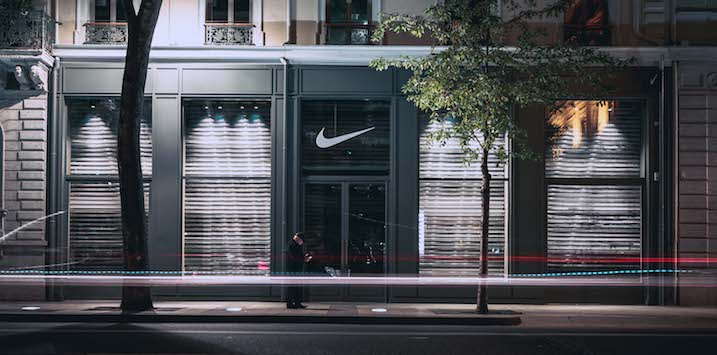 Shoes as a service?    
Nike recently launched an interesting "solution" to the well-known problem parents face with growing, active children and their ever-changing footwear needs. The Nike Adventure Club aimed at kids aged 2 to 10, presents an interesting solution to the problem.
Starting at $20 per month parents (and kids) can choose from an exclusive portfolio of 100 Nike shoe styles which will be replaced every 3 months with larger sizes shipped right to customer's front door. For more active or faster growing kids the service can be upgraded to $50 per month with shoes replaced every single month.
In addition to shipping out a variety of ever changing shoes, the Nike Adventure Club boxes come complete with the child's name on the outside of the box and includes activity guides, stickers and an additional gift like drawstring backpacks, etc. In addition, Nike has also created a website for Nike Adventure Club members to find activity prompts to pick what shoes they would like in their next shipment. The club is ideal for parents constantly finding themselves in the aisles of K-Mart, Target or Kids Foot Locker, as kids churn through sizes or destroy their shoes on the playground.
Additionally, Nike is accessing the social and sustainability trend that conscious consumers are attuned to. Twice a year, Nike will ship out a prepaid bag which parents can use to send back their kids' worn shoes, which will either be donated to families in need if in good condition or recycled through Nike Grind, a program that separates out the rubber, foam, leather and textile blends, grinds them into granules and incorporates those into new products, including footwear, apparel and play surfaces.
While changing an episodic purchase like buying shoes into a subscription model will take an evolution in consumer behaviour, the benefits could be significant as the market tends to place a higher valuation on recurring, growing and less lumpy revenue streams than the inverse. Beyond shifting its revenue mix, Nike has a much deeper goal in mind for the service, which Nike's Head of Retention and Member Experience (Dominique Shortell) succinctly articulates noting "we acquire the parent, and solve the problem for them. Once they are in the service, we work to support the whole family. Then we work to retain the kid. That is our member, we aim to make them happy."
With a new pair of Nike trainers arriving every month there's certainly going to be a lot of very happy 2 to 10-year-old children out there, which Nike is hoping will become lifelong customers willing to drop $200-300 on the latest pair of Jordan's or perhaps just trained to replace their sneaker every month or two!