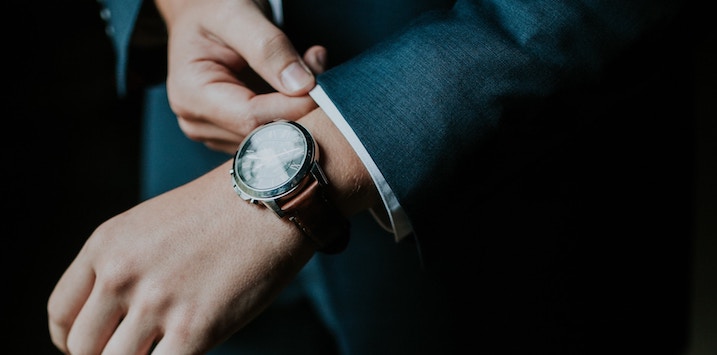 Second Hand Luxury; An Oxymoron or Window into Value
Outside of financial assets and property, very few items retain their value as they are passed from owner to owner. In fact most consumer items have a single owner and are used until failure or obsolescence. One segment of the market that is ironically bucking this historical axiom is luxury goods. 
In fact the market for second-hand luxury goods is growing fast particularly for items such as Swiss watches and high-end handbags. Websites like "Watchfinder & Co," "The RealReal" and "Vestiaire Collective," connect potential watch sellers with a deep pool of buyers globally, and are gaining consumer confidence by hiring expert authenticators and restoration services to get items looking like new.
For the major luxury watch makers like Omega (owned by Swatch), Cartier, Jaeger LeCoultre and Vacheron Constantin (all three owned by Richemont), the resale market poses a significant challenge. Second-hand watch sales have now grown to ~US$3.3 billion per year (according to Credit Suisse), which is the equivalent of 10 per cent of the entire market. As with any market where there is a legitimate option between new-and-used (e.g. cars, bikes, boats, planes, etc), what happens in one effects the other, as buyers may substitute between new-and-used if value presents itself.
This may be what's happening in luxury watches, with deeply discounted, second-hand items readily available online. For example, one of Cartier's Panthère watches sells for US$25,000 direct from the manufacturer, while at the same time (no pun intended), a mint, virtually identical, authenticated model from 15 years ago, can be purchased on "The RealReal" at a 75 per cent discount.
How does this affect the companies that own the major watch brands?
Well, the immediate challenge from a more transparent market is that consumers know which watches don't hold their value and which do. The knock-on effect of this could undermine a brands' ability to raise prices for new products and/or reduce watch sales as more people buy used products. This may explain Richemont's recent acquisition of "Watchfinder & Co"; it may be looking to exert greater influence over second-hand trading of its products as a defensive move in order to preserve margin and profits.
However, controlling a market is a difficult proposition, with price discovery usually beyond the control of any single player (at least over the long-term). In fact Richemont's second-hand timepieces, like Jaeger-LeCoultre, continue to sell at >40 per cent discount to their new equivalents. This is in stark contrast to privately held, family run players like Rolex and Patek Philippe, whose second-hand products can fetch >30 per cent premium to new prices (according to "Watchfinder & Co"), as supply and model differentiation sufficiently keeps them out of the jaws of commodification.
Price of Watches: Premium / Discount of Second-Hand Watches on "Watchfinder & Co"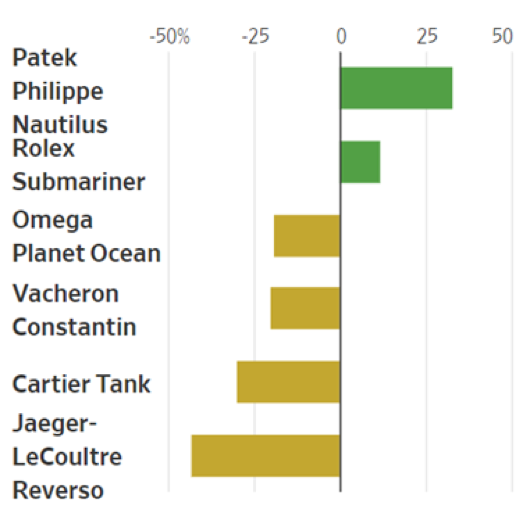 Source: Credit Suisse