Salesforce: A Symphony of Solutions (Part II)
In Part I of this series we introduced some of our perspectives on Salesforce's business and the dimensions it engages with customers. Perhaps even more impressive however, is the truly astonishing value customers receive from Salesforce.
In fact, customers report that on average they see an approximate 25 per cent increase in revenue, 26 per cent decrease in IT costs, 70 per cent increase in employee productivity and approximately 30 per cent higher customer satisfaction after implementing the product suite. Looking at these numbers, it is little wonder that Salesforce has evolved into a mission critical instrument for CEOs and corporate boards of directors, looking to digitally transform their businesses.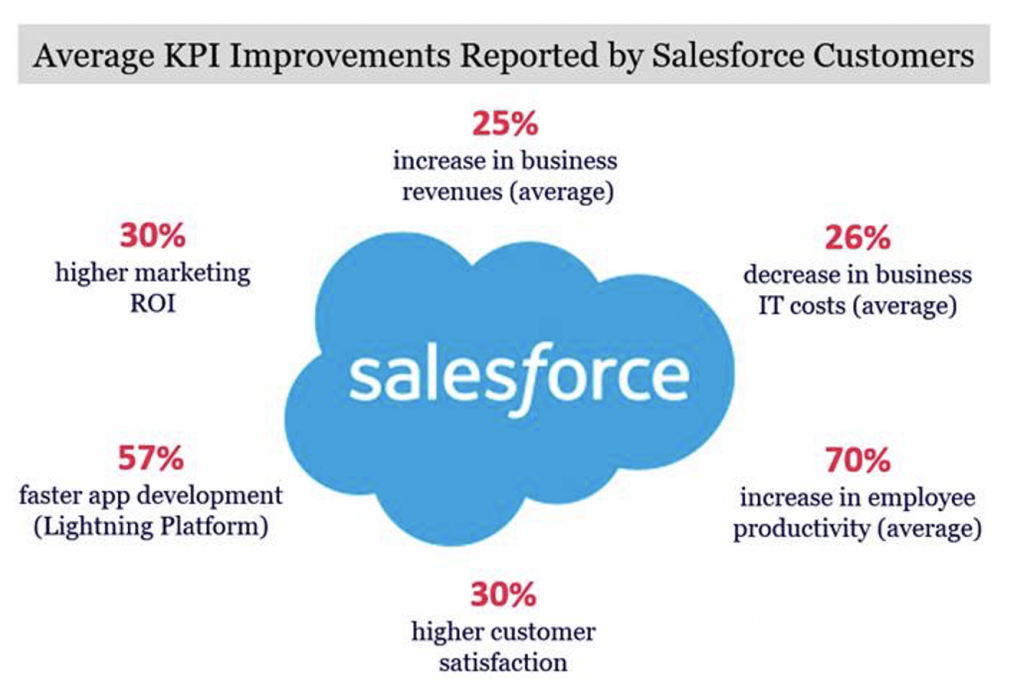 Source: Salesforce
The pandemic has reinforced many long-term trends and perhaps none more significantly than the digitalisation of society. This secular tailwind remains significantly under-penetrated and has now been accelerated. Currently around 27 per cent ($24 trillion) of global GDP is "digital" which is expected to increase to approximately 46 per cent ($44 trillion) over the coming few years driven be digital transformations. Spending on these initiatives is expected to increase from $1.4 trillion (2020) to $1.9 trillion (+35-40 per cent) by 2022, with many initiatives pulled-forward due to the pandemic. According to Salesforce and 3rd party consultants, the natural starting point for a corporate digital transformation is where the customer and a business connect. This intersection is completely aligned with Salesforce's core business and competitive advantage making it a significant beneficiary of the ensuing environment
"There's no question where they start. They start where you connect with the customer. That is very clear with this [Digital Transformation] secular tailwind " (Mark Hawkins, Salesforce CFO)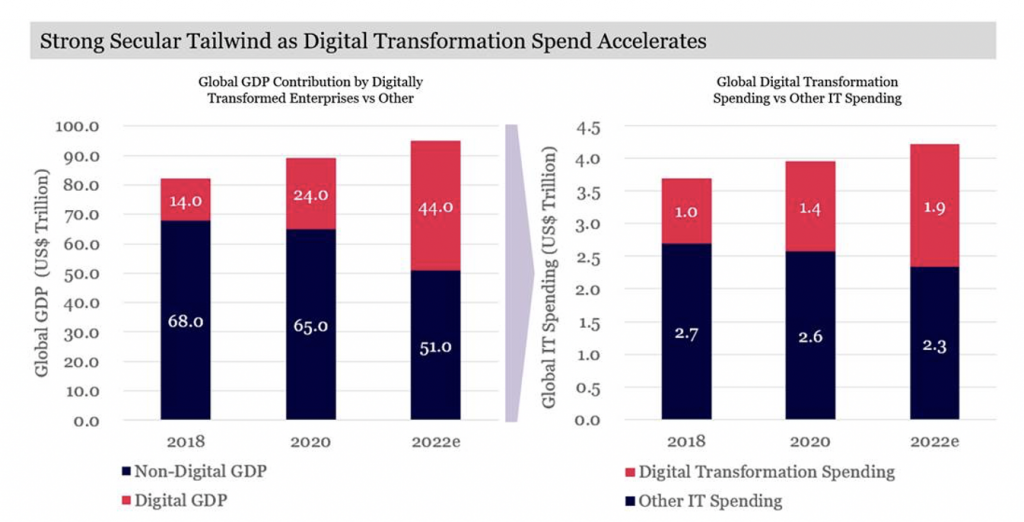 Source: IDC, Salesforce
Salesforce is exposed to an ocean of opportunity; Morgan Stanley estimates its Total Addressable Market at approximately $164 billion currently (2020) which is set to increase by around 50 per cent (to $243 billion) over the coming years (2024). Perhaps more impressively is astronomical amount of runway Salesforce has ahead of it, holding only around 10 per cent market share currently with very limited competition in the areas it has dominated for over a decade.
Source: Morgan Stanley, Bloomberg
To underscore how successful and unique Salesforce's value proposition has been for its customers and the privileged position it holds in the industry, one need only compare it to the universe of U.S. public companies over time. Salesforce is the only public company in history to maintain uninterrupted revenue growth of more than 20 per cent p.a. for 20 years, highlighting its dominant industry position, significant competitive advantages and mission critical products and platform for its customers. Nearly all companies fail to maintain the more than 20 per cent p.a. revenue cadence for three years (94 per cent fail) and only nine have held it for a decade (>99 per cent fail). With the pandemic accelerating many Salesforce business lines and a renewed impetus for digital transformation within enterprise customers, Salesforce is likely to experience many, many more years of industry leading growth in the future.

Source: BofA Securities, Capital IQ, Salesforce, includes companies with 2019 revenue >$500mm
It is for these reasons that Salesforce finds itself as a core holding in Montaka's portfolio today. We see it as a long-term winning business in a highly-attractive market. We believe it will play a meaningful role in contributing to portfolio compounding for the foreseeable future.
You can read Part I here: Salesforce: A Symphony of Solutions (Part I)
Montaka owns shares in Salesforce. This article was prepared 04 December with the information we have today, and our view may change. It does not constitute formal advice or professional investment advice. If you wish to trade Salesforce you should seek financial advice.