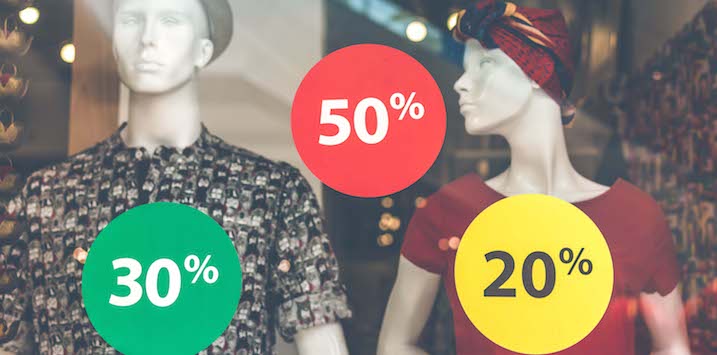 Retail is Booming… if you're a Liquidator
Amidst the waves of global uncertainty characterising the past year, one area of consistency is the slate of negative retail news. Store closures, layoffs and chapter 11 bankruptcies have never been far from our news cycles as effects of the shift to online come to a head, and there has been one big winner.
"We've been the busiest we've ever been in our history," Scott Carpenter, head of retail liquidation at Great American Group, told the Financial Times. Coresight has tracked over 7,400 store closures announced in the United States this year, already 27 per cent higher than all of 2018. That compares to about 3,000 new store openings.
A combination of higher rents and the shift to online has hit brick and mortar businesses far and wide. Toys 'R' Us went into liquidation this year. Victoria's Secret and Abercrombie & Fitch have shut flagship stores and outlets in malls. Discount retailer Fred's announced plans to close 129 stores. Even Barneys New York has hired restructuring advisors, considering a possible bankruptcy filing after their Madison Avenue landlord raised their annual rent from $16.2 million to $27.9 million.
Commercial rents have expanded America-wide over the past decade, squeezing retailers who were already struggling with their industry's structural changes.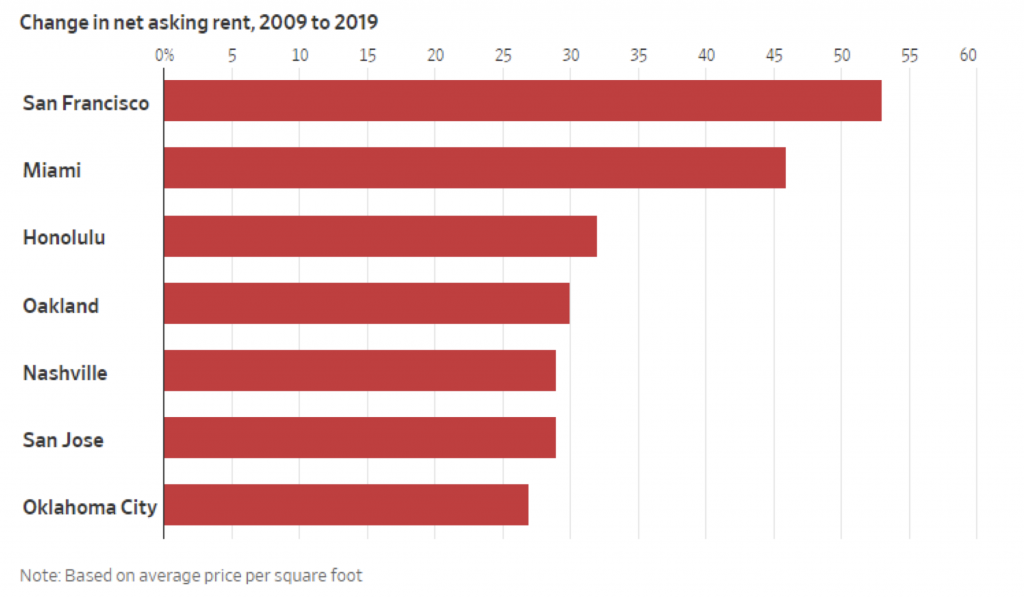 Source: CBRE, WSJ
The impacts are far reaching but have not been shared equally. Businesses who have been able to pivot quickly into a retail offering that favours today's consumer have been rewarded. Highest performing malls are better located and include more interactive services in conjunction with retail shopping. For instance, popular athleisure brand Lululemon opened a 20,000 square foot flagship space in Chicago that includes a yoga studio and meditation space. Research from Green Street Advisors shows that highest quality A++ grade malls still have a 97 per cent occupancy rate, whereas worse performing D grade malls are only 67 per cent full.
After Amazon's record-breaking Prime Day sales this month, it is easy to understand the retail struggle. Prime Day generated more revenue than Black Friday and Cyber Monday combined. Small and medium sized businesses drove over $2 billion in online sales. 1.3 million items were discounted, saving Prime members more than $1 billion.
Moreover, Amazon's Prime Day has attracted other major retailers to offer their own competing discounts. Prime Day discounts are exclusive to Amazon Prime members, and Amazon added more paying members during the event than any other day in the company's history. Meanwhile, more than 250 retailers including Target, eBay and Best Buy captured the remainder of online consumers with their own counter-sales promotions. Adobe Analytics data confirmed retailers' sales jumped 64 per cent over an average Monday, an even bigger increase than in 2018.
Credit to Amazon and the unmissable aura of Prime Day, July has even overtaken December as the United States' busiest retail sales month of the year.
There have already been 7400 retail store closures announced in the United States this year, already 27% higher than all of 2018.
Click To Tweet