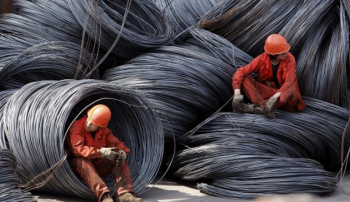 Outlook for Chinese steel: thumbs up or thumbs down?
Sometimes a picture tells a thousand words. This week, Macquarie published the latest instalment of their China Steel Survey that has been tracking Chinese steel sentiment since mid-2011. The question is simple: "Are you positive or negative on the market over the next three months?"
Whether the respondents were steel mills, steel traders or iron ore traders in China, the answer was basically the same: negative. As illustrated below, sentiment in the Chinese steel sector – as measured by Macquarie's ongoing surveys – is now at the lowest level on record.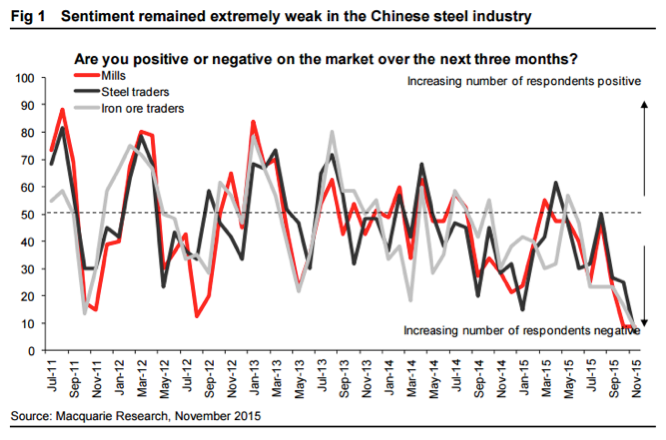 This is surely negative for steel demand. And this, in turn, is surely negative for iron ore demand – the key ingredient to make steel. This potentially spells even more trouble for the iron ore price – a primary determinant of revenue for Australia's major mining companies: BHP Billiton, Rio Tinto and Fortescue.
Indeed, the situation in iron ore is even worse than what is illustrated by Macquarie's chart above. While this chart tells us something about iron ore demand (i.e. it's weakening), it tells us nothing about supply. Well, upon examining the most recent growth rates of iron ore production of the major producing companies (Vale, Rio Tinto, BHP Billiton and Fortescue), supply is growing at a staggering 7 percent per annum.
Weakening demand and strengthening supply means lower prices… It's as simple as that.
Andrew Macken is a Portfolio Manager with Montgomery Global Investment Management. To invest with Montgomery domestically and globally, find out more.