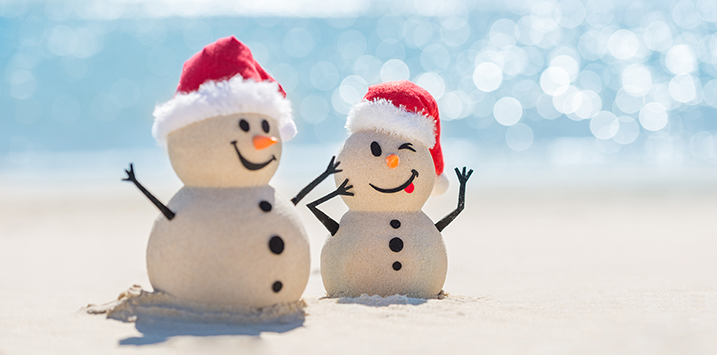 Montgomery wishes you a Merry Christmas
It is difficult to believe we have now been navigating a COVID-infected world for almost two years. Two years of uncertainty and tumult tests everyone's resolve and resilience. And as we approach Christmas, Omicron represents another variant again throwing a spanner in the works of everyone's holiday plans.
Markets however have proven resilient, perhaps much more so than would typically be expected. Even during a week in which the US Federal Reserve signaled rate hikes for 2022, the market took the hawkish development in its stride. I am reminded of the emergence of COVID-19 in early 2020. Back then even that development was initially dismissed by investors. The first case of SARS COVID-19 in South Korea was announced on 20 January 2020, and then in Italy a month later, on 21 February.  On March 4, 2020, however the US S&P500 was trading within four per cent of its level at the commencement of the year. The market subsequently fell precipitously but not before languidly flirting with record highs. That weakness of course was an opportunity.
We believe the longer-term picture for wage growth, inflation and interest rates is benign.  The billions invested in automation technology will gently and persistently displace jobs, lowering wage growth pressures. The resumption of migration will also alleviate wage pressures in the short term. And reduced union influence and relevance – the consequence of declining union membership since the 1970s – will also serve to keep a lid on wage growth. For those reasons consumer price inflation, we currently believe, is a short-term and transitory phenomenon.
Nevertheless, markets can react to both realities and fears, so while our long-term picture is benign, we cannot rule out short term volatility.  Should volatility emerge over the course of the Christmas break however, our long-term view requires us to be ready to take advantage of it.
Meanwhile, we will all be taking a much-needed break from blogging over the Christmas and new year period, ready and recharged to guide you through 2022 from January 17.
I sincerely hope Christmas delivers the blessing of peace and safety for you and your family.  May the greatest gift of grace that is Jesus provide you also with the spirit of love, the comfort of faith and the beauty of hope.  And may 2022 see peace on Earth.
If you would like to catch up on some holiday reading, you can re-visit our recent top ten articles via the links below:
Has the BNPL bubble finally burst?
Will Aussie banks rebound from here?
Two businesses to put in your Christmas stocking
Why Flight Centre's share price could continue to soar
Are we likely to see a correction or crash from the COVID-19 situation?
Three reasons why I am still bullish on this market
What can we expect from inflation?
Have the Praemium board hung up the 'for sale' sign?
The 3 red lines that could bring iron ore prices back to earth
Merry Christmas!
Yours,
Roger Montgomery