Montgomery offers an income strategy through a partnership with Aura Funds Management
Painfully low interest rates on cash-style investments have seen many investors seeking reliable monthly income. Montgomery Investment Management is delighted to announce its Distribution Partnership with Aura Funds Management, a subsidiary of Aura Group. Montgomery will offer wholesale clients the Aura High Yield SME Fund, with a history of delivering reliable monthly income from a unique mix of online lending platforms in Australia.
Many investors have suffered a severe diminution of spending power from cash in the bank and term deposits delivering low returns. Credit Income Funds aren't term deposits or a substitute for cash, and they can offer attractive income yields paid monthly. Traditional lenders (e.g. banks) have focused their lending operations on large business customers, seeking to profit from scale. Consequently, small and medium enterprises (SMEs) have been searching for alternative sources of credit. This combination of low cash yields and an absence of lending to SMEs by the banks, delivers investors a unique opportunity to provide funding.
The Aura High Yield SME Fund (the Fund) has generated reliable and strong risk-adjusted returns distributed as monthly income for 56 months to March 2022 from a well-diversified portfolio of SME loans. This provides wholesale investors with a relatively new opportunity and alternative to low bank or term deposit returns. Launched in August 2017, the Fund has delivered a compound annual return of 9.75 per cent, after expenses, and assuming distribution reinvestment.
Figure 1: Aura High Yield SME Fund Performance Comparison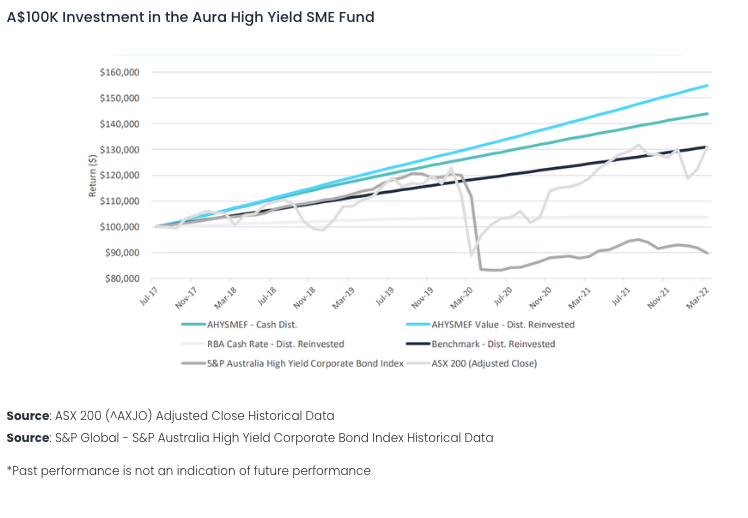 Source: Aura High Yield SME Fund, March 2022 Statistics
The Fund has delivered on its target, paying reliable distributions ranging from 0.62 per cent to 0.93 per cent monthly, with an average 0.78 per cent per month. Importantly, these returns are accompanied by a very low standard deviation of 0.08 per cent. As shown in Figure 1, a $100,000 investment earned an average of almost $10,000 in distributions per annum. Since inception, with distributions reinvested, one hundred thousand dollars has earned approximately $54,000, meaning the original $100,000 investment is worth approximately $154,000 in March 2022.
The Fund is open-ended, priced monthly, offers monthly applications and redemptions (with at least 30 days' notice), is available on the Macquarie Wrap (IDPS), Netwealth (IPDS) and Powerwrap (IPDS) platforms and has two ratings, including "Very Strong/Complex" by Foresight Analytics and "Commended" by Evergreen Ratings.
The Fund is designed for wholesale clients with a minimum initial investment of $100,000.
Brett Craig is the Portfolio Manager and a Director of Aura Funds Management. Before joining Aura Group in 2016, Brett spent 11 years in Macquarie Bank's debt markets business, where he originated, structured and distributed debt products. He is something of an industry pioneer, known as the first to originate, structure, negotiate and subsequently execute a bank debt facility for an Australian alternative finance lender.
The Fund, which currently has A$91 million in funds under management, is well-diversified, lending to 7,858 SME borrowers via five lending platforms and across various industries. The Agricultural sector currently accounts for 36 per cent of the loan book. The weighted average loan is $143,581, the average duration is four months, and the longest loan is 36 months. Aura Fund Management's investment process first focuses on preserving capital, followed by the return on capital.
Montgomery is also working with Aura Funds Management to bring a second credit income offer to market later in 2022 for retail investors.
You can download the Information Memorandum and more information about the Aura High Yield SME Fund on our website: Aura High Yield SME Fund
Note, all data quoted is as at 31 March 2022 and is subject to change. 


IMPORTANT INFORMATION
DISCLAIMER
Units in the Aura High Yield SME Fund (Fund) are issued by Aura Funds Management Pty Ltd (ABN 96 607 158 814, Authorised Representative No. 1233893 of Aura Capital Pty Ltd (ABN 48 143 700 887, AFSL No. 366 230)) (Aura). Aura is the trustee of the Fund and a subsidiary of Aura Group Pty Ltd.
This information is for wholesale or sophisticated investors only and is provided by Montgomery Investment Management Pty Ltd (ABN 73 139 161 701, AFSL No. 354 564) as the authorised distributor of the Fund.
An investment in the Fund must be through a valid paper or online application form accompanying the Information Memorandum.
The information provided is general in nature and does not take into account your investment objectives, financial situation or particular needs. Before making an investment decision you should read the Information Memorandum and (if appropriate) seek professional advice from a licensed financial advisor to determine whether the investment is suitable for you.
The investment returns or repayment of capital of the Fund are not guaranteed.
The value of an investment may rise or fall and you may risk losing some or all of your capital. 
Past performance is not a reliable indicator of future performance.