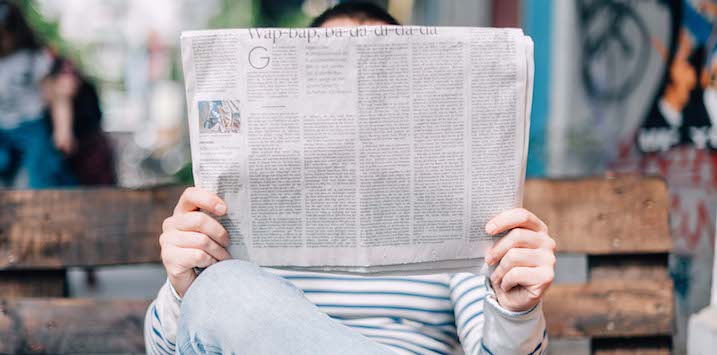 Is New Media Investment Group's merger as attractive as investors hoped?
On Monday, New Media Investment Group (NYSE: NEWM), the listed holding company of GateHouse Media, formally announced a (previously leaked) merger with Gannett Co. Gannett and GateHouse Media are the number one and two publishers of newspapers in the U.S. by circulation volume and number of publications.
As readers of this blog may know, newspaper publishing is a dying industry as the internet has created a zero-marginal cost playing field for anyone to publish fact and opinions, and companies such as Google and Facebook have disintermediated the "news" from "newspapers".
When news of the potential merger was first leaked in mid-July, sentiment around the deal was generally positive and sent the shares of both companies spiking despite a lack of actual deal details. The rationale of the deal was obvious – two struggling, outdated businesses would combine to cut costs and increase scale, which would give them breathing room to invest in a digital future. The offer price was rumoured to be in the low-teens range (Gannett had rejected a $12 per-share hostile bid earlier in March) and potential run-rate cost synergies rumoured to be in the range of $200 million to $300 million.
The actual announced details, however, were not as attractive as investors hoped. Although announced synergies of $275 million to $300 million came in at the high end of the speculation range, the debt funding for the deal was also higher and more expensive than expected – a new $1.8 billion term loan at a whopping 11.5 per cent interest rate from Apollo Global, a private equity firm. We estimate that incremental interest on this debt offsets up to $140 million – or roughly half – of the announced synergies. The after-interest, after-tax net present value ("NPV") of the annual synergies at a 12 per cent cost of equity (aggressively low considering cost of debt is 11.5 per cent) is c. $7 to $8 per share, compared to the $12 to $15 per share disclosed by management which likely excludes the interest cost.
The announced offer price of $12.06 per Gannett share, comprised of $6.25 in cash and 0.54 New Media shares, may also have been higher than expected, and has since fallen to c. $10.60 due to a 25 per cent depreciation of New Media's share price. At the initial offer price, the combined market capitalisation of New Media and Gannett would have closed c. $600 million higher than before the deal leak, compared to c. $900 million NPV (optimistically) of synergies, leaving very limited margin for error on synergy realisation, and substantially no headroom for the merged entity to actually invest in digital. Combined with a weak second quarter performance that New Media reported concurrently with the deal announcement, it is no surprise that investors have punished New Media's share price.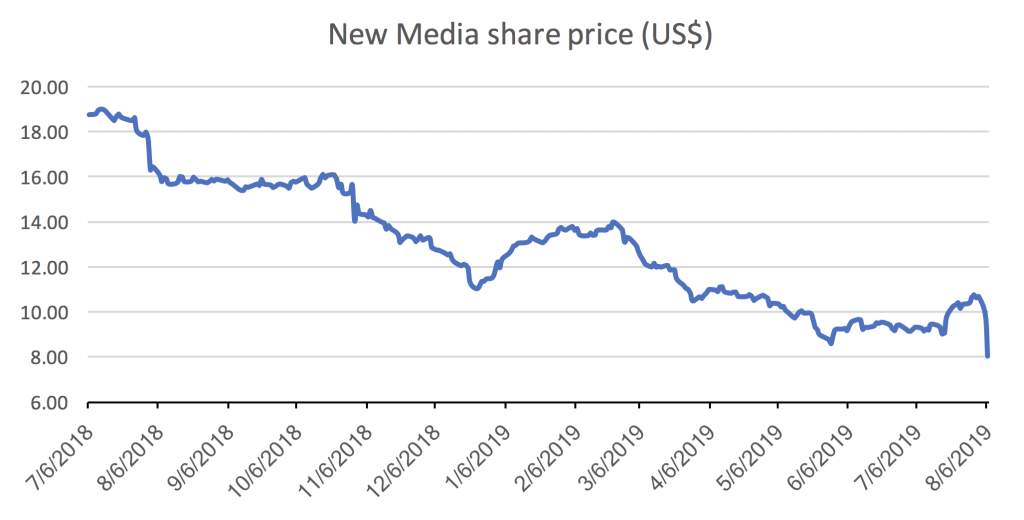 Source: Bloomberg
As for two structurally outdated businesses buying time to undertake a modern transformation, the Sears and Kmart merger in 2005 is an instructive case study on the chances of success.
Montaka is short the shares New Media Investment Group. This article was prepared 07 August with the information we have today, and our view may change. It does not constitute formal advice or professional investment advice. If you wish to trade New Media Investment Group you should seek financial advice.