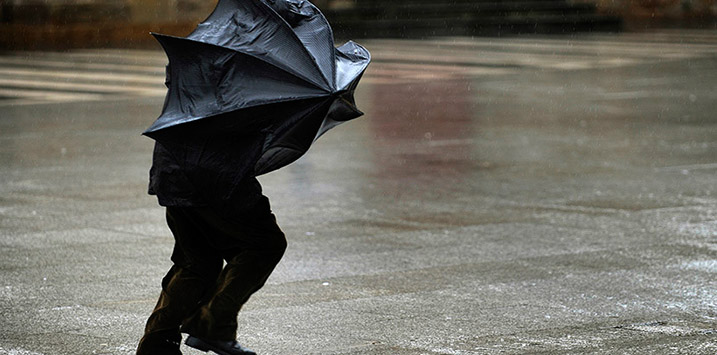 How we create wealth by shorting stocks facing structural headwinds
You don't have to own stocks to create wealth in the share market. As many of you will know, you can also go short. After Pitney Bowes' (NYSE:PBI) share price slumped this week – in the wake of falling mail volumes – we thought it an opportune time to discuss Montaka's shorting strategy for businesses facing structural decline.
Montaka seeks to grow and preserve investors' capital by shorting stocks that exhibit the characteristics of a unique four-part framework. Thematics / structural declines is one component of the Montaka short framework.
As a quick recap, structural declines refer to changes in industries which are non-cyclical in nature and typically occur over long periods of time. The changes to that industry, usually a result of fundamental shifts in the competitive landscape, are unlikely to reverse and can create an inexorable headwind for companies. Oft-cited examples of declining industries include newspapers being displaced by online news sources, or film cameras being displaced by digital cameras. Another interesting example of an industry in unmistakable structural decline is the physical mail industry.
Physical mail volumes in the U.S. have been declining for some time. Consider that total mail volumes for the United States Postal Service over the last decade have declined at a 3.5% annual rate.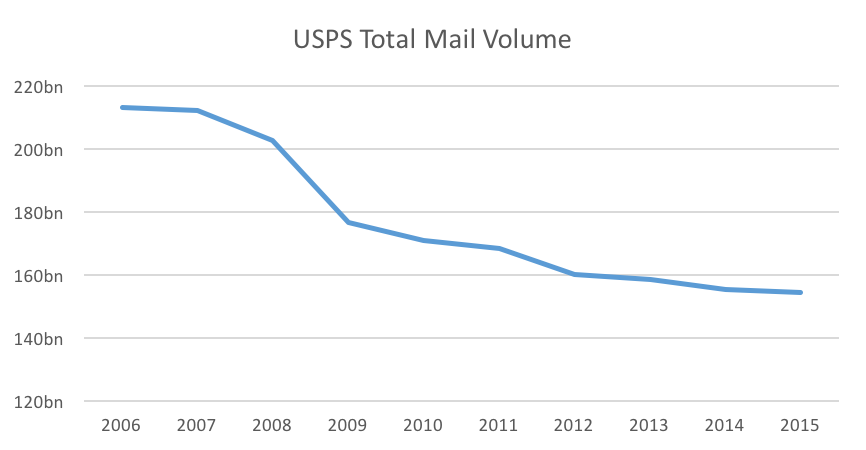 Source: USPS
This decline is being driven primarily by: 1) the rising use of emails for correspondence; 2) increasing levels of online advertising causing declines in advertising mail volumes; and 3) firms seeking cost savings by reducing physical mail output and driving paperless adoption of statements. For example, J.P. Morgan in its 2016 investor day commented that it was actively driving the electronic delivery of statements, given that paper statement deliver costs c.$0.50 compared to a cost of just $0.01 for electronic statement delivery. This sentiment is echoed amongst high-volume mailers such as financial institutions and law firms – they all recognize reducing physical mail output as a tangible opportunity to reduce costs. This has an impact on firms in the mail postage meter market such as PBI.
PBI sells machines which enable clients to generate mail. Take the example of a law firm that must send mail to clients on a regular basis. Pitney Bowes' machines will typically print the required document, fold it, insert it into an envelope, and then stamp it. By purchasing a Pitney Bowes machine, the firm can avoid the arduous and costly process of manually folding each document into an envelope and putting on the postage stamp. There is a genuine usage case for these mail postage meter machines, although the persistent decline in U.S. mail volumes is pressuring equipment sales as customers require less machines to service their shrinking mail loads.
The recent third quarter 2016 result for PBI came in light and disappointed the market, sending the stock down almost 19% the day the result was announced. Both revenues and earnings per share missed the expectations of sell-side analysts. Furthermore, PBI management updated their fiscal year 2016 guidance to be at the lower-end of their previously announced range.
The weak result was driven by continued pressure in equipment sales, as well as a high-single digit percent decline in high margin recurring revenue streams due to lower finance-related fees and supplies revenues. The market might have also received a negative surprise from the +8% revenue growth of PBI's Global Ecommerce business, down from the heady +35% growth in the second quarter of 2016.
Although PBI's management team is doing all they can to take costs out of the business and turn the ship around, the structural headwinds from declining mail volumes have proven difficult to overcome. The chart below shows the share price of PBI over the last year.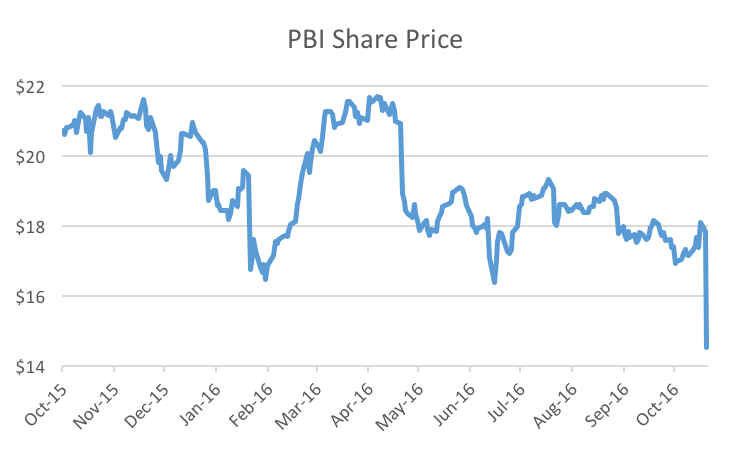 Source: Bloomberg
Montaka is short the shares of Pitney Bowes (NYSE: PBI).