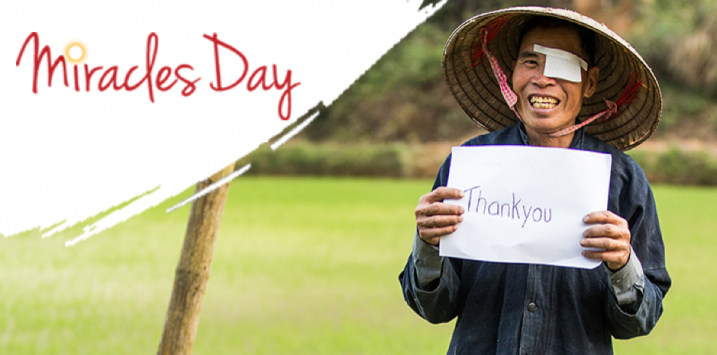 How much is a Miracle worth?
There aren't many occasions where I have had cause to pull the car over to concentrate fully on what I hear on the radio (and with streaming apps and Bluetooth connected cars, the reality is I will probably have less reason to do so in the future). But I am so pleased I did.
What 'ran me off the road' was the story of a women in Africa who had received sight-restoring surgery, surgery that took less than 15 minutes and cost just $33. The procedure enabled her to see her daughter for the very first time.  What convicted me personally was the revelation that her daughter was 16 years old when her mother laid eyes on her for the very first time!
I couldn't contemplate nor abide such a situation when I knew I had the ability to make a difference. For just a few dollars, I wasn't merely giving a person a meal. My donation would restore sight, which in turn would lead to reunited relationships, broadened job and business prospects, and the return of self-worth and joy.
I realised the return on my small investment was infinite, and that is something I can abide.
Together with my family I support CBM in their life-changing work and we have chosen them as an ongoing recipient of our giving. I personally encourage you, even implore you, to consider joining me in this simple but incredibly impactful work.
Investing in someone's life is never something you'll regret. Seeing a smile on someone's face who had lost all hope to ever see again, and knowing that your small action, made their Miracle possible… is priceless.
For Khut*, he knows this all too well. His life will never be the same.
A father, desperate to provide for his family and see them live happily – his heart is easy to relate to, yet his circumstances are incredibly different.
Khut raises and sells fish to support his family. This requires him to live alone during the week, in a small hut on the side of a hill, so he can look after them.
Beginning to lose his sight due to the cataracts forming in his eyes, he could no longer care for his fish and earn an income.
Can you imagine not being able to provide for your family?
The feeling of disappointment, knowing that you're slowly losing sight, yet unable to access the health care that you need.
Khut's cataracts were completely treatable with a $33 sight-saving surgery.
The fact that a simple 12-minute operation could literally transform blindness into sight – that's a Miracle worthy of sharing.
Yet, for people with disability living in poverty their circumstances can often mean health care can feel just out of their reach, trapping them in a cycle.
This is why CBM Australia host the annual event, Miracles Day.
Providing a chance for Australians everywhere to join and invest in something of true worth. The Miracle of sight. Together, Australians have already helped provide over 115,000 sight-saving surgeries.
For$33 you can provide sight-saving surgery to someone living in blindness, changing a life like Khut's forever.
Will there ever be a better way that you can make such a significant impact in another's life?
And for those who gave generously last year, I thank you! I am passionate about this cause, and I'm thrilled you've got a glimpse of the impact it has too.
Investing in a person like Khut's life, is momentous. For not only him and his children but also for the generations to come.
Miracles Day is on 17 August and the need for cataract surgery is as necessary as ever.
According to the latest World Health Organisation assessment, cataracts are responsible for 51 per cent of the world's blindness, which represents about 20 million people.
Cataracts can be completely reversed with sight-saving surgery…
When Khut heard the great news that he would receive sight-saving surgery, in his own words he shared,
"If I can see clearly of both, I am more independent, for the self-hygiene is also better too."
Giving someone their independence is worth every dollar you'll spend. Restoring hope and dignity will always have ripple effects that go beyond what we can measure.
Join me on Miracles Day, 16 August, to help CBM reach 35,000 people in the world's poorest countries with the Miracle gift of sight-saving surgery.
Please add this date to your calendar and remember to give the Miracle gift of sight on 16 August this year.
To give today click here or call 131 226.
Around the world CBM is part of the world's largest disability development organisation with over 110 years of experience providing sight-saving surgeries in some of the world's poorest places.
*CAPTION: Khut, a grandfather from Vietnam, was able to access sight-saving surgery through a CBM partner. He will now be able to support his family and look after his grandchildren.