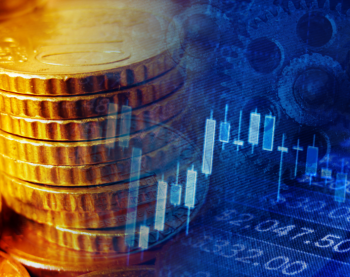 How Low Can You Go?
Bond yields continue to decline around the world and in many countries are actually negative. This is an indicator of the low return environment we are likely to experience in years to come. It should also serve as a warning to investors to protect the downside and build wealth through prudent stock selection.
This week the yield on 50-year Swiss government bonds turned negative. Based on the chart below, the interest rate being offered for investors looking to invest in the safety of the Swiss government for the next 50 years is minus 0.03 per cent. This means that an initial investment of 10,000 Swiss francs would actually cost an investor 3 francs per year or 150 francs for the life of the bond. Let me be clear, the Swiss government is providing a guaranteed return of just 9,850 Francs in 2066 for every 10,000 Francs invested today!
As crazy as this notion sounds it actually isn't surprising given the trends. Bond yields in Switzerland have been falling for the last decade. The 50-year bond's two, five and ten year siblings all turned negative a year and a half ago. Outside of Switzerland, 10-year government bond yields in Germany and Japan are now at sub-zero levels. In fact, the 20-year Japanese government bond also has a negative yield. In countries where the interest rate on government debt securities is still in positive territory, it isn't there by much. The US 10-year yield is at record lows below 1.4 per cent. Australian government bonds only offer a tiny bit more return than this at 1.9 per cent – also a record low.
Swiss Government Bond Yields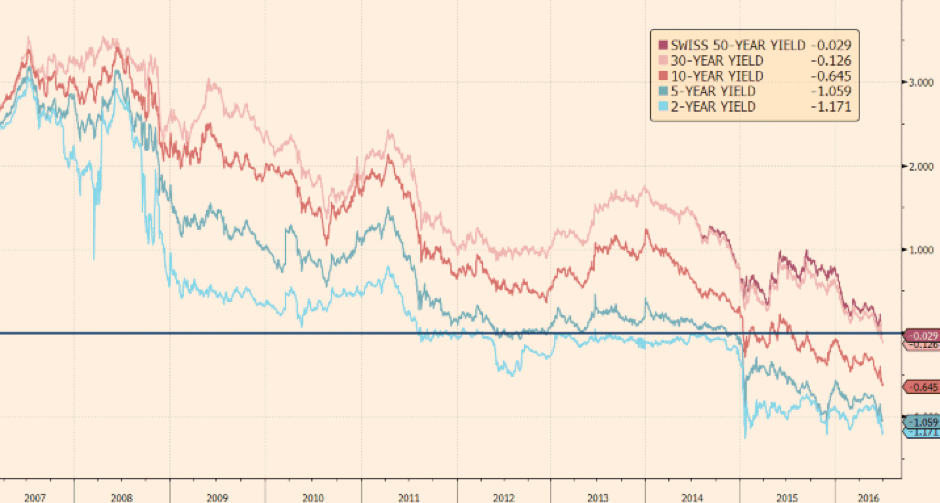 Such low and negative rates may be a reflection of broad-based investor concern around the outlook for global economic growth and the risk of deflation (you don't need more money to buy the same goods and services if their prices keep going down). But it could point to more than this. As fear and uncertainty take hold in markets people (and their capital) gravitate towards the perceived least risky instruments. The Brexit vote may have been a catalyst, which has been sustained by property fund outflows in the UK and political posturing on the weakness of Europe's banking system. At the same time private capital is competing with central bank buying in the market for government bonds, adding to upward pressure on bond prices and therefore downward pressure on yields.
With interest rates so low, investors in the least risky part of the investment spectrum will certainly earn negligible returns on their capital over decades. Yet as rates meander along the conceptual zero-bound, or some other practical limit just beneath it, the tailwind to equity valuations that has existed for the last 30 years has dissipated. Just being invested in the broad equity market won't be a sure fire way to earn attractive returns if valuation multiples are swimming upstream and economic growth which drives sales and earnings is soft. Moreover, any economic, political or financial shocks could see a significant gap down in asset prices.
We believe the best way forward for investors is to be invested in a fund that is focussed on protecting the downside; adding value through individual stock selection – of high quality businesses on the long side and deteriorating businesses on the short side; and holding significant cash.
Christopher Demasi is a Portfolio Manager with Montgomery Global Investment Management. To invest with Montgomery domestically and globally, find out more.