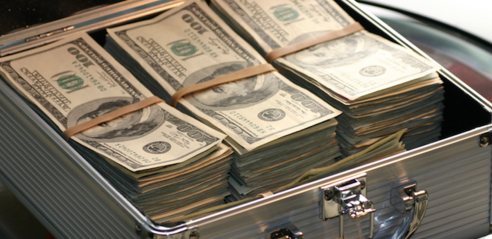 Have bond buyers mistimed the equity market?
Last week the Wall Street Journal reported that investors had pulled US$46 billion out of stock funds, the biggest monthly outflow of the year, and added to their holdings of corporate bonds. Looking at the return potential of these two asset classes this move appears to be a case of driving while looking in the rear vision mirror.
Much has been said about the paltry interest rates offered by long term government bonds. The US 10-year treasury yield slipped below 1.5 per cent a couple weeks back and trades around 1.7 per cent today. The German 10-year Bund has offered (taken, rather?) negative yields for most of this year and dropped to -0.7 per cent following the ECB's announcement to restart its quantitative easing program. Japanese 10-year government bonds have yielded at or below zero for years already. But corporate bonds aren't that much better.
The "spread" offered by high-grade corporate bonds over riskless government bonds is little more than 1 per cent per annum and has been sliding throughout the year.
Investment grade corporate bond spreads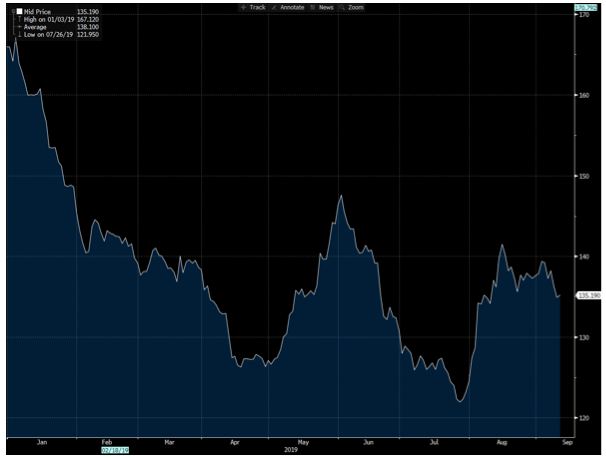 Source: Bloomberg
At the same time, the average yield spread on bonds of risky companies might appear appealing at around 5 per cent per annum. But beware averages – there's a story of a six-foot man who drowned crossing a river that was five-foot deep, on average. In the case of these "junk" bonds the average yield is brought up by companies operating in the energy and retail sectors which are structurally challenged and cyclically vulnerable.
A stark reminder of the low returns on offer in the corporate bond world came last week when Ford was downgraded from investment grade to junk by rating agency Moody's. Yet investors still only get a 3 per cent premium to government bond yields for owning Ford bonds.
On the other hand, equity markets are offering spreads of more than 6 per cent to the risk-free rate today. That means the expected return on stocks as a group is 5-fold government bond returns. The spread earned by equities is also 4-times that offered by high-grade corporate bonds. It makes us wonder if investors have their timing wrong as they shift into high-priced bonds.