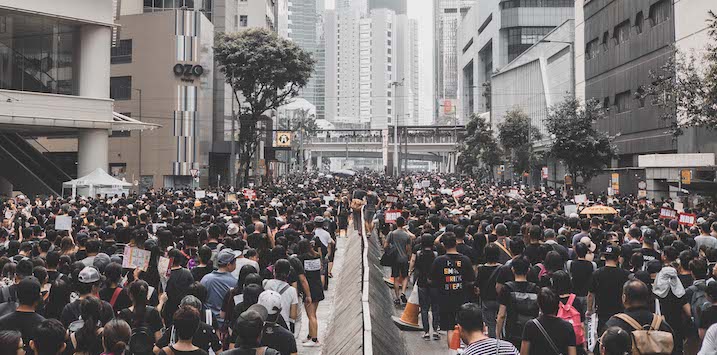 Geopolitical risk: HK's capital flight
We don't often talk about politics on this blog however it is worth noting that the escalating geopolitical tensions between China and Hong Kong could have a lasting impact on not only the people of Hong Kong but also their financial system.
Hong Kong's reintegration with China in 1978 marked the beginning of a new era for Hong Kong's economy, brought about by the Open Door Policy. As the world became more open to conducting physical trade and investment with China, Hong Kong supported China through its provision of commercial and financial services and eventually began to shift much of its physical manufacturing and labour intensive sectors to China to take advantage of significantly cheaper labour. Over the coming decades, Hong Kong became a global financial hub as it provided western investors and companies sophisticated access to Chinese corporations and its booming economy through its capital markets. 1
Today its role as a key financial hub is threatened a China's newly proposed National Security Law takes advantage of a loophole in Hong Kong's Basic Law that states Chinese legislature can also make laws and apply them to Hong Kong on defence and foreign affairs. This political move could be taken as a sign, foretelling China's attempts to further control and undermine of Hong Kong's autonomy and citizen liberties. If that were to be the case, global businesses operating in Hong Kong may flee, as China's intervention in policymaking could signify the end of Hong Kong's well-known economic liberalism and free-market capitalism. This would trigger a capital flight and we could expect to see significant capital outflows from Hong Kong.
We are of the opinion that this move from China was almost inevitable, in fact the signs that China intends to replace as the financial hub of Asia were already there – all part of China's master plan. One could conclude from these moves that Hong Kong was essentially an experiment conducted by China to observe free-market capitalism and liberalism. In recent years, China has put in place initiatives to bring in foreign capital and make domestic financial services more competitive, evident most recently in July 2019 when the Office of Financial Stability and Development Committee published a paper supporting a reduction in barriers to entry and operation of foreign financial institutions in China. To see a list of the 11 measures click here. A broad spectrum of the financial services sector were covered within the 11 Measures, designed to make the local environment more conducive to foreign firms – however we leave it to our readers to determine whether China's newfound push for interconnectivity and free capital markets will attract global firms and capital.
Once the National Security Law is passed in Hong Kong, the Standing Committee of the National People's Congress will start drafting the text. Many political speculators believe international pressure and the threat of sanction from the US are the only countermoves that could be made on the behalf of the Hong Kong people. As such, the situation remains volatile.
To our readers, is this the right time for China to be making its move on Hong Kong? Their strategy is not without execution risk, in fact recently the US threatened to slap China with sanctions. Could China's moves trigger not only a capital flight from Hong Kong but China too? Particularly as global distrust reaches a melting point due to COVID-19. In the context of the global funds, we continue to monitor the situation and always look to protect our capital alongside yours.
1 https://eh.net/encyclopedia/economic-history-of-hong-kong/