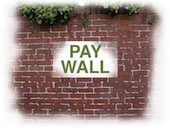 Fairfax – Climbing over the paywall
Newspapers around the world are being forced from their printed rivers of gold into the online realm in order to survive and thrive. While the industry has struggled over the past decade to establish itself with profitable online models, they have enourmous potential because of there penetration. There are a number of papers that have unlocked the secret to providing the right amount of free content and generating reasonable returns – the Financial Times and the New York Times are two papers that are setting the online benchmark for the world to follow. Fairfax is about to launch a metered paywall in March for its metropolitan mastheads (the Sydney Morning Herald and the Age) – with the path already forged before it, can Fairfax successfully manage its online assets to turn around its ailing print division?

Papers are not all making the move into cyberspace by choice. The Newspaper Association of America has shown that in 2011, online advertising was up $207 million compared to 2010, while print advertising was down $2100 million in the same period – printing losses were greater than digital gains by 10 to 1. This may initially seem depressing but the gap is being filled by other offers which means if newspapers can get their model right and quickly they have a massive opportunity to grab market share during this period of unprecedented change.
Traditionally, print media would sacrifice margins on printing and distributing the physical product because ad revenues were so lucrative. The online business, by contrast, is driven by subscription revenues with advertisements contributing modestly to the bottom line. As such, for Fairfax to make a successful transition to an online model it needs to convert as many digital readers to subscribers as possible, and ensure this conversion rate grows overtime. To do that they need to offer the right content, and arguably, be the sole and exclusive source of that content.
Fairfax already has a large number of digital media assets which it can leverage and use for cross-promotion. I'll say it again, Fairfax has massive potential. Along with its traditional online metropolitan mastheads it also owns Domain (real estate), Drive (cars classifieds) and RSVP (dating). In addition, Fairfax owns the Australian Financial Review which has an established online presence, but has been forced to make adjustments to its paywall as it adapts to the digital market. At the end of 2011, management decreased the online-only price of the AFR by 40 per cent to $680, which has resulted in online subscriptions growing from 10,897 to over 20,000.
As evidenced above, Fairfax has solid experience in the online sphere, but will its knowledge of managing the digital marketplaces and niche online papers assist with broad-focused metropolitan papers? There are certain elements that successful online papers possess which will be important benchmarks for Fairfax to follow:
• Strong brand name recognition
• Appropriate access to free content
• Exclusive content
Strong brand name recognition – the competitive advantage of many online businesses lies in the value of their brand name. Consider the online darlings of the Australian digital marketplace– Seek, Webjet, Carsales.com – which have become the defining sites to find a job, book flights or sell a car. (Fairfax has previously been the toll bridge owner of these classified but it was previously slow to respond to the change or arguably distracted and ceded ground to the Seeks and Carsales of the world) A valuable brand name is required for digital newspapers to retain and grow a loyal online audience. The New York Times and the Financial Times have a global reputation for providing quality journalism which attracts significant online traffic (the New York Times has a unique monthly audience of over 27 million viewers, while the Financial Times has 5 million registered users). A strong reputation also allows papers to increase subscription rates over time. Since digital versions have very low cost bases, any increases in subscription rates can flow directly to the bottom line (it is reported that it costs the Financial Times 25 pence to convert a registered user to a digital subscriber via email). Fairfax has both an excellent reputation and great brand awareness and share of mind.
Free content – it is critical for online papers to get the balance right between free and charged content with their digital subscriptions. News Corporation experienced the pitfalls of implementing a purely exclusive paywall in 2011 – it introduced the fully digital paper called 'The Daily" which only survived for 2 years. Historically, papers experience a 20 per cent decline in traffic numbers when a paywall is introduced. Fairfax management has waited many years to introduce a metered paywall in order to build up significant traffic to their core sites – the SMH and the Age now have a unique monthly audience of 3 million and 2 million browsers respectively, compared with the Australian which has an online traffic audience of 1.1 million. In the third quarter of 2012, the Australian had 31,241 digital subscribers, which means it had a conversion rate of 2.8 per cent. The SMH on the other hand had 56,559 digital subscribers, or a conversion rate of 1.9 per cent. If the SMH were to lose 20 per cent of its viewers once the paywall is implemented, the percentage would increase to 2.4 per cent. Online traffic tends to stabilize at these lower levels after a paywall is introduced, so if the SMH were to follow the trajectory of the Australian we could expect that digital subscriptions will grow modestly (it should be noted that the Australian has been forced to provide a substantial amount of content for free in order to maintain online traffic and subscriptions). Getting the mix right is key and combined with its healthy monthly visitors, if Fairfax can get the next step right they have an incredible opportunity.
Exclusive content – papers must provide content that is valuable and difficult to find online (regional papers have been able to survive in print because readers enjoy local content). When Fairfax launched its digital model it sought to evolve the masthead websites as separate entities designed to generate traffic at any cost. As such, it moved away from investigative journalism and focused on tabloid articles. In contrast, the FT, NY Times and the AFR all provide information which users feel they can't find anywhere else. To generate a sense of how many readers of the SMH and the Age will pay to access content, let's take a look at the conversion rate of their digital downloads. From downloads of the smart phone and tablet apps, around 10 per cent of users are viewing the sites on a daily basis, while the time that each user spends on the site has fallen by around 30 per cent. Management may be required to adopt a higher level of journalism to demonstrate value to its readers – its not difficult to search the web in order to find the name of Kim Kardashian's baby, but it is difficult to find in-depth analysis of the Syrian conflict for free. Alternatively, take a look at Singapore Press Holdings – they are the portal to stock market information and education. In Singapore you don't access stock market information from the exchange, you head to the owner of the major newspaper. Think about that – tying stock market data and research to the latest articles and columns about those stocks. Perhaps it's no surprise News bought Kohlers team at the Eureka Report.
In summary, it has been challenging for newspapers to transition from print to online, but it can be accomplished if the right model is followed. Fairfax has the best opportunity in this country and the greatest upside. All it needs is a successful execution of its digital-only model. Its other business segments all produced negative returns in 2012: Regional (-9 per cent), New Zealand media (-10 per cent), Printing division (-55 per cent) and Broadcasting (-53 per cent). In its current form, Fairfax would not be the sort of business that appeals to us, but we will be watching carefully because their upside is incredible. And the share price is reflecting value if the team gets it right. Its full year results will be watched with particular interest – implementing the metered paywall in March will provide 3 months of data to demonstrate how encouraging its initial conversion rate has been. In the meantime, investors can gain an awareness of the paywall's success by observing the extent of free-trial periods that management adopt in order to sustain online traffic. If the online launch is not successful in unlocking revenues from the existing audience (we believe they can be), there will be only one or two other levers that management can pull to adjust profitability and one of those is further cuts to their cost base.
This post was contributed by a representative of Montgomery Investment Management Pty Limited (AFSL No. 354564). The principal purpose of this post is to provide factual information and not provide financial product advice. Additionally, the information provided is not intended to provide any recommendation or opinion about any financial product. Any commentary and statements of opinion however may contain general advice only that is prepared without taking into account your personal objectives, financial circumstances or needs. Because of this, before acting on any of the information provided, you should always consider its appropriateness in light of your personal objectives, financial circumstances and needs and should consider seeking independent advice from a financial advisor if necessary before making any decisions. This post specifically excludes personal advice.
INVEST WITH MONTGOMERY