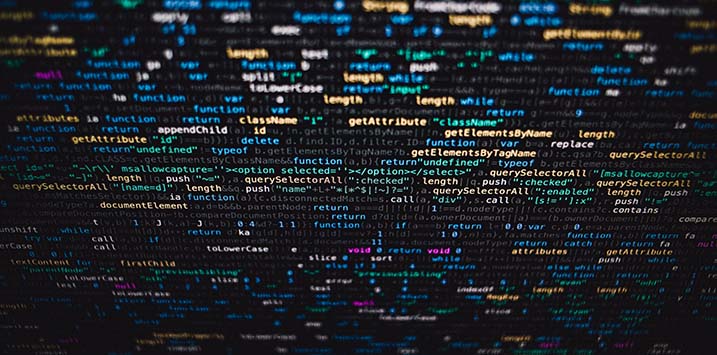 Enterprise cloud cruising – what's next for software migrations (Part I)
It is increasingly clear that in the post pandemic world, digital transformations are being prioritised and accelerated across enterprise companies. As the need to navigate an entirely new business environment is born, multiple opportunities are also created. 
This was the topic of our recent whitepaper the team at Montaka Global authored, which readers can find here.
While transitioning to the cloud is central to most digital transformations, it is often overlooked just how material the shift can be for businesses facilitating the move. While collaborative tools, Customer Relationship Management (CRM) and Human Capital Management (HCM) have already achieved significant cloud penetration (~70 per cent+), Enterprise Resource Planning (ERP) and Supply Chain Management (SCM) are right at the start of their journey (~15-40 per cent penetration).
Cloud Penetration by Software Application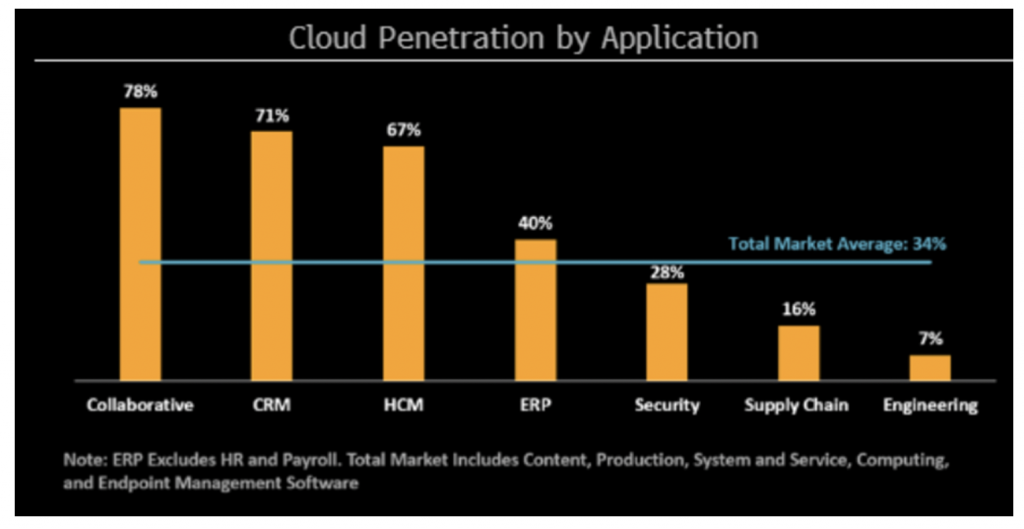 Source: Bloomberg
While there are many definitions around what constitutes ERP and SCM software, the areas that are likely to see the most significant functional shift from on-premises (i.e. customer managed hardware and software) to cloud (i.e. vendor managed), are in manufacturing systems, production lines, inventory management, supply chain planning and procurement.
The reason these types of software applications have remained internally managed by customers (on-premises) is due to the high level of customisation required, their mission critical nature to the business and the length of the sales cycle. As a rule of thumb, companies generally review their CRM tools after 3-5 years, HCM product after 5-7 years, while ERP / SCM solutions are reviewed with a 10+ year gap. This is largely the reason why ERP / SCM have among the lowest customer attrition in all of software and we stand at the edge of a once in a decade cloud transition, as vendors look to lock-in customers, retain market share as new entrants look to disrupt them.
It is worth noting the value of guiding a customer from a legacy, on-premise offering, into a cloud solution, is not a simple dollar-for-dollar exchange for an incumbent vendor. In fact, when a business moves from on-premise software to a cloud solution, the pick-up in revenue is actually 2-3x what it was previously. The reason there is such a massive pick-up in revenue for the vendor is because the customer is no longer paying for the hardware to host the software, internal IT staff to manage it or a consultancy to implement it. In fact, the customer will usually see a net saving of 20-50 per cent with a cloud migration, despite paying the vendor 2-3x more as it is able to shed so many ancillary costs. This seemingly magical situation is due to the cloud vendor being able to provide a fully hosted solution, driven by economies of scale and specialisation.
In Part II of this series (coming soon) we will explore some of the better positioned businesses that Montaka Global owns and expects will benefit from these secular trends. As always, we remain focused on a single clear goal: to maximise the probability of achieving multi-decade compounding of our clients' wealth, alongside our own, and believe the enterprise cloud transition is a once in a generation event that will underwrite these pursuits.