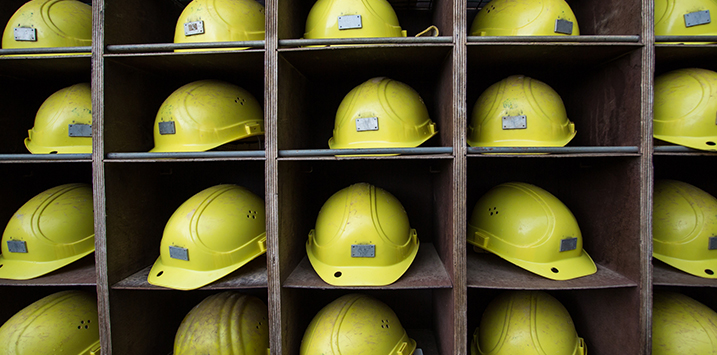 Should you invest more in resources?
Resource stocks have enjoyed a stellar year.  Anyone who invested in the sector at the start of the year is enjoying bumper returns, while those who did not are lagging badly.  It begs the question: should you invest more heavily in resources stocks?  Our short answer is "no".  And here's why.
If we sort the ASX300 by total return for YTD 2016, we see quite a number of companies have returned more than 100%.
| | |
| --- | --- |
| Company | Total Return (%) |
| WESTGOLD RESOURCES | 963 |
| RESOLUTE MINING | 402 |
| GALAXY RESOURCES | 339 |
| WHITEHAVEN COAL | 323 |
| FORTESCUE METALS | 271 |
| MINERAL RESOURCES | 215 |
| DACIAN GOLD LTD | 206 |
| SOUTH32 LTD | 177 |
| BEADELL RESOURCES | 146 |
| MACA LTD | 139 |
| BLUESCOPE STEEL | 120 |
| OZ MINERALS LTD | 116 |
| SERVICE STREAM LTD | 112 |
| MAGNIS RESOURCES | 110 |
| WORLEYPARSONS | 109 |
Notably, almost every name on this list is a resources-based business. It is the nature of resources that the returns from this part of the market can be feast or famine, and 2016 has been very much the former.
A natural question for investors to ask is whether this cycle may have much further to run. Being positioned in the strongest performing sectors can obviously make a big difference to returns.
One useful perspective on this can be drawn from the following chart.  It shows the 5-year history of broker consensus forecast FY17 earnings for one of the larger companies from the above list – Fortescue Metals.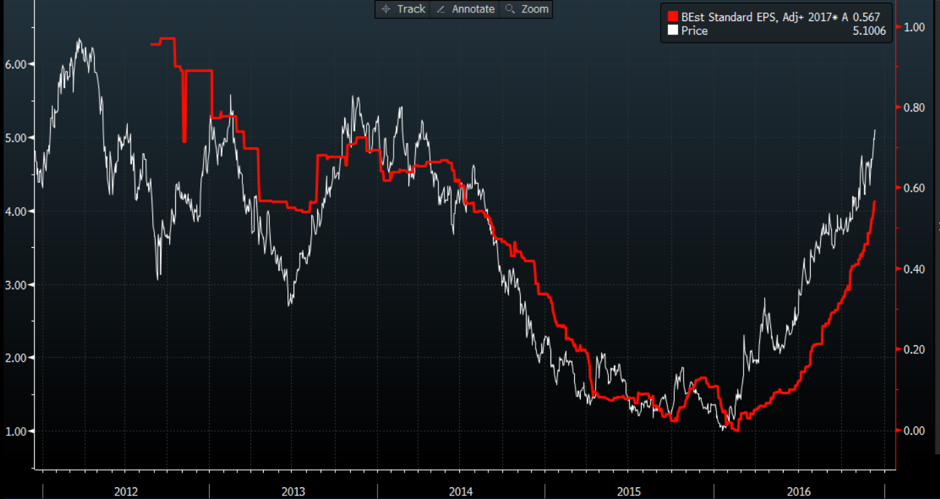 What is interesting about this is how far consensus earnings estimates have moved during FY17: Having started the year at around zero, the consensus now sit close to 60 cents per share.  You can see from the chart that in recent times these forecasts have been revised at what appear to be ten minute intervals.
The rate of change recently has been remarkable, and if there is one thing that is obvious from this dynamic, it is that the brokers have very limited ability to forecast very far in advance what FMG's earnings might be.  This is not a criticism of the brokers – commodity prices are inherently very difficult to forecast, and our own crystal ball is no better than those the brokers use.
To our way of thinking, this generally leads to only one investment conclusion: We just don't know.  This is an unsatisfying answer, but as an investor it's important to recognise when "don't know" is the only reasonable answer.
"Don't know" for us means we stay out.  Buying shares in something you can't sensibly value is no different to gambling, and while gambling can provide some spectacular short-term wins, it has less appeal as a long-term strategy.
This long-term business can be tiresome, and it certainly doesn't entertain an audience the way a dynamic sector rotation story might.  However, as is often the case, it's worth keeping Warren Buffet's wisdom and observation in mind:
"The stock market is a device for transferring money from the impatient to the patient"