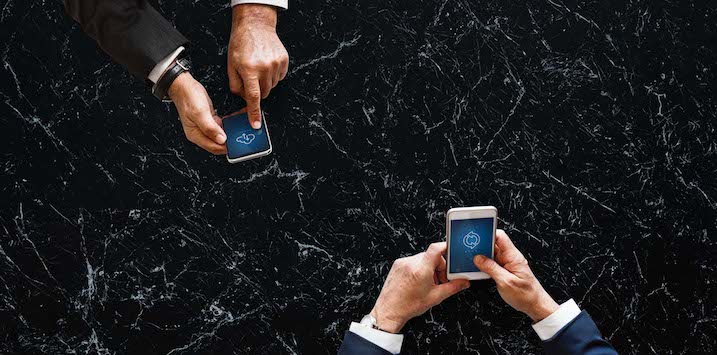 Content or capex? A tale of two telcos
AT&T and Verizon, the two largest wireless carriers in the US, offer an interesting and ongoing case study of corporate strategy in the face of structural disruption. Both companies face stagnation in their legacy wireless businesses, yet they have taken fundamentally divergent paths in their pursuit of new sources of growth.
Their share prices, which used to move in the same direction, have also diverged materially in recent months. The market likes to pass early judgment, but what can we say about the companies' divergent strategies?
Share price performance of AT&T (T) and Verizon (VZ), rebased to 100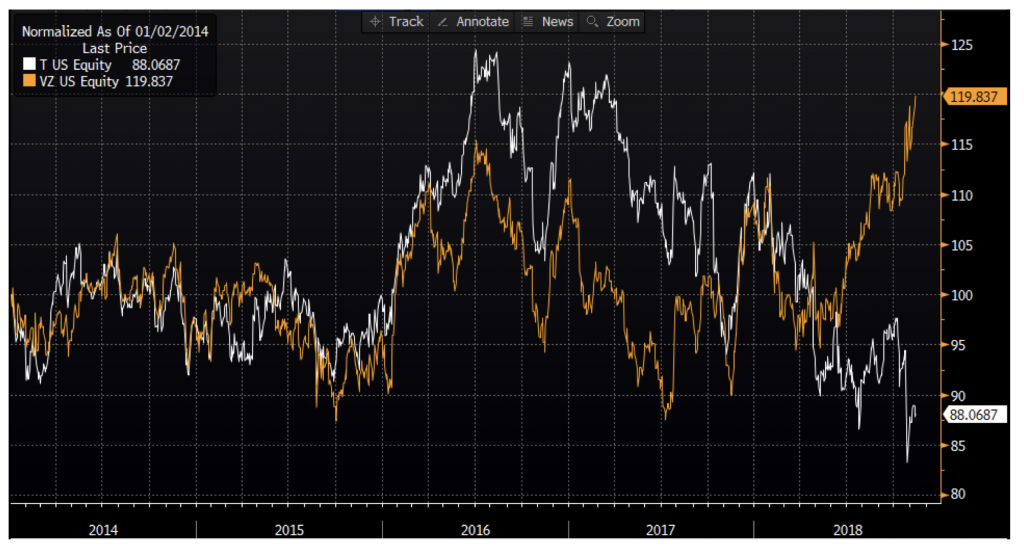 Both companies have been the backbone of the mobile economy – without the significant investments in their wireless networks, Americans would still be tethered to landlines and cable internet. Yet neither company reaped what they sowed, for the lion's share of profits accrued to those hardware, software and media businesses that operated on top of their infrastructure. The last decade in particular has reinforced the idea of wireless carriers and cable companies as "dumb pipes", with value accruing overwhelmingly to the content owners who sat on top.
And so the belief that "content is king" has driven AT&T to transform itself into a telecommunications, media and entertainment powerhouse, firstly through the $49 billion acquisition of DirecTV and more recently through the $81 billion acquisition of Time Warner. AT&T's expensive pivot towards media and entertainment has no doubt been influenced by the eyewatering (for utilities) returns on both invested capital and to shareholders achieved by companies such as Apple, Google and Netflix. From The Wall Street Journal:
"Congratulations: You invested a fortune, and Apple becomes the most profitable company in the free world," Mr. Stephenson [CEO of AT&T] recalled in a recent interview. "This is why, two years ago, I said, 'I don't want to run that same play again.'"
But the fear of mission out (FOMO) can lead to regrettable investment decisions and the mantra of "content is king" may not be accurate for much longer.
For one, Apple, Google and Netflix got their start in their respective industries with far less competition (i.e. zero). Youtube (Google) and Netflix were the pioneers of streaming content over the internet, first on desktops and then on mobile once the iPhone came along. Today, every large tech or media company is throwing their lot into the streaming contest with the idea that ownership of content is the panacea for their subscriber/viewer/engagement/growth problems. But "content is king" is only true if there is a dumb pipe to bundle and carry said content to consumers. The fragmentation of content over the internet means that unless your content is compelling, consumers have no incentive to pay for it.
Verizon, on the other hand, has doubled down on its heritage as a wireless carrier by investing heavily in 5G. It is also betting on the internet for future growth – the Internet of Things. By effectively gold plating its 5G network, Verizon hopes to not only future-proof its legacy consumer wireless business, but also become the go-to network for connected cars, households, factories and cities – effectively becoming the "smart pipe". There is of course the risk of repeating what happened in the mobile internet era – significant investments in wireless infrastructure only for other businesses to reap a majority of the profits. But Verizon does have one advantage this time – every dollar AT&T spends on acquiring content is a dollar not invested in its own 5G network. Over time, an incrementally faster and more reliable network should make Verizon an incrementally more attractive partner for not only streaming content owners, but all other 5G use cases.
It is still early days in the diverging paths of AT&T and Verizon. Regardless of the outcome, investors (and business school students) should get an invaluable case study on how similar businesses adapt to existential change.
The Montgomery Global Funds own shares in Alphabet and Apple. This article was prepared 13 November 2018 with the information we have today, and our view may change. It does not constitute formal advice or professional investment advice. If you wish to trade any of these stocks you should seek financial advice.