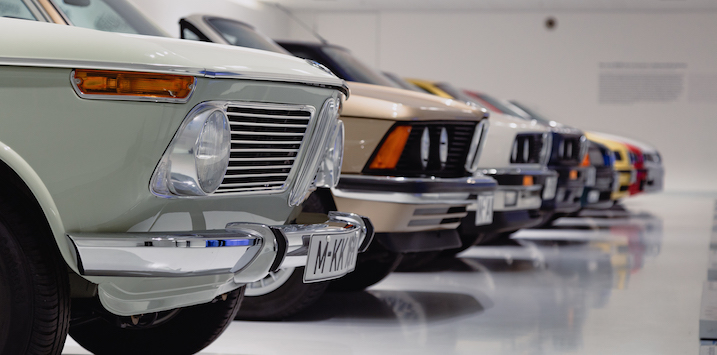 Chinese Auto Demand Driving Off a Cliff?
Chinese auto sales declined by around 3 per cent in 2018, the first annual decline in around two decades. Given that China is the world's largest auto market, any developments are closely watched. However, despite sharp declines in recent months, there are reasons to believe that there may still be a long runway of healthy growth ahead for Chinese auto demand.
The graph below shows the year-on-year change in Chinese passenger car sales. Since 2006, sales of passenger cars in China have grown at an impressive 16.5 per cent average annual rate. However, recently auto sales in China have faltered, with mid-teen per cent declines over the last few months of 2018.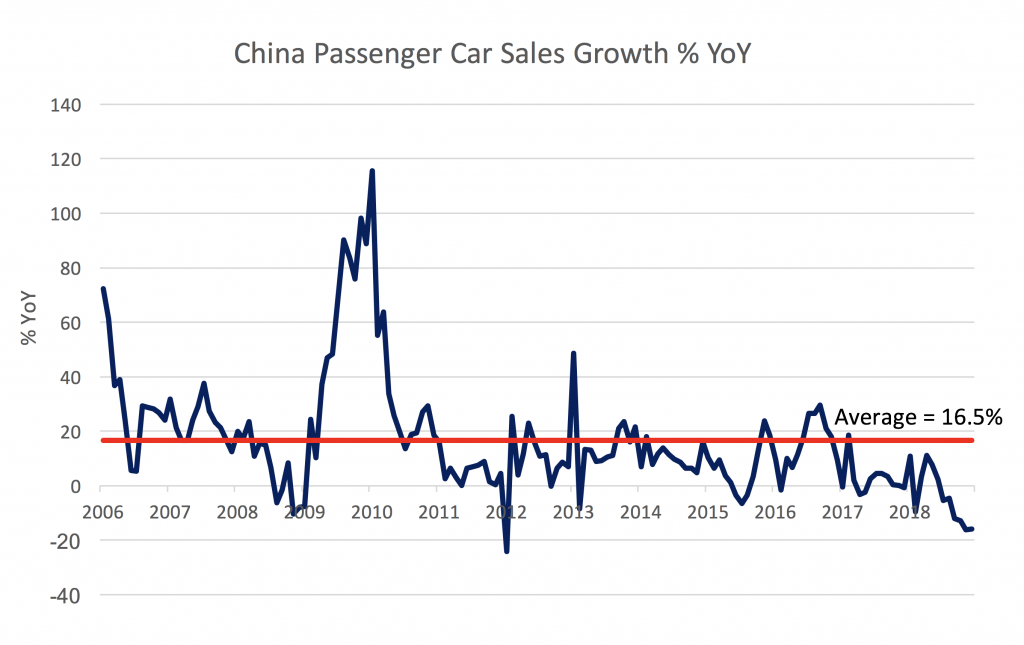 Source: MGIM, Bloomberg
Some have argued that the Chinese auto market is starting to hit a point of maturity, where the heady growth rates of the past are likely to be replaced with more moderate growth rates. A report by Bernstein, a research firm, suggests that the Chinese auto market is on the verge of maturity, marked by China reaching a penetration rate of 160 cars per 1,000 people in either 2019 or 2020.
This rate, Bernstein argues, is significant when looking at the historical experiences of the US, UK, Japan, Korea and Taiwan, which shifted to slower growth patterns once they hit this milestone. Although this analysis isn't perfect –it doesn't account for varying government policies around cars, urban density differences, recession periods after the milestone was reached which dampened the growth rate, etc. –we agree that there is some level of vehicle penetration where the market starts to mature. Whether the inflection point is car ownership levels reaching 160 per 1,000 people, or some other number, it seems unlikely that China will be able to return to sustained double-digit auto sales off its current base.
However, it is worth thinking about the level of car ownership penetration compared to other countries. The graph below shows that China, at around 155 cars for every 1,000 people –is far below developed economies, particularly the U.S. What we would expect, given continued strong growth in GDP per capita in China, is for a structural tailwind for Chinese auto demand, as rising household disposable incomes pave the way for broader auto adoption in China.
At the current seasonally adjusted annual rate (SAAR) of auto demand in China, car ownership penetration should increase by around 10 cars per 1,000 people each year (assuming 10 million cars are scrapped in China each year). Even if you were to assume just 3 per cent growth in Chinese auto demand going forward, it would take around two decades before China would reach the car ownership penetration of where Russia sits today, which seems like too bearish an expectation when we consider that Chinese GDP per capita has been growing at 6 per cent per annum over the last few years and is likely to continue to grow at a strong pace.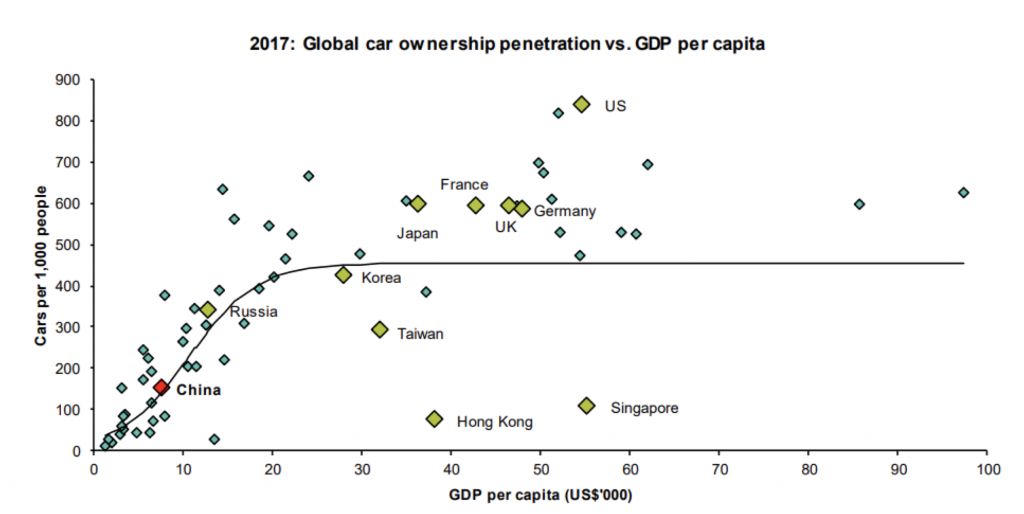 Source: IHS and World Bank; via Bernstein
Bernstein argues that China's top cities are "full"of cars, given that the Chinese government is restricting car sales in some of these cities. In the case of Beijing, the government is actually putting restrictions on the size of the total auto fleet. Beijing had car ownership penetration of around 260 cars per 1,000 people, as the chart below shows.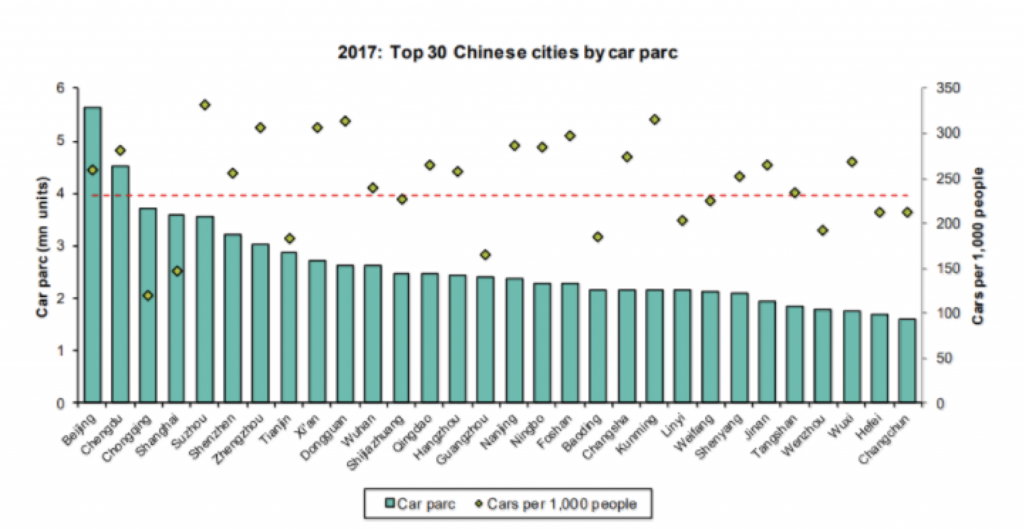 Source: Haver and NBS; via Bernstein
While we agree that there may be limited potential to increase car ownership penetration in top tier cities (and thus auto sales in these cities), there is arguably still headroom for growth in lower tier cities, particularly as the trend of urbanisation and rising household disposable income continues to benefit these regions. We believe this will be aided by any government stimulus to boost auto demand, noting that the NDRC Deputy Chairman recently said that "the government was considering the adoption of measures to stimulate rural consumption".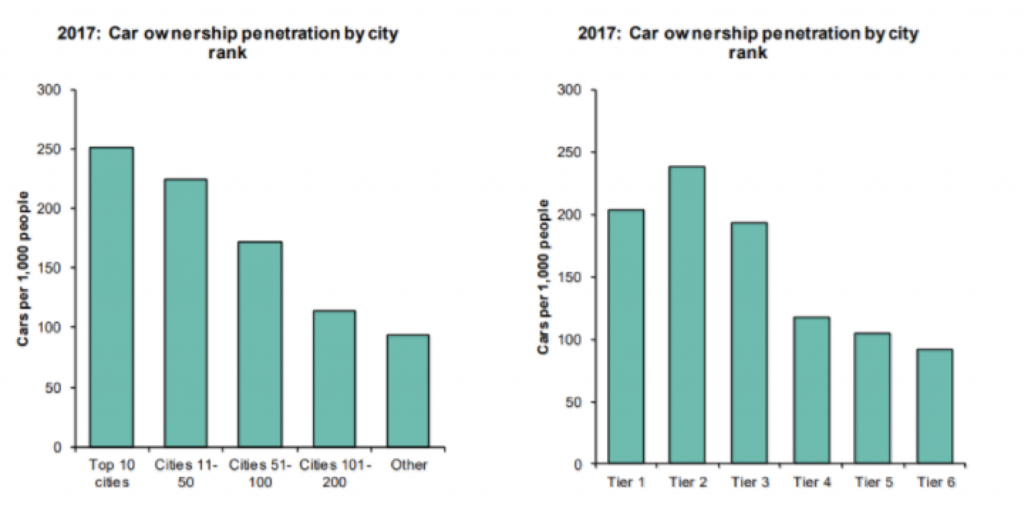 Source: Haver and NBS; via Bernstein
While 2019 is expected to be another challenging year for Chinese auto volumes, it could be the case that the longer-term picture for Chinese auto demand is brighter than what many are expecting.