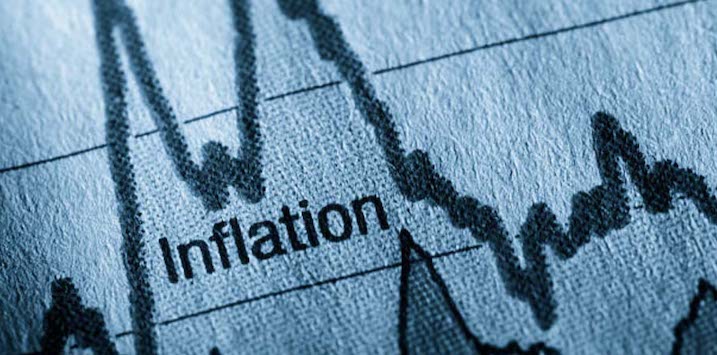 Checking in on Cash and Inflation
After a seemingly long hiatus, inflation is finally edging up in the United States, driven by a number of factors including tax cuts, commodities, shipping and fuel prices. We think it may be interesting to put the most recent headline CPI print of 2.7 per cent year-over-year into context.
As we know, inflation has been very low since the GFC with the 10-year moving average currently at 1.57 per cent. Hence the recent numbers have been somewhat surprising in that they are markedly above the recent average, creating much debate around what is in store for asset prices from here.
Currently, the market has priced a ~75 per cent probability for the Fed to raise short term interest rates twice again this year into the 2.25-2.50 per cent band as it tried to counter inflationary pressures. While 2.7 per cent is higher than what we have seen in recent years, it is substantially below the ~3.8 per cent average inflation rate since the end of World War II.
U.S. Inflation (CPI) 1872 to Present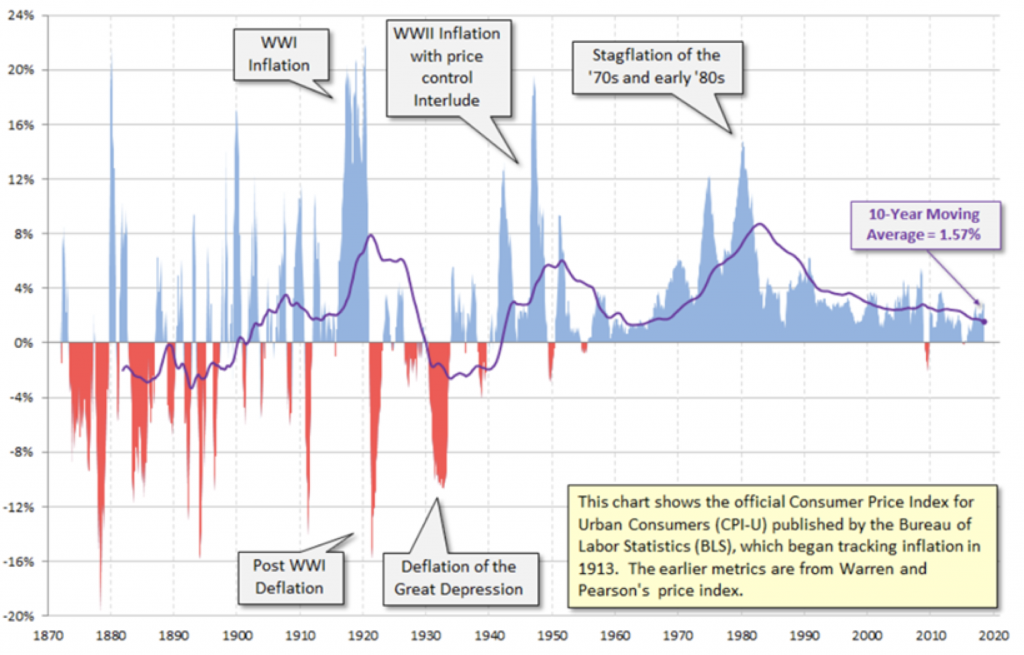 Source: The Bureau of Labor Statistics, Warren and Pearson's price index
It is worth noting from the chart above, that inflation oscillated between positive and negative for the first 60-70 years of our reference period, however post war and with the modern-day focus on preventing deflation (i.e. cutting interest rates, QE, fiscal stimulus, etc.), the more recent experience has largely been inflationary with a notable absence of deflation.
Looking back over this period it is somewhat startling (yet obvious) that a dollar that was earned in 1872 would only be worth five cents today (a 95 per cent decline), this stands in marked contrast to virtually every other asset class from stocks, property, gold, etc. which have seen many thousands of percentage points in appreciation.
 The Decline in Purchasing Power of the Dollar (Inflation Adjusted U.S. Dollar 1872 to Present)
Source: The Bureau of Labor Statistics, Warren and Pearson's price index
Investors that have been sitting on a little too much of this depreciating asset (cash) should consider allocating it more efficiently in order to not only grow capital but also protect it from deflating over time. As with many financial axioms, Warren Buffett articulates the point rather succinctly, which we will leave you with today:
"The one thing I will tell you is the worst investment you can have is cash. Everybody is talking about cash being king and all that sort of thing. Cash is going to become worthless over time…Cash is a bad investment over time" – Warren Buffet
As we know, inflation has been very low since the GFC, a recent increase to 2.7% has been somewhat surprising. If the Fed raises short term interest rates twice this year what's in store for asset prices?
Click To Tweet