America's job engine powers on
Last week's employment report from the U.S. Bureau of Labor Statistics revealed that the U.S. economy added 266,000 jobs in November, smashing economist expectations of 187,000. The unemployment rate dipped to a record low of 3.5 percent – the 21st consecutive month of sub-4 percent unemployment – while wages grew a robust 3.1 per cent from a year ago.
These are strong data points considering the ongoing trade war and weakening global economy, and suggest the eleven-year U.S. economic expansion still has legs to run.
The U.S. economy has added an average of 180,000 jobs per month in the eleven months of 2019, down from the 223,000 average monthly gain in 2018 but still a strong performance considering the fears of an economic slowdown or even recession earlier during the year.
Chart 1: Monthly change in nonfarm payrolls (seasonally adjusted)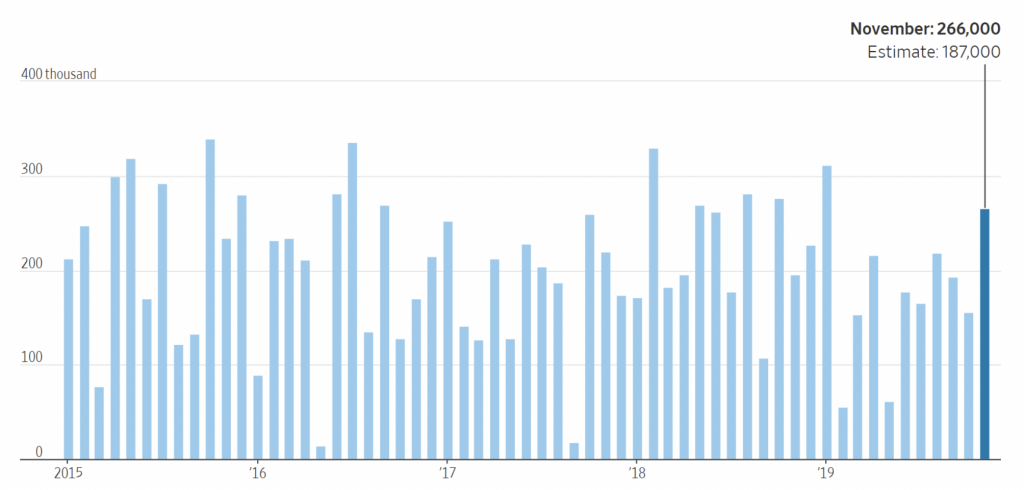 Source: Bureau of Labor Statistics, The Wall Street Journal
Behind the headline figures, healthcare, professional services, leisure and hospitality, and transportation and warehousing sectors saw strong jobs growth. The manufacturing sector benefited from the return of General Motors workers, who were on strike through October, but was otherwise flat as trade-war uncertainty and a global manufacturing slowdown continue to weigh on U.S. factory jobs. If a Phase 1 and subsequent trade deals are reached with China, the U.S. economy is likely to see further sustained job growth, especially as the consumer still remains healthy.
U.S. consumers have been the driver of GDP growth through the year, and consumer confidence continued to improve in December. The University of Michigan consumer sentiment index rose to 99.2 in the December survey compared to an average of 96 throughout the year, as both current and future consumer economic expectations also improved sequentially.
Perhaps surprisingly for the holiday season and given the strength of the consumer, the retail sector only added 2,000 new jobs. General merchandise stores (think Walmart and Target) added 22,000 jobs while apparel stores shed 18,000 jobs, amongst other changes. This data suggests that the brick and mortar retail sector continues to face headwinds, especially those in specialty retail.
This combination of strong jobs growth, moderate wage inflation and historically-low interest rates (that show no signs of "normalising") is a potent mix that could fuel further gains in U.S. equities.