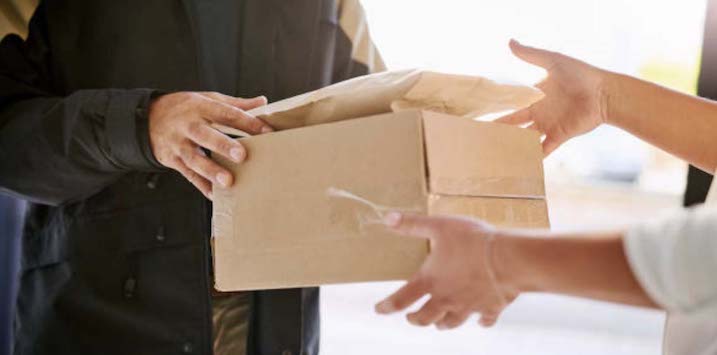 Alibaba Shatters Olympic Records
Ahead of Alibaba's Singles' Day, CEO Daniel Zhang told CNBC that the event is "the Olympics" for many business people. Originally known as Bachelors' Day to celebrate pride in being single, the "Single Sticks Holiday" is derived from its date – 11/11. Nowadays it is better known for being the largest offline and online shopping day in the world, spearheaded by Alibaba's e-commerce platform.
2018 was no exception to the trend. Beginning at midnight, Alibaba surpassed last year's full-day sales record of 168 billion yuan at 5:30pm. Sales totalled a record 213.5 billion yuan (US$30.8 billion) over the 24 hours, a 27 per cent rise from 2017. Quick out of the blocks, sales had already topped US$1 billion after one minute and 25 seconds. It was barely more than an hour before sales exceeded US$10 billion, five minutes and 21 seconds faster than last year.
It is difficult to grasp the magnitude of these numbers. For comparison, Amazon's equivalent Prime Day recorded its biggest sales day on record this year, generating approximately US$4 billion. Alibaba had US$4.64 billion after just 10 minutes. Cyber Monday last year generated US$6.59 billion across all online platforms in the US. Alibaba had toppled that in 20 minutes.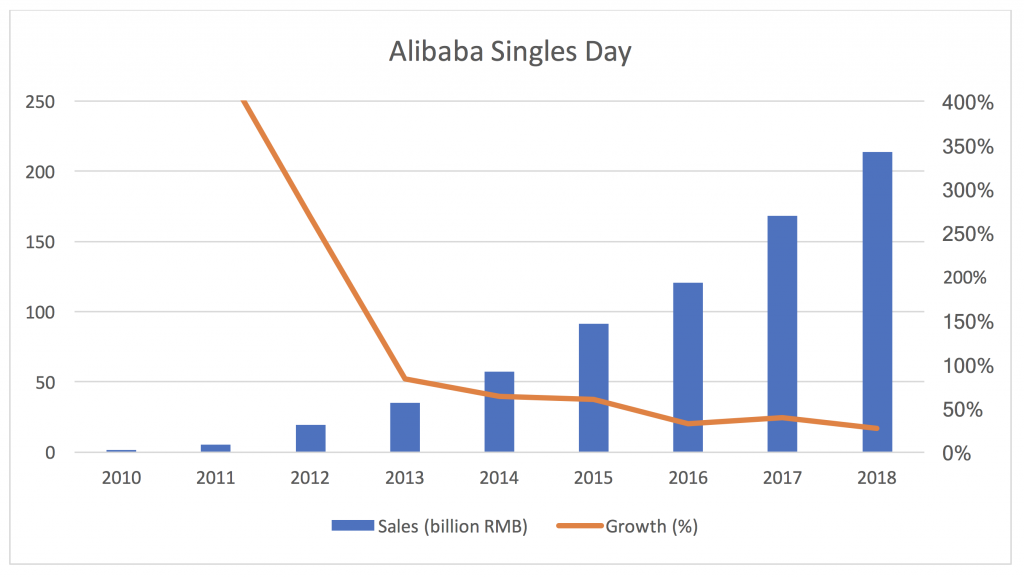 Source: Bloomberg, Reuters 
Despite the record numbers, the year-over-year growth rate fell to 27 per cent, its lowest level in the event's decade-long history. Growing tariff costs due to the ongoing US-China trade war, coupled with volatile stock markets and falling housing prices, have placed a dark cloud over China's economy, and especially the Chinese retail space. Singles' Day is often used as a litmus test for the economic health of China's growing middle class, and this slowdown reflects the challenging phase they are in.
At Alibaba's media briefing, Executive Vice Chairman Joe Tsai acknowledged that all of China is feeling the near-term impacts of the trade war. However, ever-rising national wealth is trickling through the economy. A wave of increasingly affluent consumers will extend the country's growth and in turn, Alibaba's, he said. "There are 300 million [in China's] middle class. In the next 10, 15 years, that number will double to 600 million," Mr. Tsai affirmed. "That number is not going to stop, trade war or no trade war."
The Montgomery Global  Funds and Montaka own shares in Alibaba. This article was prepared 15 November with the information we have today, and our view may change. It does not constitute formal advice or professional investment advice. If you wish to trade Alibaba you should seek financial advice.