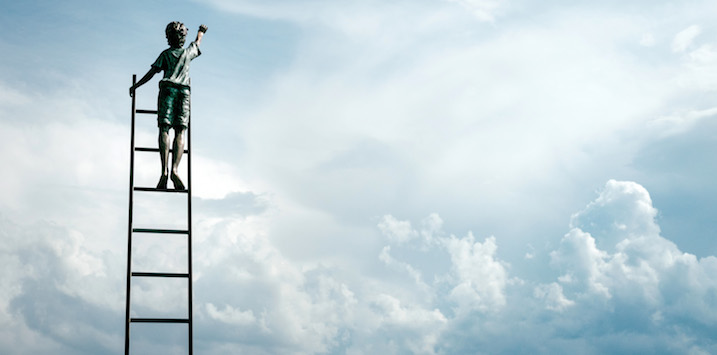 Alibaba keeps growing strongly
Last week Alibaba, the world's largest retailer and e-commerce company, reported financial results for the final quarter of its fiscal year 2019. Alibaba's Chinese online retail platform continued to grow strongly and drove astounding performance.
In the full year to the end of March Alibaba generated RMB377 billion (almost US$60 billion) in revenues, up 51 per cent from the previous year. There were some acquisitions that helped the reported figures. Still, Alibaba's online retail sites, Tmall and Taobao, drove key marketing and commissions revenues up 27 per cent and 33 per cent, respectively.
Alibaba FY 2019 revenue breakdown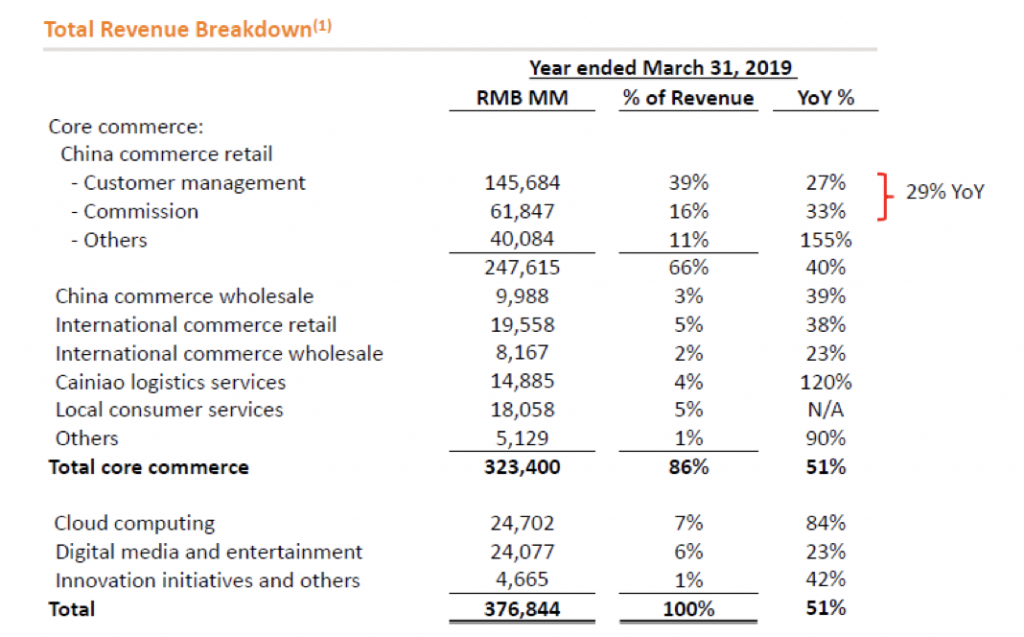 Source: company filings
These shopping websites benefitted from both an increase in the amount of spending by consumers, up 19 per cent to RMB5.7 trillion (that's closing in on US$1 trillion). This growth was driven by the addition of 100 million users of the sites in the last 12 months, to a total of 654 million annual active users. These users now spend over US$1,200 per year on average with Alibaba. Interestingly, 70 million of the new users came from tier three, four and five cities in China as Alibaba extends its reach beyond the largest metropoles.
Alibaba's effective "take rate" on these purchases also gained. And while Alibaba's clip has been increasing for years, it still only represents less than 4 per cent of the value of goods sold on its sites. We think it will continue to go higher for years to come.
Alibaba's China commerce "take rate"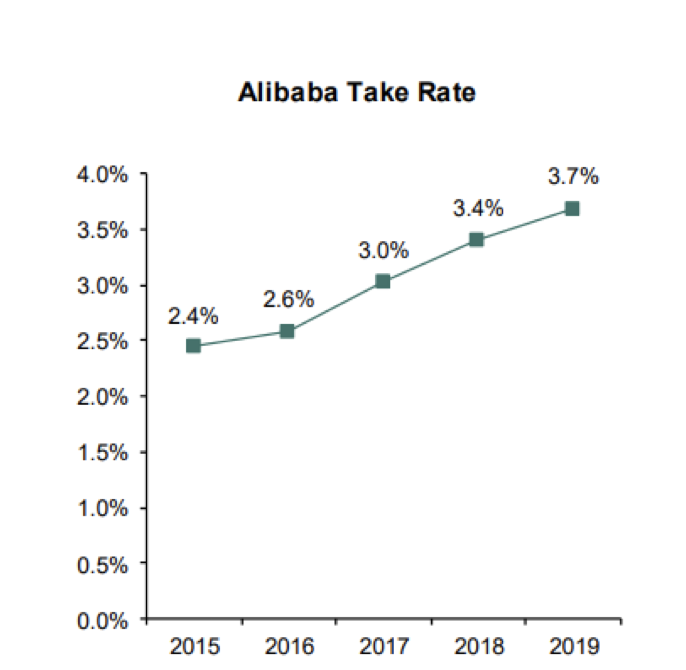 Source: Bernstein
Outside of Alibaba's success in ecommerce, we were impressed with the rate of growth in its cloud computing business as well as the improvements that segment has made toward profitability. Alibaba's cloud revenues totalled RMB25 billion for the year, representing 84 per cent growth. This is now a US$5 billion annual revenue run rate business, which makes it comparable in size to Amazon's AWS (the world's largest cloud provider), Microsoft's Azure (number two) and Google Cloud. And after many years and many billions of dollars of investment, Alibaba's cloud operations were just a touch off breakeven in the final quarter of the year.
This recent result reaffirmed our confidence in the strength of Alibaba's online retail platform and the spectacular growth we think is achievable from its core business and other growth businesses.
The Montgomery Global Funds own shares in Alibaba. This article was prepared 20 May with the information we have today, and our view may change. It does not constitute formal advice or professional investment advice. If you wish to trade Alibaba you should seek financial advice.
Alibaba's results reaffirmed our confidence in the company. In the full year to the end of March Alibaba generated revenues up 51% from the previous year.
Click To Tweet