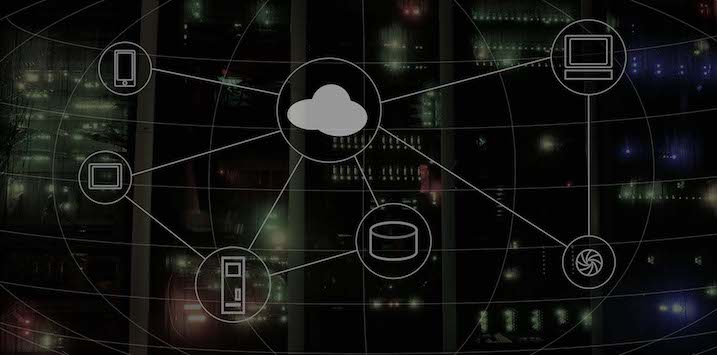 Assets hidden in Alibaba's cloud!
Earlier this month I noted Alphabet, owner of Google, had a Fortune 500-size business hidden away in its "Other" reported revenues: Google Cloud. Did you know that another of our holdings – Alibaba, the Chinese owner of the world's largest e-commerce platform, also has a massive cloud business?
Alibaba operates both Taobao and Tmall. Taobao is a Chinese consumer-to-consumer shopping website and the world's largest e-commerce site. Tmall is a Chinese business-to-consumer online retailer that is the world's second largest e-commerce site. It's no surprise that the focus of Alibaba's recently reported financial results was the "Core Commerce" segment which houses these two businesses.
Core Commerce generated revenues of almost 100 billion Renminbi, or more than US$14 billion, in the first quarter of fiscal year 2020, up 44 per cent over the same period a year ago. This staggering sum was driven by 674 million annual active consumers on Alibaba's platform, 20 million more than 90 days prior, and growing at almost 20 per cent per annum.
Alibaba's average annual consumer by quarter (millions)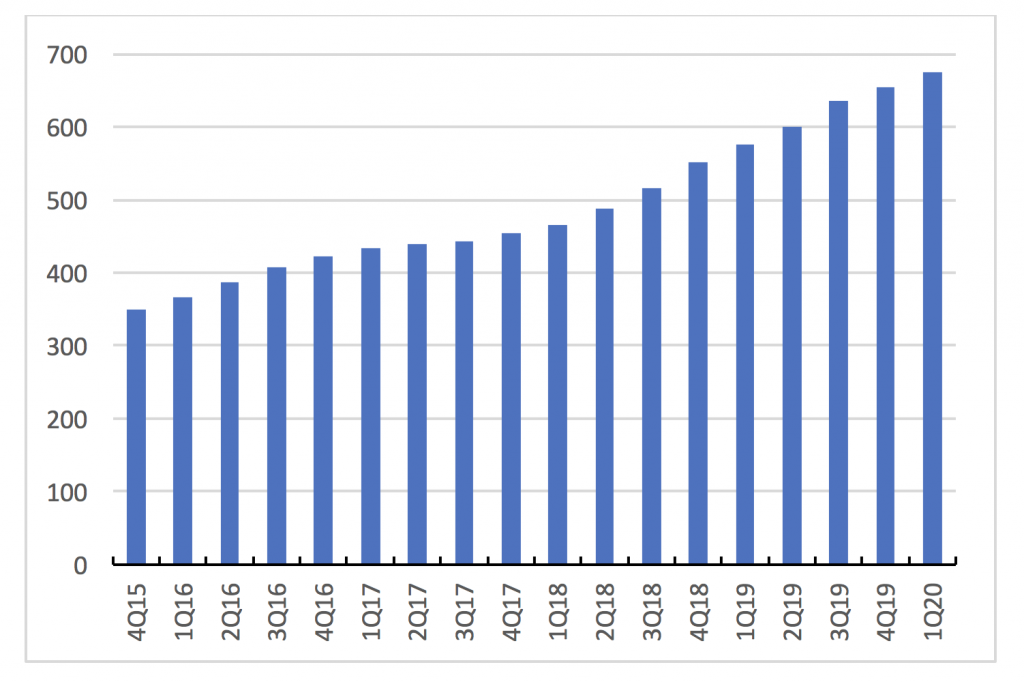 Source: company filings
As impressive as this Core Commerce business is, Alibaba's Cloud Computing segment is growing even more quickly. In the most recent quarter, cloud operations generated revenues of almost eight billion Renminbi, or more than US$1 billion, and grew at an astounding 66 per cent year-on-year. And this is on top of 84 per cent growth for the full 2019 financial year.
Alibaba's Cloud Computing revenue growth year-on-year by quarter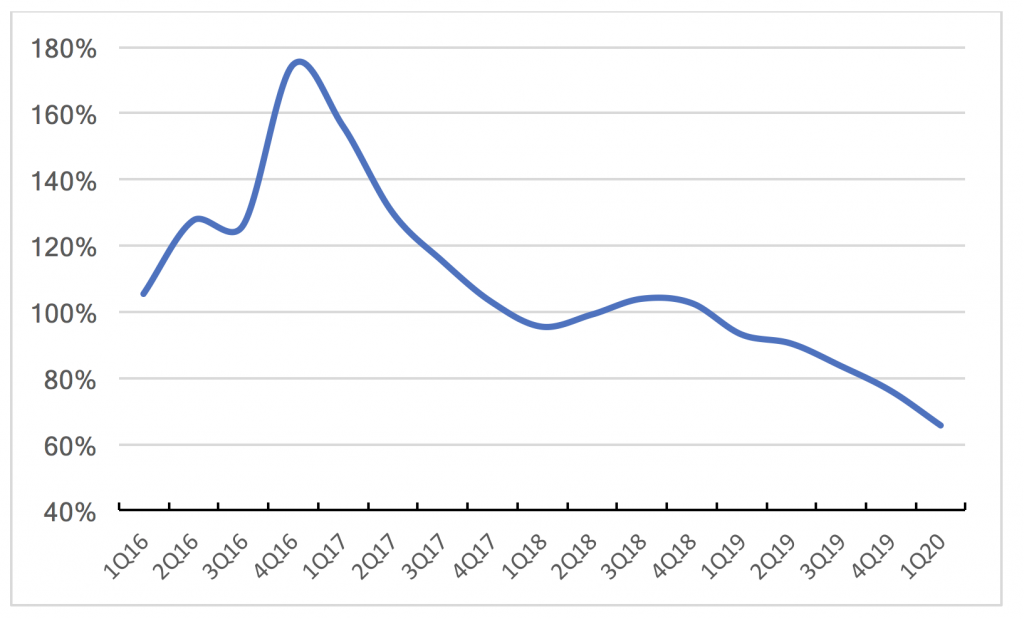 Source: company filings
As more users commit more of their wallets to high value-add services – those beyond standard compute and storage services – Alibaba's cloud revenue grows. After investing for many years in anticipation of this rapid growth, Alibaba's cloud is now almost break-even.  Incremental revenues now come with lower associated costs. As investors in Alibaba through the Montaka and Montgomery Global funds, we look forward to Cloud Computing's anticipated boost to earnings growth.
The Montgomery Global Funds and Montaka own shares in Alibaba and Alphabet. This article was prepared 28 August with the information we have today, and our view may change. It does not constitute formal advice or professional investment advice. If you wish to trade Alibaba or Alphabet you should seek financial advice.