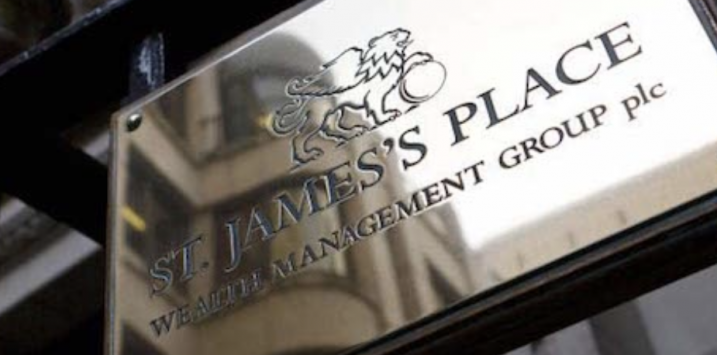 What makes us even more excited about St James's Place?
On 27 July, St James's Place (SJP) (LSE: STJ) released an updated set of financial results for the first half of fiscal year 2017. While the performance was nothing shy of tremendous, we were most excited by a new insight into SJP's business that emerged from the report and management discussion, and has significant implications for the value of the stock.
But first the numbers
We had expected a strong showing. After all, financial markets had remained buoyant in the first 6 months of the year – world equities measured by the MSCI Total Return Index were up almost 11 per cent in US dollar terms –  and higher market valuations typically mean growing funds under management (or FUM). Broadly speaking, FUM rises as a direct result of asset prices rising and as an indirect result of investors looking to allocate more money to financial assets as their confidence grows. Since SJP clips an annual fee of 1 per cent on client FUM with a relatively fixed cost base, we considered that reported revenues and earnings would do very well indeed.
We weren't disappointed. In fact, we were positively surprised by the size and scope of the expansion in SJP's business. Every key performance indicator that we monitor outperformed. The CFO (and soon-to-be CEO) Andrew Croft reported an underlying cash result of £123 million, up 30 per cent from the same period a year ago, even with an increased rate of investment in the future growth of the business. FUM grew to an astounding £83 billion, up 27 per cent compared to a year earlier. The larger asset base was driven by £6.9 billion of gross client inflows in the half year – themselves 30 per cent higher than the inflows this time last year – and investment returns of £3.7 billion – representing 20 per cent annualised performance for the period!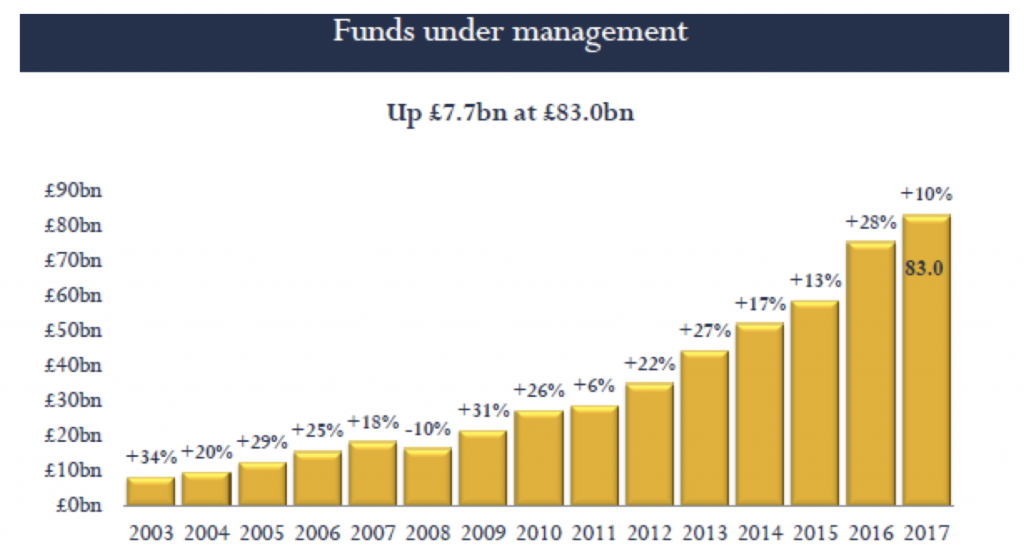 Beneath the hood the business fundamentals were just as impressive. While investment returns are largely a function of the ebbing and flowing of markets, at least over short timeframes, there are two ways SJP can grow client inflows: 1) add more financial advisers to its partnership and/or 2) lift the productivity of each financial adviser (inflows per adviser). Both measures were strong, well above our expectations and market-implied expectations.
Over the last year SJP added 281 advisers to its network, representing growth of 9 per cent, and on average each adviser brought in almost £2 million of new money from clients in the half-year, 19 per cent more business than the average adviser was writing a year ago. Given that each Partner's practice has on average 1.5 financial advisers, this means each Partner in the SJP Partnership was responsible for almost £3 million of new business in the half-year – compare this to £4.7 million for the whole of 2016.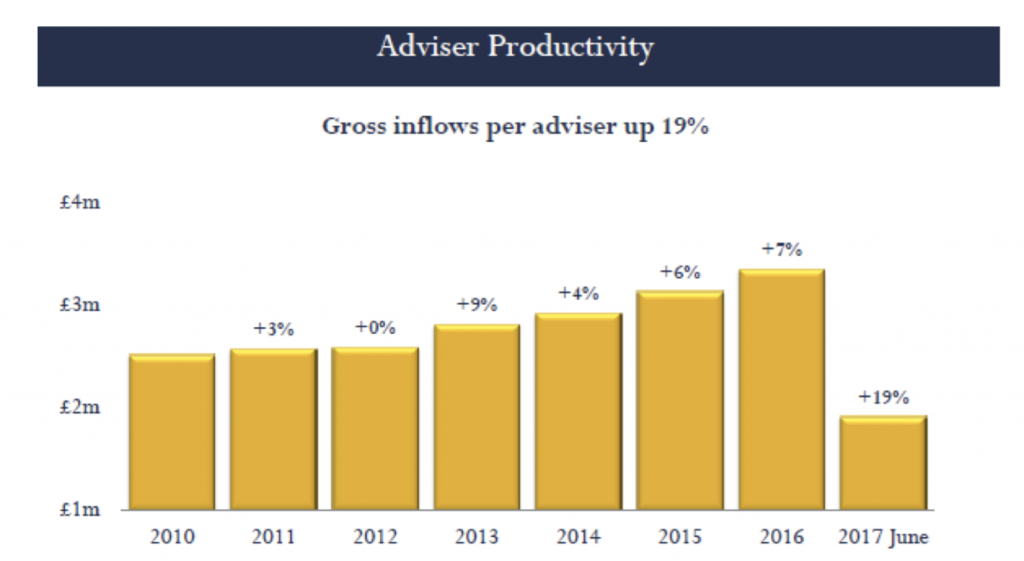 Partners and advisers
The nomenclature distinguishing between Partner and adviser is important. Not because it might mark a hierarchical delineation, but because the statistics related to each tell us something about the business. Moreover, it leads us to a very powerful insight into SJP's business model and growth potential going forward. But first, a little history.
Over the last decade CEO David Bellamy has focussed the market's attention on Partners and Partner productivity (inflows per Partner). This made complete sense looking backwards. Most Partners were one-man bands without support staff to schedule meetings or organise the day-to-day affairs of the office, let alone additional professional colleagues ("advisers") to manage client accounts and seek new business. A Partner practice was essentially just the Partner. But the Partners did have strong and established client relationships, and the support of the SJP platform to enable them to grow client inflows, FUM and their businesses. Over this 10 year stretch the number of SJP Partners grew at a high-single-digit percentage average annual rate and Partner productivity grew at a similar clip.
Today the rate of growth of Partner practices has begun to moderate. In 2016 the number of Partners grew by 5 per cent – still strong, but not high-single-digits – and in the first half of 2017 the growth rate slowed to 3 per cent. The Partners are growing up. But that doesn't mean the SJP adviser network will slow down. To the contrary. It will expand quickly and become even more important as the driver of advisory capacity.
In his own words
"You remember that in previous years, we've talked about the changing shape of the partnership. Our partners today are more reflective of a population of business owners, or SMEs as I've referred to them in the past, planning for their own growth and recruitment of additional advisors, support staff, looking to develop sustainable businesses for the future. Hence, today, we focus on total advisor numbers since this is more relevant indicator of our capacity…And we can well imagine that their number will grow in time such that pretty much every partner's practice has at least one additional advisor to support the provision of ongoing advice and service to their increasing number of clients and funds under management"
David Bellamy, CEO, St James's Place
Successful Partners have reinvested in their practices, transforming them into small businesses by adding support staff and, most importantly, new advisers. This has taken the number of advisers per Partner up to 1.5 from 1.2 just 5 years ago, reflecting an adviser base that has grown at least 3 per cent per annum quicker than the Partner base on average. CEO David Bellamy has alluded to the potential for the adviser/Partner ratio to grow beyond 2 times. This should happen sooner rather than later given that annual adviser growth pulled ahead of Partner growth by 6 per cent in the last half-year. So, while the number of Partner practices may not achieve the lofty growth of the past, adviser numbers should pick up the baton and continue to grow at high-single-digit rates per annum, a far cry from the low-single-digits implied by the current share price. Said another way the current share price gives minimal credit for growth in Partner numbers, but no credit to a near-certain expansion in the adviser/partner ratio.
In addition to growing the client advisory capacity of the SJP platform, more advisers and more support staff allow experienced Partners to allocate more time to managing clients and winning business – a luxury they have not previously had despite their astounding growth. This should mean increased productivity of each Partner and adviser – perhaps not quite the respective 24 per cent and 19 per cent increases seen in the most recent results, but surely much higher than the low single digit rate implied by the current share price.
Platform of platforms
In a nutshell, the recent results have helped us to realise that SJP is evolving from a "platform of Partners" to something of a "platform of platforms of advisers". While SJP focuses on recruiting new partners, those partners are in turn actively recruiting new advisers and they are doing so using their own capital.
If we view each Partner practice as a "platform" for advisers to build careers, then Partners are stakeholders in all the business that their advisers write and support. Viewing SJP as a platform of Partners, then SJP is not only a direct beneficiary of the Partner's financial prosperity, but also an indirect beneficiary of the financial success generated by each adviser. Better still, the investment required by SJP remains limited because Partners and advisers are well-incentivised to fund the tremendous growth opportunity ahead.
Since SJP management communicated its superb first-half performance and alluded to its evolving and strengthening business model, the stock price is roughly flat at around £12. Yet in our view the shares now represent a better bargain. Not only has fundamental business performance improved, but the hurdles for the key business drivers (growth in adviser numbers and adviser productivity) have become much easier to clear in the context of our updated view of SJP as a platform of platforms.
St James's Place 12-month share price performance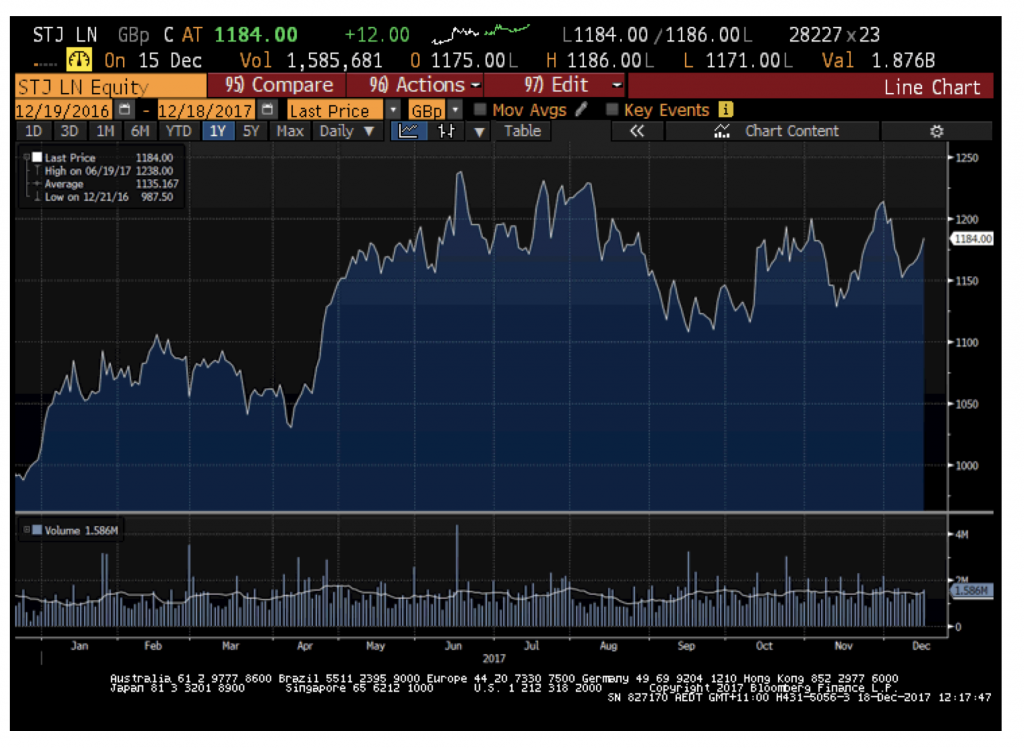 The Montgomery Global Funds own shares in St James's Place
St James's Place is a holding in the Montgomery Global Funds and Chris discusses a new insight that has significant implications for the value of the stock.
Click To Tweet