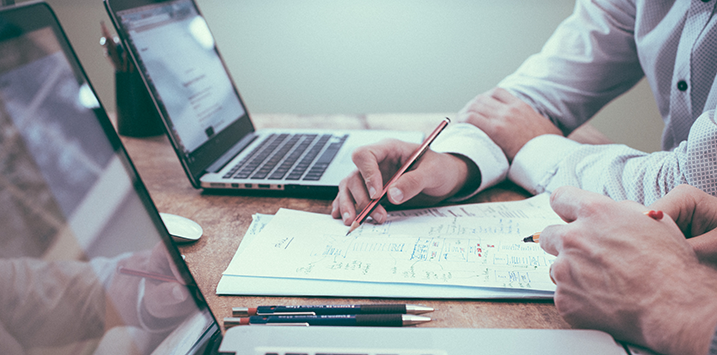 A review of the Australian financial planning landscape in 2022
When I last updated our readership on the financial planning landscape in Australia, the number of registered advisers at the end of 2021 was down 11 per cent for the calendar year and total adviser numbers were just under 19,000 at the time. Fast forward to 30 September 2022, and the rolling 12 month fall in adviser numbers has increased to 14 per cent with total adviser numbers now around 16,500 as captured in the graph below.
This has brought total adviser numbers to its lowest level since 2006. Importantly, 30 September 2022 did mark a big milestone in the financial planning industry whereby all registered financial planners needed to have completed the new educational requirements under the FASEA exam in order to continue to be licensed. This would of course partly explain the higher number of advisers ceasing to be registered in the September quarter.
Number of financial advisers (June 2003 – June 2022)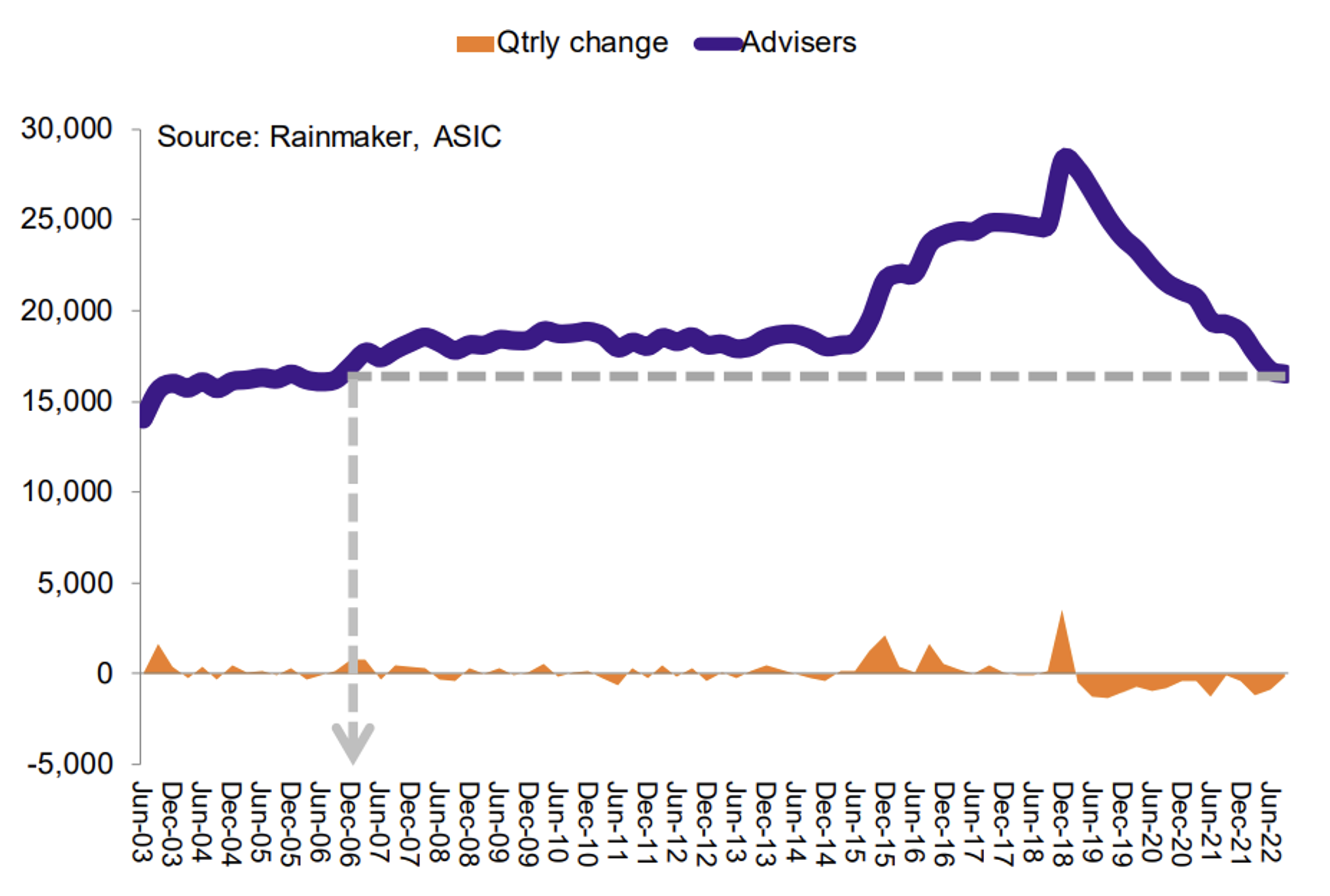 Source: Rainmaker 2022
Total numbers aside, the September quarter was particularly eventful for two other reasons. Firstly, it saw a greater number of financial planners leave aligned licensees. In fact, the fall in advisers leaving aligned licensees was one and a half times faster than that of non-aligned licensees over the period according to Rainmaker. Moreover, 63 per cent of advisers are now attached to a non-aligned licensee with only 37 per cent remaining at aligned licensees. As you can see from the below graph, the largest aligned licensee continues to be IOOF (or Insignia Financial) post it taking the number one spot from AMP in 2021. The top three fastest growing licensees over the twelve-month period were Alliance Wealth, Count and Ord Minnett. As also shown in the table below, the top three fastest falling licensees during this period were SMSF Advisers, AMP and Synchron. It is worthy to note that SMSF Advisers ceased operations during the quarter. It is also worthy of comment that Alliance Wealth was one of the top three fastest growing licensees in calendar year 2021, whilst AMP was also one of the top three falling licensees last year.
Largest adviser groups by AFSL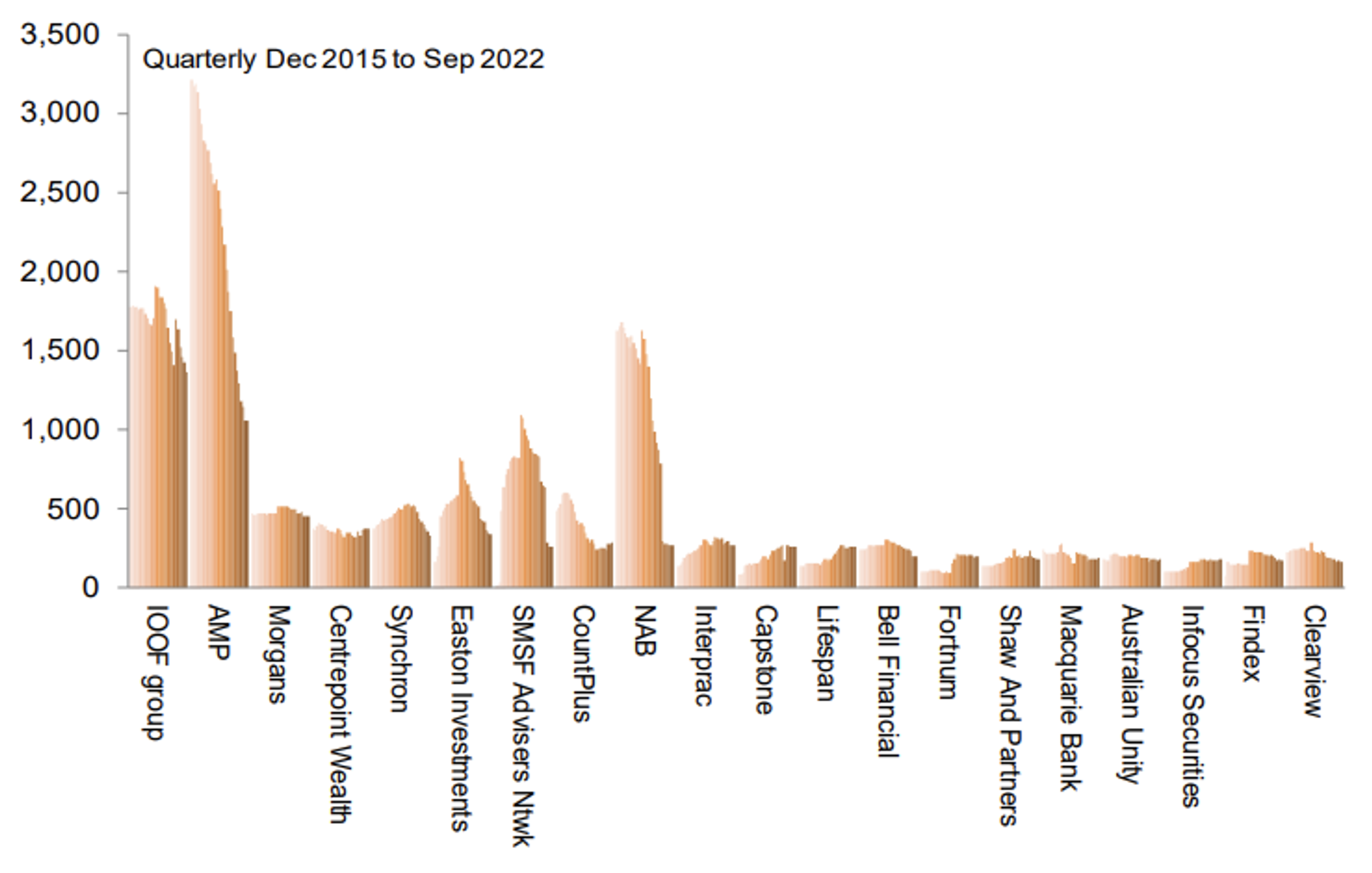 Source: Rainmaker 2022
Largest chances in licensees (12 months to 30 September)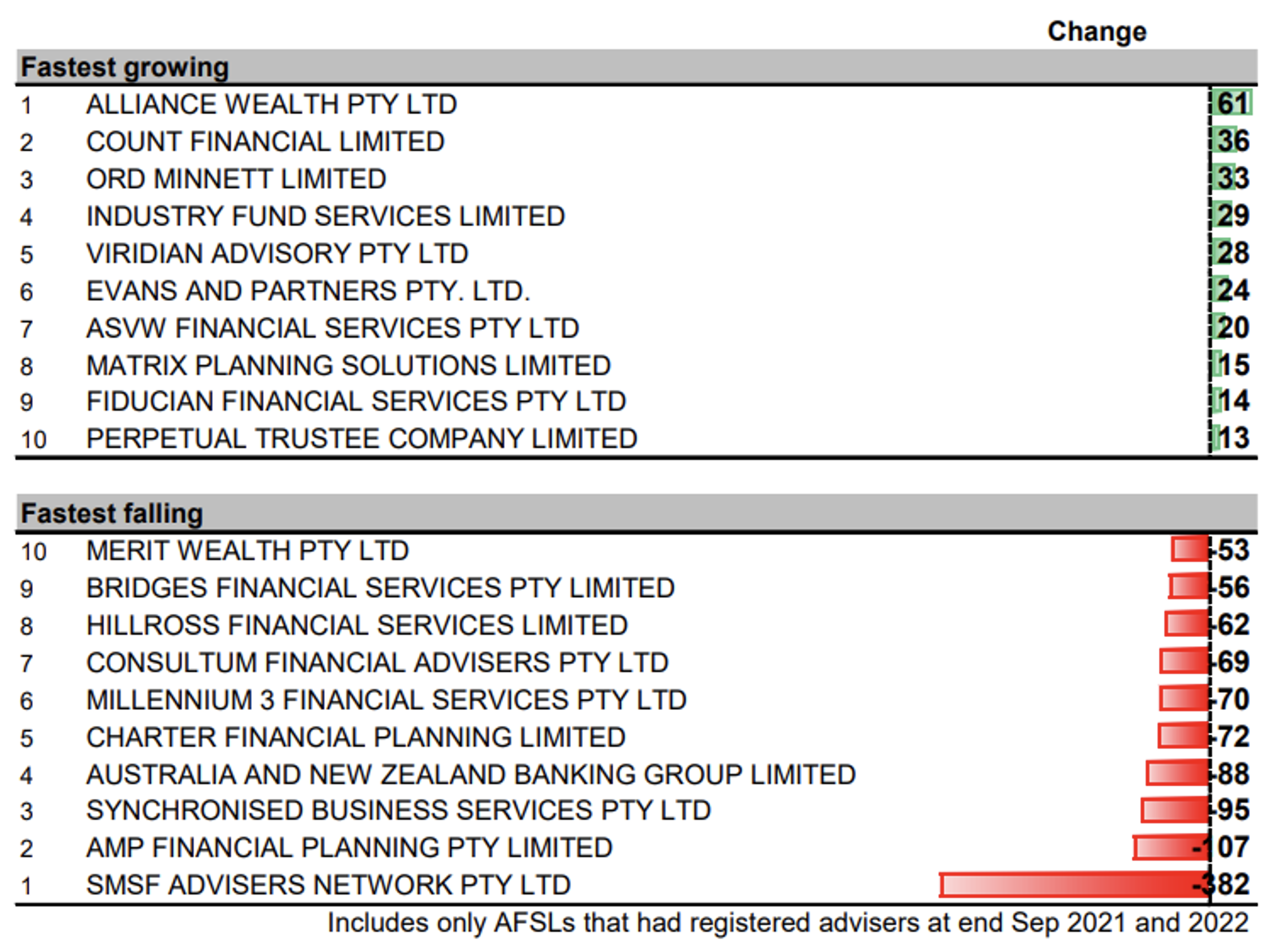 Source: Rainmaker 2022
The second interesting observation for the September quarter was that it also marked the highest quarter of licensee switches for over a year. According to Adviser Ratings, switches were up almost 14 per cent over the quarter at 650.[1] Whilst higher, licensee switchers were still off its peak which was in the March quarter of 2019 at over 1,200. This largely affirms the trend of advisers moving away for institutionally aligned licensees and the increasing fragmentation of licensees in the non-aligned space.
The key question remains: where to from here for financial advice in Australia?
According to the latest Investment Trends Financial Advice Report for 2022, they estimate over 12.4 million Australians have advice needs that are not being met.[2] Rainmaker believes adviser numbers will continue to fall beyond 2022, projecting numbers to fall as low as 12,000 total advisers over the next 20 years.[3] The two together equal a widening gap of Australians with un-serviced advice needs which warrants the question of how will the regulators address this? For existing advisers, it is not all doom and gloom as there is definitely a growing market there. Moreover, Investment Trends in their recent report further noted that new client growth outpaced those leaving for the first time in three years.[4]
[1] Busiest quarter for licensee switching seen in Q3
[2] Research finds advice gap for over 12 million Australians
[3] Australia's financial adviser numbers in 2024