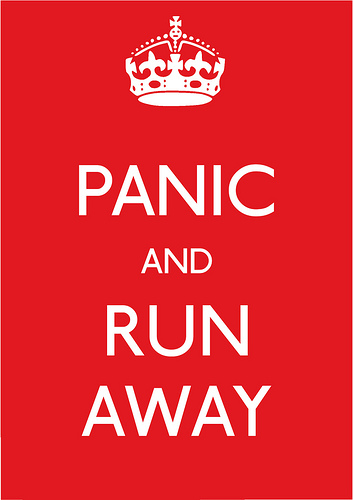 You will have to forgive the rather startling image we have chosen for this blog post. Its really been selected for dramatic effect only.
You may not realise this but all the way back in August 2010 we were BHP bulls, writing; "If you take on blind faith a A$22b profit, BHP's shares are worth AUD $45-$50 each."
But then in February 2011 we became a little more circumspect. You can read about the change here.

Just after that, and ever since then, we have been warning investors that the iron ore price is at increasing risk of downside shocks. And we have already experienced one as the price fell from $187 to $80 last year. You can read our December 2011 piece "Is the Bubble Bursting" here. And since then our valuation has been in steep descent.
Several of our peers however have persisted in buying and recommending BHP et. al. Perhaps they simply paid a high price initially and have been averaging down. Indeed, I know of a fund manager who last year reckoned the intrinsic value of BHP was well over $50! Ours has been less than $30 for some time and looks like declining.
While we leave the forecasting of the economy and arguably puerile understandings of cause-and-effect relationships to those whose ability is far exceeded by their hubris, basic economics tells you that commodity prices are dependent on demand and supply and that demand is contracting at a time when supply is growing. Roughly 50% of the BHP groups' revenue comes from Iron Ore and Base Metals and we have long been banging the drum of lower iron ore prices.
Last week The Australian Financial Review reported, "Rio Tinto chief economist Vivek Tulpule told analysts in Sydney that China would grow strongly in the first half of 2013 as banks lent more money but the rate of expansion would fall as inflation resurfaced in the second half.
"He warned the second half could be tougher as inflation risks, particularly in property markets, resurfaced, pushing iron ore prices back to about $US100 a tonne. "Inflation is benign but residential housing costs are a leading indicator of a pick-up in consumer price indices," he said.
In the same article, The AFR noted "Renowned China bear Andy Xie has claimed that investors in debt-laden Australian iron ore miners risk big losses and forecasts that prices for the commodity will drop below $US60 a tonne from $US150 a tonne.
"I think a lot of shareholders in these highly leveraged miners will lose everything – in the end, creditors will take over these projects," Mr Xie told The Australian Financial Review on Monday."
As Figure 1, illustrates, BHP's shares are expensive and well above Skaffold's estimate of intrinsic value. Additionally, since 2011, the company's debt has risen from $15 billion to $34.2 billion at HY13. Meanwhile return on equity has plunged from 37% in 2011 to a forecast 20.35% this year.
Those of you with eagle eyes will notice the thin valuation line in Figure 1. rising gloriously into 2015. If BHP's past performance were to continue, this would be the path of intrinsic value growth. But BHP's past includes a commodity boom, the likes of which, we may not see again for many years.
Figure 1. Skaffold Valuation & Price Chart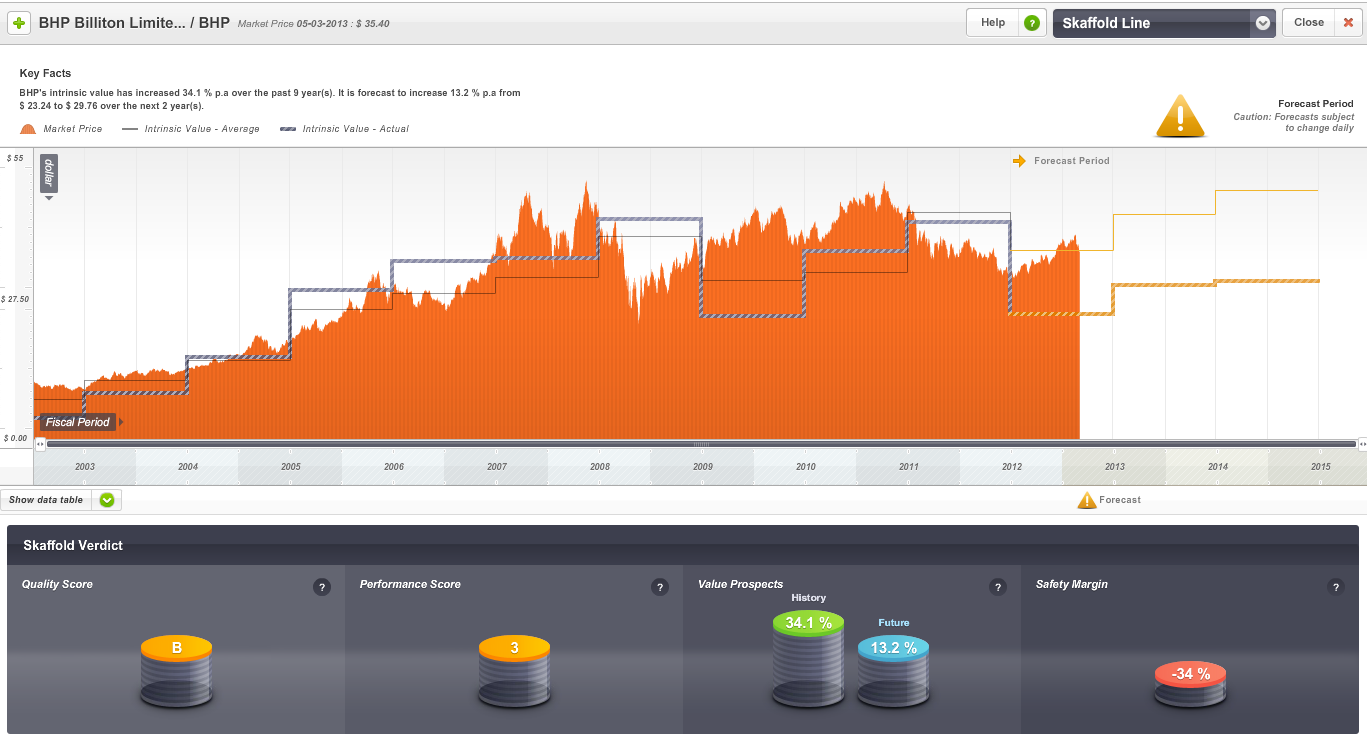 For all the reasons mentioned above we're currently siding with Andy Xie and will continue to warn against 'investment' (if it can be called that) in businesses that have no ability to raise prices in the face of excess supply.