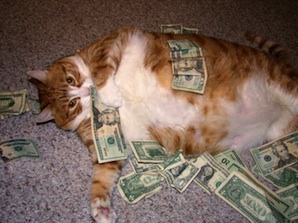 Continuing on our CEO's-get-paid-too-much-for-just-doing-their-job or Hey-they-didn't-start-the-company-or-take-any-risk soap boxes, On 3 March, Switzerland conducted a referendum on executive remuneration which included some of the following proposals:
 The aggregate compensation of the board of directors will be subject to shareholders' approval on an annual basis
 Severance payments and advance payments will be prohibited
 A violation of the rules will be subject to criminal sanctions

The citizens of Switzerland overwhelmingly voted in favour of the proposal, which is an amazing achievement considering that they are reportedly the richest people in the world per capita. This demonstrates that there is a real disconnect between the performance of management and their subsequent remuneration – shareholders are no longer willing to sit back and watch it continue. With the referendum passed, it will now go to the Swiss government to draw up appropriate legislation. But this event will lead to important global implications – consider that UBS, a Swiss-based global investment bank, may have to modify their remuneration policy in Australia.
Just prior to this historic vote, the chief executive of the world's largest miner stepped down. Marius Kloppers received a golden farewell that has been widely reported – upon leaving BHP, he is to receive approximately $75 million. To his credit, Marius did forfeit his short-term bonus last year given the disappointing performance of its shale gas acquisition in the US. But there has been no mention that he will be forgoing this final bonus, which would lead us to assume that he considers the amount is reasonable based on his overall performance. I'm not sure if shareholders would share the same view.
The reason I bring up these two events is because of the context they provide to Tim's recent post (which was written prior to these two events, though coincidentally was published subsequently).
For those who missed it, the key message from Tim's post is provided below:
"It seems to be that it must be all but impossible for a board of directors to be able to gauge with a high level of accuracy the true worth of a CEO, and particularly a CEO who has not been in the role for an extended period. Given this, we can probably say with confidence that a board of directors that routinely awards astronomical pay packages for CEOs who spend 4-5 years at the helm is throwing away money that rightfully belongs to shareholders."
The role of management is to generate the greatest value for shareholders. It's a serious responsibility, which the Swiss are recognising by enacting serious consequences for management that are unduly rewarded. I encourage you to read Tim's post, and contribute to the discussion about management remuneration in Australia.
Read Tim's post here.