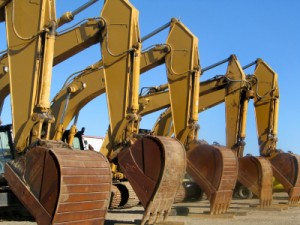 Sani Group, China's biggest maker of construction machines has announced a cut to its workforce.
Given lay-offs did not occur in the down cycles of 2005 and 2008, this is a clear sign some pain is being experienced in China's industrial heartland.
Sany's 60,000 staff produces concrete machinery, excavators, cranes, pile drivers and road machinery.  Its revenue exceeds RMB80 billion or US$12.5 billion.
With the tripling in demand for machinery in China since 2001, it appears Sany has recently been selling machines on generous credit terms.  As a result the machinery maker saw its net receivables double over 2011.
The slowdown in Chinese construction activity is not a good omen for the iron-ore price, currently US$135/tonne. China's demand accounts for 63% of iron-ore's global seaborne trade.